Japan-India Dialogue 2013: Distinguished Visitors Program 2013 "Is India at a Turning Point? - Trends in India's Political Economy" Pratap Bhanu Mehta, President & Chief Executive, Centre for Policy Research
* We are fully booked for the event.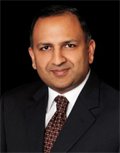 With India's Lower House election approaching in less than half a year, the eyes of the world are fixed on the future of India's political landscape. In this lecture, Dr. Mehta, president of one of the most prestigious think tanks in India whose columns regularly appear in the media, will sum up the decade-long Congress Party government led by Prime Minister Manmohan Singh, and also dare to predict the "unpredictable" result of the election and its implications. Dr. Mehta will also analyze where India stands at this point in time from a broad perspective, including the influence the new political situation will have on India's diplomatic and economic policies, especially in terms of its relations with Japan.
Read an excerpt from the lecture given by Pratap Bhanu Mehta in Wochi Kochi Magazine
schedule

| | |
| --- | --- |
| Date: | Thursday, January 16, 2014, 6:30 pm |
| Venue: | Iwasaki Koyata Memorial Hall, International House of Japan Access |
| Admission: | Free (reservations required) |
| Language: | English/Japanese (with simultaneous interpretation) |
| Co-organized by: | The Japan Foundation and International House of Japan |
| For reservation: | We are fully booked for the event. |
Pratap Bhanu Mehta
Pratap Bhanu Mehta is the president and chief executive of the Centre for Policy Research, one of India's most distinguished think tanks in New Delhi. His areas of research include political theory, constitutional law, society and politics in India, governance and political economy, and international affairs. He was previously a Visiting Professor of Government at Harvard University and NYU Law School and has been a member of the Government of India's National Security Advisory Board, and the World Economic Forum's Global Governance Council. As an editorial consultant to the Indian Express, his columns have also appeared in a number of national and international daily newspapers including the Financial Times, Telegraph, International Herald Tribune, The Hindu, and Outlook. He is the recipient of the 2011 Infosys Prize for Social Sciences – Political Science.
[Contact Us]
The Japan Foundation
Asia and Oceania Section
Japanese Studies and Intellectual Exchange Dept.
4-4-1 Yotsuya Shinjuku-ku Tokyo, 160-0004
TEL: +81-(0)3-5369-6070 FAX: +81-(0)3-5369-6041