The JF Nihongo Network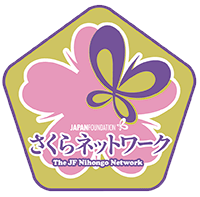 Since the fiscal year 2007, the Japan Foundation has been building up the JF Nihongo Network ("Sakura Network") with the cooperation of Japanese language education institutions worldwide.
The Japan Foundation expects the "Sakura Network" members to play a significant role in terms of enhancing the Japanese language education in their region or country by utilizing various programs provided by the Japan Foundation.
We hope that this network will develop and prosper in every part of the world, just like beautiful cherry blossoms, hence the name "Sakura Network."
The Japan Foundation will work together in cooperation with the member organizations of the "Sakura Network" to enhance the quality of overseas Japanese language education and provide opportunities to learn the Japanese language.
Support Program for Organizations in Japanese-Language Education (Special Program for Sakura Network members)
356 Members: As of August 2023.
East Asia
Members of East Asia
Country/Region
Member
Korea
Korea Association of Japanology
Korea Japanese Teacher's Association
The Japanese Language and Literature Association of Korea
The Japanese Language Literature Association of Korea
The Japanese Culture Association of Korea
The Japanese Language and Literature Society of Korea (JLLSK)
The society of Japanese Language and Literature, Japanology
Korea National Open University (Seoul)
China
China Japanese Education Association
The International Association of Chinese-Japanese Contrastive Linguistics
Faculty of Asian Languages and Cultures, Guangdong University of Foreign Studies
Guizhou University
College of Foreign Languages, Jilin University
School of Oriental Studies of HLJ University
College of Foreign Languages and International Studies, Hunan University
Shanghai International Studies University Japanese Culture and Economy College
Japanese Department of The School of Foreign Studies, Xi'an Jiaotong University
University of International Business and Economics
Dalian University of Foreign Languages
Renmin University Foreign Languages School Japanese Department
TianJin Foreign Studies University School of Japanese Studies
Huazhong University of Science & Technology
East China Normal University School of Foreign Languages Department of Japanese
Fuzhou University School of Foreign Languages Japanese Studies
Japanese Department of Beijing Foreign Studies University
Department of Japanese Language and Culture School of Foreign Languages Peking University
Department of Japanese, Beijing International Studies University
Beijing Normal University School of Foreign Languages Literature Research Center of Japanese Languages Education
Japanese Department. SISU (Sichuan International Studies University)
School of Japanese Culture and Economy, Xi'an International Studies University
Yunnan Normal University
Yanbian University
Shandong Normal University
Japanese professional, School of foreign languages, Qinghai University for Nationalities
College Foreign Language Teaching & Research Association of China (Japanese Branch)
Society of Japanese Language Education, Hong Kong
Taiwan
Association of Japanese Language Education in Taiwan
Japanese Language & Literature Association of Taiwan
Taiwan Application Japanese Association
Mongolia
Mongolian Japanese Language Teachers Association
New Mongol Academy
Mongolia-Japan Center for Human Resource Development's Japanese-language courses
Southeast Asia
South Asia
Oceania
North America
Central & South America
Europe
Western Europe
Eastern Europe
Central Asia & Caucasus
Middle East
Africa