Japanese-English WORDBOOK for CARE WOKERS NIHONGO de CARE-NAVI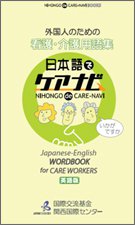 "Nihongo de Care-navi" (http://nihongodecarenavi.jp/) is a website to support foreigners who are learning Japanese language to work as nurses and caregivers in Japan. The content of this website is now available as a book. Useful expressions and examples of verbal contact in nursing and caretaking scenes are provided in Japanese and English.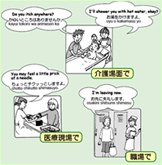 Vocabularies and expressions are categorized by scenes the reader may face in caretaking job. Terms required in each scene, such as "Bathing," "Examination/Test," or "Report" can be found at once, both in Japanese and in English.
This book is full of illustrations, making the book easy-to-understand and reader-friendly. There are also columns to enrich the understanding of customs and relationships in Japan. This book comes in paperback size to make it for handy reference.
Paperback size, 240 pages
Price

2,100 yen (excluding tax)

Product code

ISBN978-4-89358-694
Scene Details
Chapter 1 Basic Care
Chapter 2 Treatment
Chapter 3 In the Workplace

Bathing
Changing diapers
Physical position
Get on a wheelchair
Help with eating
Changing sheets, etc.

Examination/Test
Tell the symptom
Medicine
Examination Departments
Admission/Discharge
Operation/Surgery, etc.

Introduce /Daily Greeting
Ask & Answer
Report/ Communication/Consultation
Meeting/Phone
Work shifts
Office work, etc.
For purchase and contact
Bonjinsha Inc.
Ryoshin Hirakawacho Bldg. 1-3-13 Hirakawa-cho,
Chiyoda-ku, Tokyo 102-0093
TEL: 03-3263-3959
FAX: 03-3263-3116