Mr. Naoyuki Miura (Japan)
The Japan Foundation Awards
The Japan Foundation Special Prizes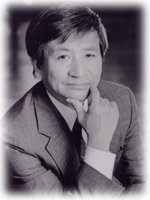 Mr. Naoyuki Miura (Japan)
President, Artistic Director of the Music from Japan, Inc.
Since he established Music From Japan (MFJ) in 1975, Mr. Miura has devoted himself to the promotion of contemporary Japanese music in the United States. After twenty-five years of touring throughout the Americas, Central Asia, and Japan, MFJ has presented a total of over 300 works by about 100 Japanese composers, including 40 world premieres, 28 of which were self-commissioned.
Photo courtesy Ken Howard
Music From Japan
In recent years, Music From Japan's annual festival, Featured Composer's Concerts, symposiums, and other events have helped to broaden the audience for contemporary and classical Japanese music and to enliven the dialogue between artists in Japan and the United States. In 1994, for the purpose of creating a source of information on contemporary Japanese music, Mr. Miura also
established the Resource Center for Japanese Music. This center serves as a repository of information on Japanese composers, performers, music, and culture. It provides access to its Composer Database, the largest existing English-language database of Japanese composers, and maintains a wide collection of printed and recorded research materials.
Brief Personal History
1964

Graduated from Tokyo National University of Fine Arts and Music with a major in double bass

1965

Performed Dragonetti's "Double Bass Concerto" with The Japan Philharmonic Orchestra

1966

Studied in New York as a Fulbright Scholar

1967-84

Played with the American Symphony Orchestra

1969-79

Invited to be a soloist at the Newport Romantic Music Festival

1970

Graduated from the Julliard School of Music

1971-88

Bassist with the New York City Opera Orchestra

1975-

Founder and Artistic Director of Music From Japan, Inc.

1985-88

Panelist for the New York State Council on the Arts

1985-88

Artistic Director, "East-West Horizons Music Festival"(Tokyo)

1986-

Professor of Fukushima College

1996-2001

President of Fukushima College
Awards Received
1985

Foreign Minister's Award (Japan), Ongaku no Tomo Sha Award, Best Producer of the Year Award

1996

Nippon Steel Music Award, Kenzô Nakajima Music Award