Professor Ikuo Hirayama (Japan)
The Japan Foundation Awards
The Japan Foundation Special Prizes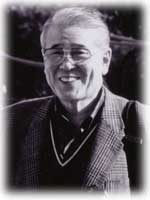 Professor Ikuo Hirayama (Japan)
Artist
Highly esteemed throughout the world as a painter, Professor Hirayama has focused his energy for many years on the world-scale activities to promote peace through the preservation and restoration of overseas cultural properties that are in danger of being damaged or destroyed, especially in China, the Koreas, and the Silk Road regions. He has also greatly contributed to international cultural cooperation through the establishment and operating of the "Red Cross Spirit for Cultural Heritage," an organization animated by the same humanitarian spirit that inspired the Red Cross, which was founded to aid fallen soldiers.
The Red Cross Spirit for Cultural Heritage
This is a movement that Professor Hirayama has been promoting that is based upon the concept of going beyond the boundaries of nation, race, and religion in order to protect the cultural properties of the world in the same way that the Red Cross rescues all soldiers, even those of the enemy, in a spirit of universal humanism. Under this concept, he has continued to work gaining international cooperation for the development of programs for the preservation and restoration of cultural properties and cultural heritage for future generations. Some of the specific preservation and restoration projects that he has promoted are those for the China's Dunhuang caves, Cambodia's Angkor Wat ruins, Korea's ancient Koguryo tomb frescos, Afghanistan's cultural properties, and ancient objects of Japanese art that are owned by overseas organizations. He has also exerted unstinting efforts toward the nurturing of personnel and personnel exchange for work on these and many other similar projects.
Brief Personal History
1952

Graduated from the Nihonga department of the Tokyo Fine Arts School (the present Tokyo National University of Fine Arts and Music)

1973

Became professor of the Tokyo National University of Fine Arts and Music

1988

Became head of the department of Fine Arts at the same university

1989-95

Served as President of the same university

1988

Designated as a goodwill ambassador by UNESCO

1996

Appointed chairman of the board of directors of the Japan Arts Institute
Awards Received
1976

Japan Arts Festival Grand Prix for his works on the Silk Road

1991

Commandeur de l'Ordre des Arts et des Lettres (France)

1995

The Crystal Award of the World Economic Forum (Switzerland)

1996

Officier de la Legion d'Honneur (France) and the UNESCO Gold Medal

1998

Order of Culture (Japan)

1999

Guest member of the French Academy and the James Smithson Award of the Smithsonian Institution (U.S.)

2001

Ramon Magsaysay Foundation Award (The Philippines)
Major Publications
The Complete Works of Ikuo Hirayama, 7 Vols. (Tokyo: Kodansha, 1990)
The Grand Murals on Xuan Zhuang in the Yakushiji Temple (Tokyo: Kodansha, 2001)
The Silk Road Forever (Tokyo: Kodansha, 2000)