The Japan Foundation Award / Special Prizes (2006) - Profile
The Japan Foundation Award
Joe & Etsuko Price
Directors, The Shin'enKan Foundation [U.S.A.]
Background


Joe Price was introduced to Japan's Edo-period art by Frank Lloyd Wright in the 1950s. Since then he and his wife Etsuko have built up a collection of Japanese art centering on Edo-period works by Ito Jakuchu, Maruyama Ohkyo, and others. They established the Shin'enKan Foundation in 1980 to show their collection and support research.
They were also instrumental in the establishment of the Pavilion for Japanese Art at the Los Angeles County Museum of Art in 1988, where they have placed part of their collection. Their efforts have helped draw new attention to the field of Edo-period art.
The Prices have actively worked to promote Japan-U.S. cultural exchange and to foster researchers. They have also furthered innovative display lighting techniques and undertaken the digitalization of Edo paintings. An exhibition of over 109 works from their collection was held this summer at the Tokyo National Museum; the works will also be exhibited in Kyoto, Fukuoka, and Aichi. The Price Collection, a catalogue of their holdings, was published by Shogakukan in September 2006.
The Japan Foundation Special Prizes
The Japan Foundation Special Prize for Arts and Culture
Yamagata International Documentary Film Festival Organizing Committee[Japan]
Background
The success of a 1989 documentary film festival held to mark the centennial of Yamagata City's incorporation led to the establishment by the city in 1990 of the Yamagata International Documentary Film Festival Organizing Committee to repeat the event regularly. Since then the festival has been held biennially a total of nine times.
In addition to selecting and screening new works submitted from around the world, the festival features a "New Asian Currents" program introducing up-and-coming Asian documentary filmmakers, along with discussion sessions and other special events. The event has won wide acclaim and has been making a major contribution to international cultural exchange.
In April this year the Organizing Committee was relaunched as a body led by private-sector participants. It is aiming for incorporation as a nonprofit organization.
The Japan Foundation Special Prize for Japanese-Language Education
Saint-Petersburg State University, Faculty of Asian and African Studies [Russia]
Background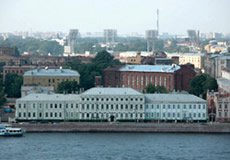 Japanese-language education in Russia dates back 1705, when, at the order of Czar Peter the Great, a Japanese castaway who had been brought to St. Petersburg from the Russian Far East started to teach military officers' children.
The tradition of enthusiastic study of Japan and its language has been carried on by the Faculty of Oriental Studies established in 1855 at Saint-Petersburg State University.
The faculty (now called Faculty of Asian and African Studies) has produced many distinguished Japanologists, including Nikolai Konrad (1891-1970) and Serge Elisséef (1889-1975, recipient of the 1973 Japan Foundation Award), who have contributed to Japanese studies not only in Russia but also in neighboring countries, the United States, and elswhere. It continues to play a major role in Japanese-language instruction and Japanese studies in Russia.
The Japan Foundation Special Prize for Japanese Studies
Kim Yongdeok
Dean, Graduate School of International Studies, Seoul National University [R.O.K.]
Background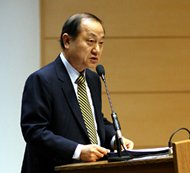 Kim Yongdeok received his master's degree from Seoul National University in 1970 and his Ph.D. in history from Harvard in 1979. He subsequently served as a visiting research scholar at the University of Tokyo's Faculty of Economics under a Japan Foundation Fellowship.
He became a professor at Seoul National University in 1980 and has served as the head of the university's Institute for Japanese Studies since its establishment in 2004. Since 2003 he has also been dean of the university's Graduate School of International Studies. In September 2006, he was appointed to head the Northeast Asian History Foundation.
Dr. Kim has contributed tremendously to better understanding of Japan in the R.O.K. and Japan-Korea academic exchange.