Oriza Hirata´s Seinendan Theater Company to Tour North America to Perform a Double-Bill of one-act plays: Android-Human Theater Sayonara and Robot-Human Theater I, Worker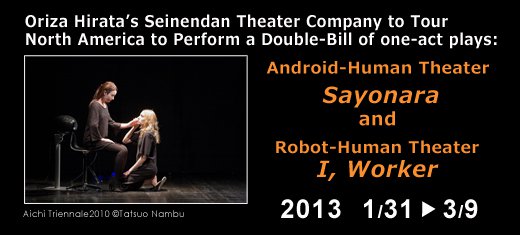 The Japan Foundation and Japan Society will co-produce the North American tour of the Seinendan Theater Company, which was founded by playwright and director Oriza Hirata, from January 31 to March 9, 2013. The tour is organized by Japan Society, New York, and will bring the android-human theater play Sayonara and the robot-human theater play I, Worker to six cities in North America.
Sayonara, performed by android and human actors, is a product of the longstanding collaboration between Oriza Hirata and Dr. Hiroshi Ishiguro, a leading researcher on robotics and androids. Set in the near future when it has become natural for androids and humans to coexist, the play asks what humanity, life and death mean to us as humans through a conversation between a girl suffering from a fatal illness and an android trying to console her.
I, Worker is a touching comedy performed by robots and human actors. It too is set in the near future, and depicts a married couple living with two robot maids. The play looks at the meaning and nature of work by portraying a robot that has lost all motivation to work even though, by definition, robots were created for that sole purpose.
Read an essay on the tour contributed from Futoshi Miyai, Deputy Director of Performing Arts, Japan Society, in Wochi Kochi Magazine.
Performance Schedule:
 Thursday, January 31 to Saturday, March 9, 2013
outline
Philadelphia (Pennsylvania, USA)
Dates: Friday, February 15 and Saturday, February 16, 2013
Venue: Philadelphia Live Arts
Details: http://livearts-fringe.org/robot/
outline
Burlington (Vermont, USA)
Dates: Thursday, February 21 and Friday, February 22, 2013 Venue: Flynn Center for the Performing Arts
Details: http://www.flynntix.org/Productions/Details.aspx?perfNo=8456&perfCodePrefix=FSD13J
outline
Pittsburg (Pennsylvania, USA)
Dates: Friday, March 8 and Saturday, March 9, 2013
Venue: Andy Warhol Museum
Details: http://www.warhol.org/webcalendar/event.aspx?id=10199
outline
Program:
Android-human theater Sayonara
Robot-human theater

I, Worker

Written and directed by:
Oriza Hirata (Seinendan Theater Company)
Robots and android created by:
Dr. Hiroshi Ishiguro (Osaka University & Intelligent Robotics and Communication Laboratories at the Advanced Telecommunications Research Institute International [ATR])
The North American tour is co-produced with the Japan Foundation and Japan Society, and organized by Japan Society. The New York performance is co-presented with the Japan Foundation and Japan Society.
Profile
Oriza Hirata (Playwright and Director)

© Tsukasa Aoki
Playwright, director and professor at Osaka University Center of the Study of Communication-Design
Born in Tokyo in 1962. Founded the Seinendan Theater Company in 1982. Hirata regularly writes critiques and essays for the press and periodicals not only on theater but also education, language and all areas of the arts. In recent years he has fostered international exchange through performances and workshops with France and South Korea as well as North America, Australia, Southeast Asia and China. Adoption of Hirata's workshop methodology by Japanese textbooks for elementary and secondary schools has given Japanese children opportunities to create plays in their classrooms using the Hirata method. He has also held workshops for the disabled and been involved in a wide range of theater-related activities such as developing drama education programs in tie-ups with local governments and NPOs.
http://www.seinendan.org/
Hiroshi Ishiguro (Android/Robot Creator)
Professor at Osaka University, Graduate School of Engineering Science/Group Leader of Hiroshi Ishiguro Laboratory at Advanced Telecommunications Research Institute International (ATR) Born in Shiga Prefecture, Japan in 1963.
Aiming at creating robots that can be useful in society, Ishiguro has developed many humanoid and android robots, as well as an android clone of himself called Geminoid, and is an internationally acclaimed robot researcher. He received the Best Humanoid Award (Kid size) at Robocup 2006 (Bremen, Germany), the Osaka Culture Prize from Osaka City/Osaka Prefecture in 2011 and the Shida Rinzaburo Award from the Ministry of Internal Affairs and Communications of Japan in 2012. He has co-authored Human-Robot Interaction in Social Robotics (published by CRC Press), among others.
https://sites.google.com/a/irl.sys.es.osaka-u.ac.jp/top-en/