Eight up-and-coming architecture-focused curators from U.S.A. and Canada visit Japan (Invitation Program for Curators from U.S.A. and Canada)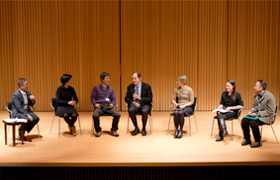 Photo: Symposium during 2012 program
In 2009, the Japan Foundation inaugurated its Invitation Program for Curators from U.S.A. This programs has since provided opportunities for curators at major art U.S. museums to learn about and gain a greater appreciation of Japanese art.
The theme for the 2013 program is architecture. Eight art museum curators, researchers, and architects—seven from the U.S.A. and one from Canada—are visiting Japan by invitation of the Japan Foundation. The program includes study tours and discussion with architects and specialists in architecture, enabling participants to explore cutting-edge architecture and urban design in Japan, and introducing the activities of architects and other specialists in areas hit by the Great East Japan Earthquake.
Through symposiums and opportunities to exchange ideas and opinions arranged with the collaboration of Japanese universities, the program facilitates academic communication between experts in this field. Plans for 2013 include symposiums in Nagoya and Tokyo. (More information will be added when symposium details are finalized.)
Period of the Program
Sunday, October 13 - Sunday, October 27, 2013 (15 days)
Program Size
8 participants (U.S.A.: 7, Canada: 1)
Main Program Activities
(1)

Architecture and city tours in Tokyo and Chiba

(2)

Visits to Aichi Triennale 2013 and Setouchi Triennale 2013

(3)

Tour to inspect areas hit by the Great East Japan Earthquake

(4)

Symposiums in Tokyo (University of Tokyo) and Nagoya (Rakuunji), and an informal meeting in Sendai (Tohoku University)

(5)

Meetings with architects and researchers (including Toyo Ito, Kengo Kuma, Taro Igarashi)
Program Participants
outline
Name
Title / Organization
Mr. Darrin Alfred

Associate Curator, Architecture and Design

The Denver Art Museum

Ms. Sarah Herda

Director

Graham Foundation

Mr. Timothy Hyde

Associate Professor of Architecture

Graduate School of Design
Harvard University

Ms. Maria Nicanor

Associate Curator, Architecture and Urbanism/
Curator, BMW Guggenheim Lab

The Solomon R. Guggenheim Museum

Mr. Inderbir Singh Riar

Lecturer

Azrieli School of Architecture & Urbanism, Carleton University

Ms. Zoë Ryan

John H. Bryan Chair and Curator of Architecture & Design

The Art Institute of Chicago

Mr. Mark Wasiuta

Adjunct Assistant Professsor of Architecture, Planning and Preservation

Graduate School of Architecture, Planning and Preservation
Columbia University

Mr. Peter Zellner

Professor/
Architect, Principal

Southern California Institute of Architecture/
ZELLNERPLUS
[Contact Us]
The Japan Foundation
Americas Section, Arts and Culture Dept.
Contact: Okabe, Kawato, Yamada
Tel: +81-(0)3-5369-6061 FAX: +81-(0)3-5369-6038