Japanese Drums Wadaiko Perfomance in Malawi and Kenya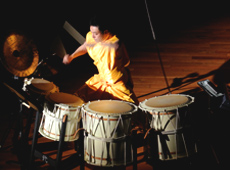 The Japan Foundation presents Japanese music performance featuring the collaboration of Wadaiko (Japanese traditional drum), Shakuhachi (bamboo flute) and Tsugaru Shamisen (three-stringed Japanese guitar) in Malawi (Lilongwe) and Kenya (Nairobi).
Centering on Wadaiko drummer Ichitaro, Shakuhachi player Masaki Nakamura and Tsugaru Shamisen player Masakatsu will present audiences dynamic performances showcasing the delicate tones of traditional Japanese musical instruments in well-balanced musical performances.
In Kenya, the trio will deliver performance at the Japanese culture festival to be held at the Embassy of Japan as an event commemorating the 50th anniversary of diplomatic relations between Kenya and Japan. Workshops for local young people are also scheduled in both Malawi and Kenya.
Malawi (Lilongwe)
outline

| | |
| --- | --- |
| Date | From 5:30 p.m., Wednesday, October 30, 2013 |
| Venue | Crossroads Hotel |
Kenya (Nairobi)
outline

| | |
| --- | --- |
| Date | From 10:45 a.m., Saturday, November 2, 2013 |
| Venue | Embassy of Japan in Kenya |
Ichitaro (Japanese Taiko drums)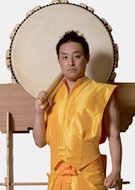 Ichitaro joined the Ondekoza drumming troupe in 1990 and studied under the troupe's founder, the late Den Tagayasu. As one of key players, he had performed onstage more than 2,000 times in Japan as well as overseas. In 2004 he left Ondekoza and started solo career. He has performed not just in Japan but around the world including Sweden, Estonia, Turkey and Algeria.
Ichitaro is an energetic producer, composer and performer. In addition to working on the collaborations with Japanese musical instruments such as Shamisen (three-stringed Japanese guitar), Shakuhachi (bamboo flute) and Whistle, he collaborates with orchestras, and jazz and rock musicians.
Masaki Nakamura (Shakuhachi)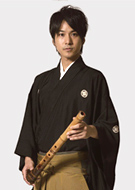 Masaki Nakamura first encountered Shakuhachi at the age of 17. Enchanted by the instrument, he pursued a major in Shakuhachi at the Department of Traditional Japanese Music of the Faculty of Music in Tokyo University of the Arts.
Nakamura won the 6th Shakuhachi Rookie of the Year Competition, the 3rd Tokyo Japanese Music Competition, and the 2nd Western and Japanese Instruments Ensemble Competition. He is also the recipient of a Yomiuri Shimbun Award, a Japan Folk Song Association Award, a Komoda Encouragement Prize and an Uwajima Grand Prize. Since graduating from university he has performed as a guest player at Suntory Hall, Ryogoku Kokugikan, the Embassy of the United States in Japan and other venues throughout Japan. He has also performed overseas including Turkey, Algeria, China, and the United States.
Nakamura's original composition that brings forth the true resonance of Shakuhachi and project the world of nature and the self is highly regarded in the music world.
Masakatsu (Tsugaru Shamisen)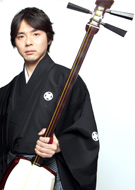 Masakatsu began playing folk music and Shamisen (three-stringed Japanese guitar) under the influence of his grandfather. He studied the Tsugaru Shamisen under Minoru Uchida and Toyoaki Fukushi. Masakatsu has won the Tsugaru-Shamisen Japan Championship and has been awarded prizes in numerous Tsugaru Shamisen contests.
In addition to the world of Japanese classics, Masakatsu has actively pursued the collaborations with artists in various genres, including participating in groups such as Tokyo Saizensen, Ryoma Quartet and HALE to KE. He has made great performance success overseas including Spain, China, the United States and Taiwan, and is currently active in a broad range of domains both at home and abroad, including on television and radio, such as the folk music program of NHK and TV commercial music.
[Contact Us]
The Japan Foundation
Europe, Middle East and Africa Section, Arts and Culture Dept.
Point of Contact: Ochi
Tel: +81-(0)3-5369-6063
E-mail: Ayako_Ochi@jpf.go.jp
(When sending e-mail, please enter a half-width character "@" instead of a full-width character "@.")