The "Evangelion and Japanese Swords" Exhibition in Paris and Madrid: View photos of the exhibition
View photos of the exhibition in Paris.
Since its opening, it has enchanted many men and women of all ages.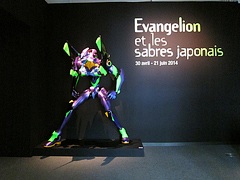 A figure of the EVA-01 Test Type welcoming visitors at the entrance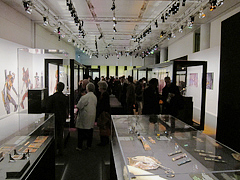 At the preview on April 29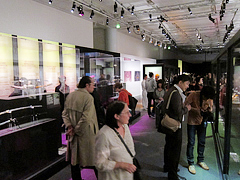 Visitors looking on exhibits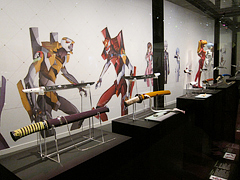 Japanese swords inspired by the Evangelion series and its characters.
One of the exhibition's highlights is to desplay graphics on the wall and their related Japanese swords together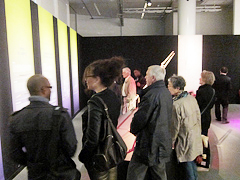 Visitors reading the cutline of Japanese swords.
It explains a history and types of Japanese swords as well as its making process in French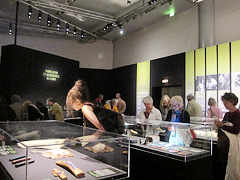 Furnishings and tools of Japanese swords also drew the attention from visitors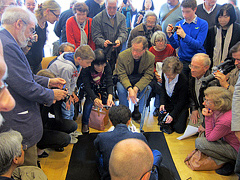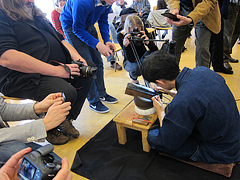 Sword-engraving demonstrations given by swordsmith Munenori Kinoshita on April 30 Participants in Paris looked at his great skills with amusement. Some of them asked for more details, and there was even a participant who checked the fine dragon motif engraved on the sword by using a magnifying glass. There were two sessions and both sessions welcomed full participants over 100 people!
[Contact Us]
The Japan Foundation
Europe, Middle East and Africa Section, Arts and Culture Dept.
Persons in charge: Nakajima (Ms.), Nagata (Ms.)
Tel: +81-(0)3-5369-6063
Email: Q_europe_mideast_africa@jpf.go.jp
(When sending an e-mail, please enter a half-width character "@" instead of a full-width character "@.")