Yutaka Oyama Hogaku Trio to Perform Japanese Music in Central America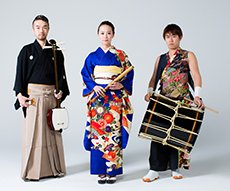 The Japan Foundation will present the Central America tour of the hogaku (traditional Japanese music) trio, Yutaka Oyama (Tsugaru shamisen), Takuya Kato (wadaiko or Japanese drums), and Yoshimi Tsujimoto (shakuhachi), from February 18 to 26. The tour commemorates the 400th anniversary of the Keicho Mission to Europe arriving in Cuba, and the 110th anniversary of diplomatic relations between Japan and Panama.
The trio is led by Yutaka Oyama, who has performed internationally in collaboration with various musicians of Japanese and Western musical instruments. In this tour, the trio will perform concerts in El Salvador, Cuba, and Panama, where rich musical cultures florish, and give lectures and demonstrations to deliver the charm of contemporary Japanese music in an enjoyable environment. Joint performances with leading popular musicians of each country are scheduled as well.
<Sample Movie>
Yutaka Oyama Hogaku Trio Performing Japanese Music in Central America (YouTube)
Schedule
El Salvador
outline

| | |
| --- | --- |
| Date | Tuesday, February 18, 4:00 p.m. |
| Venue | National Center for the Arts (San Salvador) |
outline

| | |
| --- | --- |
| Date | Wednesday, February 19, 6:00 p.m. |
| Venue | Santa Ana National Theater (Santa Ana) |
outline

| | |
| --- | --- |
| Date | Thursday, February 20, 7:00 p.m. |
| Venue | President Theater (San Salvador) |
Cuba
outline

| | |
| --- | --- |
| Date | Saturday, February 22, 6:00 p.m. |
| Venue | Special stage at Havana's International Book Fair (Havana) |
outline

| | |
| --- | --- |
| Date | Sunday, February 23, 5:00 p.m. |
| Venue | Mella Theater (Havana) |
Panama
outline

| | |
| --- | --- |
| Date | Wednesday, February 26, 7:00 p.m. |
| Venue | The Dome Auditorium, University of Panama (Panama City) |
* Co-organized by the Embassies of Japan in El Salvador, Cuba, and Panama.
* A lecture-demonstration will be held on February 18.
Profile
Yutaka Oyama (Tsugaru shamisen player)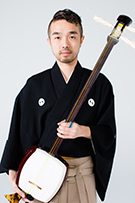 Oyama began learning the Tsugaru shamisen from a very early age, apprenticing under his grandfather, Mitsuou Oyama, founder and the first master of the Oyama School. As the third head of one of the largest schools in Japan, Yutaka Oyama performs on over 100 stages a year at home and abroad. In 2001 and 2002, Oyama won the Outstanding Player Award at the Tsugaru shamisen competition held by the Japan Folk Association. He formed "Soothe" (www.soothe-music.com) in 2003, an instrumental band that blended the sounds of Japanese and Western musical instruments. In 2011, Oyama's Carnegie Hall concert, with his new Tsugaru shamisen band "Oyama x Nitta" (www.oyamaxnitta.com ), was highly praised in the New York Times. After forming "YO" in 2012 with American tabla (Indian traditional drum) performer, Ty Burhoe, and shakuhachi player, Akihisa Kominato, the trio toured Japan and the United States. In 2013, Oyama was invited to the Cervantino International Festival in Mexico, the largest performing arts festival in Latin America, where his collaborative work with the accompanying musicians was hailed a great success. His wide range of activities include studio recordings, television appearances, live guest appearances, and many more. To highlight the attractiveness of the Tsugaru shamisen, Oyama is creating new cross-genre sounds in a flexible style while continuing to pass down traditional songs.
http://oyamayutaka.com/
Takuya Kato (Wadaiko drum player)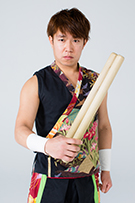 Kato started learning the drums under his father, Osamu Kato, from a very early age and debuted on stage at the age of 12. In 1995, Kato became one of the original members of "Kosui" (www.wadaiko-kosui.jp ), a Japanese drum group, and has since become the main Kosui drummer, performing at schools and events around Japan. He teaches the Japanese drum as well as composes, arranges, and directs original drum music, and actively collaborates with other musical genres. Kato began his professional career in 1999 and joined Tokyo Dageki Dan (www.dagekidan.com ) in 2002. To explore new musical possibilities, he joined the Japanese-Western band "Soothe" in 2003, and in 2004, he formed a new Kosui group called "Dadoushin" with his brother Ryohei. Kato has won many awards, including the Mt. Fuji Taiko Festival, and he continues to perform both in Japan and abroad, drawing acclaim for his solo performance on the giant drum, his skillful technique in striking multiple drums, and his entertaining performances.
http://www.tatakuya.com/
Yoshimi Tsujimoto (Shakuhachi player)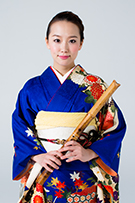 Tsujimoto began playing the shakuhachi at 16 years old. She graduated from the Department of Traditional Japanese Music in the Faculty of Music at Tokyo University of the Arts in 2010. Tsujimoto appeared on the popular TV program Daimei no nai ongakukai (Untitled Concert) while still a student. In 2005, she performed in Rohnert Park City in California as an international goodwill ambassador of Hashimoto City, Wakayama Prefecture. In the same year, Tsujimoto was invited to perform at the "Japanese and Korean Students' Musical Exchange Workshop in Osaka," as part of the World Cultural Forum 2005 sponsored by the Agency for Cultural Affairs, and also performed at the Japanese Cultural Festival in Assisi, Italy. In 2011, she played the shakuhachi in the touring performance of Banka no mai (Late Summer Dance), starring popular stage actor, Taichi Saotome. The following year she performed at the FIFA U-20 Women's World Cup Japan 2012. Tsujimoto formed the duo "FUGA" in 2013 with Tsugaru shamisen player, Chie Hanawa, and toured South America. The tour, organized by the Japan Foundation, was a great success, with warm audiences in Santiago, Chile, and Buenos Aires, Argentina. Tsujimoto is currently based in Tokyo.
http://ameblo.jp/syakuhachiyoshimi/
Special Guests
Cesar David Marino (Singer-songwriter from El Salvador)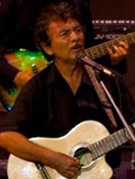 Marino, commonly known as CEDAMER, began singing and playing the guitar at 15 years old. He later became fascinated with traditional music and now works avidly to pass on El Salvador's traditional musical instruments to the next generation. He plays numerous instruments including the guitar, zampona (panpipe), flute, and the quijada (jawbone). Marino and his band, "Canto Nuevo," have performed at folklore festivals in the United States, Mexico, and Venezuela. He is also a representative of the El Salvador Arts and Popular Culture Workers Association.
David Alvarez (Singer-songwriter from Cuba)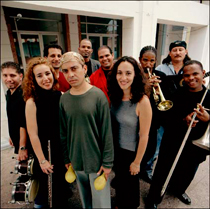 Alvarez in the center, front row
Alvarez studied percussion and guitar at the Conservatoire in Santiago de Cuba. He later became a follower of the Nueva Trova movement (the "New Song" movement calling for social change through music) while working with noted singer-songwriter, Pedro Luis Ferrer. In 1994, he formed the five-member instrumental band "Juego de Manos" seeking to revive Cuban traditional rhythms. The band fused traditional Cuban music such as Trova, Son, Guaracha, and Guajira with Caribbean and Central American sounds, making Juego de Manos a popular musical group among all ages. Their 2002 album "Son Demasiado" (Too Much Son) won the Adolfo Guzman Award (Cuban Music Critics Special Prize).
[Contact Us]
The Japan Foundation
Americas Section, Arts and Culture Department
Persons in charge: Matsumoto (Mr.), Ishii (Ms.)
Tel: +81-(0)3-5369-6061
E-mail: Kenji_Matsumoto@jpf.go.jp, Yumiko_Ishii@jpf.go.jp
(For e-mails, please change the full-width @ to a half-size character.)