JENESYS East Asia Future Leaders Programme Environment Group, November 2011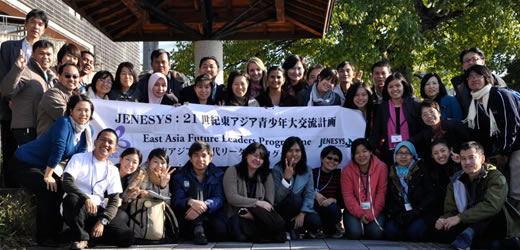 The Japan Foundation has conducted the "East Asia Future Leaders Programme" under the Japan-East Asia Network of Exchange for Students and Youths (JENESYS) Programme from 2007 to 2012.
It is a short-term exchange scheme which specifically targets young intellectuals and practitioners of particular activities aged up to 35 years in East Asia. Each program focuses on a specific theme and emphasizes a series of discussions on thematic issues common to the region, and interaction with Japanese experts and citizens with specific backgrounds.
Promising youths from the relevant fields with the related expertise expected to become the leaders of the next generation visit Tokyo and other localities, sharing every moment of study tour program together and nurturing a bond among the members. The program aims at developing mutual understanding and building networks among the 16 participating countries including Japan, a host country.
Fiscal year 2012
Environment and Community Revitalization
Fiscal year 2011
Fiscal year 2010
Fiscal year 2009
Fiscal year 2008
Environment Group: Environment and Community Revitalization
25 youths from the 15 countries were invited to Japan and 27 including 2 of Japan participated in the program. Those who actively involved with environmental preservation, environmental education, revitalization of local communities, and community development in the fields of NGOs, academia and educations, public administrations, and media spent 12 days together and fostered solidarity.
The young leaders of each country visited Minamata city in Kumamoto prefecture, as an example of environmental revitalization and community development, and exchanged their views with the counterparts in Japan.
Program Period
November 19 to November 30, 2011
List of Participants
List of Participants

| Country | Name | Institution |
| --- | --- | --- |
| Brunei | CHIN, Albert Kuan Jian | The Brunei Times |
| Brunei | BESAR, Mohd Hairul Azrin Haji | University Brunei Darussalam |
| Cambodia | NEY, Chanthy | Ministry of Environment |
| Cambodia | LY, Sophorn | Ministry of Environment |
| Indonesia | DAMAYANA, Gita Putri | Indonesian Center for Law and Legal Studies |
| Indonesia | FRASETIANDY, Dwitho | WALHI South Kalimantan - Friends of the Earth Indonesia |
| Laos | PHENGMANY, Aloun | Water Resource and Environment Office, Champasak Province |
| Laos | THANOUSONE, Sengphet | National University of Laos |
| Malaysia | RADZUAN, Norazlina Hidawaty Binti Mohd | Ministry of Natural Resources and Environment |
| Malaysia | IBRAHIM, Zaimastura Binti | Ministry of Natural Resources and Environment |
| Myanmar | KHINE, Nyein Nyein | Ministry of Forestry |
| Myanmar | WAI, Tin Maung | Ministry of Social Welfare |
| Philippines | BERCASIO, Daniel Requejo | Gawad Kalinga Community Development Foundation, Inc. |
| Philippines | UMNGAN, Abdul-Jalil Salic | Office of the Presidential Adviser on the Peace Process |
| Singapore | ANG, Suet Geok Grace | Singapore Environment Council |
| Singapore | NGEOW, Yin Teen | Singapore Environment Council |
| Thailand | KANPARIT, Sujane | Sarakadee Magazine |
| Thailand | JANCHIDFA, Kannika | Institute of Human Rights and Peace Studies, Mahidol University |
| Vietnam | NGUYEN, Thi Hieu | Center for Waste Resources Conservation and Development |
| Vietnam | TRAN, Thi Phan | WWF (World Wildlife Fund for Nature) |
| India | KAUR, Gurjeet | Pondicherry University |
| Australia | HRYCZYSZYN, Kate Lauren | The University of Queensland |
| New Zealand | DAVIS, Meredith Frances | Ministry for the Environment |
| China | WANG, Jingjing | The Institute of Public and Environmenal Affairs |
| Korea | KIM, Jin-Ju | Seodaemun-gu City Office |
| Japan | KOSAKA, Maho | Shiga Prefectural Government |
| Japan | SHIMOZATO, Yumiko | Universtiy of Sacred Heart |
Itinerary
Itinerary
Date
Program
Nov. 19 (Sat)
Arrival at Tokyo from Respective Home Countries
Nov. 20 (Sun)
Program Orientation
Participants' Presentation
Informal Welcome Dinner
Nov. 21 (Mon)
Keynote Lecture by Program Advisor
Briefing on Field Visit to Minamata
Leave Tokyo for Minamata
Nov. 22 (Tue)
Soshisha Minamata Disease History Museum
Lecture: Mr. Masami Ogata, Storyteller of Minamata Disease Municipal Museum
Minamata Soap Works (Eco-Net Minamata)
Nov. 23 (Wed)
Minamata tour (Chisso Corporation, Hyakken Drainage Outlet, Landfill Park, Modo Fishing Village)
Minamata Disease Municipal Museum
Lecture: Mr. Masazumi Yoshii, Former Mayor of Minamata city
Lecture "Jimotogaku": Mr. Tetsuro Yoshimoto, Jimotogaku Network
Nov. 24 (Thu)
Jimotogaku Field Work
Group Presentation
Dinner Party
Nov. 25 (Fri)
Lecture: Mr. Yoichi Tani, Solidarity Network Asia and Minamata
Ms. Shinobu Sakamoto, Patient of Congenital Minamata disease
Wrap-Up session of Mianamata Program
Leave Minamata for Amakusa
Culture Experience: Japanese Style-Hotel
Nov. 26 (Sat)
Leave Amakusa for Kumamoto
Kumamoto visit (Kumamoto Castle and Japanese Garden Suizenji)
Leave Kumamoto for Tokyo
Nov. 27 (Sun)
Group Discussion
Individual Site Visit
Nov. 28 (Mon)
Group Presentation
Final Wrap-Up
Farewell Reception
Nov. 29 (Tue)
Culture Experience: Saitama Togyoku Doll Museum, Omiya Bonsai Art Museum, Kawagoe Kitain Temple, Kawagoe Traditional Merchant Houses
Nov. 30 (Wed)
Departure from Tokyo to Respective Home Countries
Reports
『Environment & Community Revitalization』
The report book includes the overview of the study tour, keynote lecture of the program advisor Dr.Yoshiyuki Nagata, and post-program reports of the participants.
Published by: The Japan Foundation
Date: March 2012
ISBN: 978-4-87540-148-3
A4 format, English (Partially Japanese), Not for Sale

*

This is a part of JENESYS (Japan - East Asia Network of Exchange for Students and Youths) Programme.
Adobe Reader software is available for free download from the Adobe Systems web site. To download and install Adobe Reader,
click on this link

and follow the instructions given for your operating system.