JENESYS East Asia Future Leaders Programme ESD Group, April 2010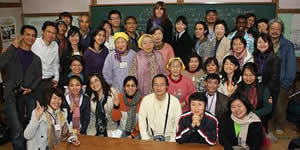 The Japan Foundation has conducted the "East Asia Future Leaders Programme" under the Japan-East Asia Network of Exchange for Students and Youths (JENESYS) Programme from 2007 to 2012.
It is a short-term exchange scheme which specifically targets young intellectuals and practitioners of particular activities aged up to 35 years in East Asia. Each program focuses on a specific theme and emphasizes a series of discussions on thematic issues common to the region, and interaction with Japanese experts and citizens with specific backgrounds.
Promising youths from the relevant fields with the related expertise expected to become the leaders of the next generation visit Tokyo and other localities, sharing every moment of study tour program together and nurturing a bond among the members. The program aims at developing mutual understanding and building networks among the 16 participating countries including Japan, a host country.
Fiscal year 2012
Fiscal year 2011
Fiscal year 2010
Education for Sustainable Development (ESD)
Fiscal year 2009
Fiscal year 2008
ESD: Education for Sustainable Development
24 youths from the 14 countries were invited and participated in the program. Those who actively involved with environmental education and Education for Sustainable Development (ESD) in the fields of NGOs, academia and educations, and public administrations spent 13 days together and fostered solidarity.
The young leaders of each country visited Minamata city, Ojika and Nozaki Islands of Goto Archipelago, as an example of environmental revitalization and sustainable community, and exchanged their views with the counterparts in Japan.
Program Period
April 11 to April 23, 2010
List of Participants
List of Participants

| Country | Name | Institution |
| --- | --- | --- |
| Brunei | Haji Ryni Sofian Bin, Haji Othman | Foresty Department, Ministry of Industry and Primary Resources |
| Brunei | Muhammad Zul-Akmal Bin, Haji Zainuddin | Ministry of Education |
| Cambodia | Panchakneat, OEURN | Ministry of Environment |
| Cambodia | Sreyroth, HEAL | Ministry of Environment |
| Indonesia | Elisa, Sutanudjaja | University of Pelita Harapan |
| Indonesia | Reza, Fahlevi | Ministry of Environment |
| Malaysia | Chiew Yen, Chuah | Water Watch Penang |
| Malaysia | Saimy, Intan Sazrina Binti | Universiti Industri Selangor (UNISEL) |
| Philippines | Lisa Ito, TAPANG | Center for Environmental Concerns-Phillippines (CEC-Phils) |
| Philippines | Ratunil Casiano Oliver Patrick Talaroc, PADERANGA | Camiguin Polytechnic State College |
| Singapore | Dexiang, CHEN | National University of Singapore (student) |
| Singapore | Kumaran Kephren, AYANARI | Tamasek Politechnic (student) |
| Thailand | Watcharaporn, KAEWDEE | Faculty of Education, Chulalongkorn University |
| Thailand | Nantawan, LOURITH | Ministry of Natural Resource and Environment |
| Vietnam | Van Nguyet, DO | Live and Learn for Environment and Community |
| Vietnam | Van Luan, NGUYEN | Center for People and Nature Reconciliation (Pan Nature) |
| Vietnam | Hue Phuong, NGUYEN | Action Center for City Development |
| India | Jasmine Kaur | Lovely Professional University |
| Australia | Michelle Ann, GANE | Institute for Sustainable Resources at Queensland University of Technology |
| Australia | Alexandra, HILVERT | Spensley St Primary School |
| New Zealand | Ja Yeun, LEE (Alexandra) | University of Auckland |
| China | Xi, SONG | Friends of Nature |
| Korea | Myoung Shin, KIM | Korean National Comission for UNESCO |
Itinerary
Itinerary
Date
Program
Apr. 11 (Sat)
Arrival
Apr. 12 (Sun)
Program Orientation
Participants' Presentations & Small Discussions
Lecture on ESD by Prof. Yoshiyuki Nagata
Welcome Dinner
Apr. 13 (Mon)
Participants' Presentation
Wrap-up of Presentation Sessions
Leave Tokyo for Minamata
Apr. 14 (Tue)
Lecture by Former Mayor of Minamata city, Mr. Masazumi Yoshii
Minamata Disease Municipal Museum
City Tour; Coast area, Landfill park, Drainage outlet, Chisso Chemical Plant (from bus) by Soshisha
Gaia Minamata
Apr. 15 (Wed)
Jimotogaku Lecture by Mr. Tetsuro Yoshimoto at Village Lifestyle Museum in Ohkawa Region
Fieldwork in groups
Group discussion & Presentation
Waste Sorting activity in Susubaru region
Dinner Party with Mr. Yoshimoto
Apr. 16 (Thu)
Landfill Site, Waste Recycle Center
Voice of a storyteller, Ms. Ohya
Wrap-up by Prof. Yoshiyuki Nagata
Leave Minamata for Sasebo
Apr. 17 (Fri)
Leave Sasebo for Nozaki Island
Tour of Nozaki Island; ruins of the once existed community, the old church
Apr. 18 (Sat)
Leave Nozaki Island for Ojika Island
Eco & Study Tour of Ojika town
Lecture on Eco Tour System of Ojika by Mr. Junji Kametsu of Ojika Island Tourism
Homestay Experience
Apr. 19 (Sun)
Leave Ojika Island for Nagasaki
Nagasaki Atomic Bomb Museum
Leave Nagasaki for Kyoto
Apr. 20 (Mon)
Cultural experience: Zen meditation and Kiyomizu Temple
Miyako Ecology Center
Leave Kyoto for Tokyo
Apr. 21 (Tue)
Optional: National Museum of Emerging Science and Innovation (Miraikan)
Courtesy call to the Ministry of Foreign Affairs
Apr. 22 (Wed)
Final workshop
Farewell reception
Apr. 23 (Wed)
Departure
Reports
『Education for Sustainable Development (ESD)』
The report book includes the overview of the study tour, keynote lecture of the program advisor Dr. Yoshiyuki Nagata, and post-program reports of the participants.
Published by: The Japan Foundation
Date: November 2010
ISBN: 978-4-87540-127-8
A4 format, English, Not for Sale

*

This is a part of JENESYS (Japan - East Asia Network of Exchange for Students and Youths) Programme.
Adobe Reader software is available for free download from the Adobe Systems web site. To download and install Adobe Reader,
click on this link

and follow the instructions given for your operating system.