The exhibition Hokusai in Paris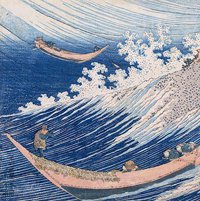 ©Rmn-Grand Palas
(muséeGuimet, Paris)
/ Thierry Olivier
The Japan Foundation is proud to announce that the exhibition Hokusai will be held at the Galeries Nationales du Grand Palais, administered by Réunion des Musées Nationaux - Grand Palais, France, from October 1, 2014 through January 18, 2015.
Katsushika Hokusai, popularly known simply as Hokusai, is perhaps the most famous Japanese artist of all time, and is recognized worldwide as one of the greatest artists who ever lived. It is said that the wave of Japonism that swept 19th-century Europe, and Paris in particular, began when printmaker Félix Bracquemond came across a book of "Hokusai Manga" (or sketches). "Hokusai Manga" then exerted a strong influence on artists throughout Europe, contributing to the rise of both Impressionism and Art Nouveau.
The year of 2014 marks 200 years since the publication of the first of the "Hokusai Manga". The Japan Foundation and the Réunion des Musées Nationaux - Grand Palais will celebrate this occasion with a major retrospective of Hokusai to present approximately 700 pieces, which were created throughout his seven-decade career, in Paris, the city where Hokusai's genius was first recognized outside of Japan.
Read an essay on the exhibition contributed by Seiji Nagata in Wochi Kochi Magazine
Outline
Dates
Part 1: Wednesday, October 1 - Thursday, November 20, 2014
Part 2: Monday, December 1, 2014 - Sunday, January 18, 2015
Venue
Galeries Nationales du Grand Palais (Paris)
3, avenue du Général Eisenhower
75008 Paris
Organizers
Réunion des Musées Nationaux - Grand Palais The Japan Foundation
Supervising curator
Seiji Nagata (Director of Katsushika Hokusai Museum of Art)
Joint curator
Laure Dalon (assistant scientific director of the Réunion des musées nationaux – Grand Palais.)
Special Support
Musée national des arts asiatiques – Guimet
Royal Museums of Art and History, Brussels
Sponsored by
NATIXIS
Supported by
FKK Corporation, Japan Airlines Co., Ltd.
For more details
(incl. advance ticket info)
www.grandpalais.fr (English, French)
The Galeries Nationales du Grand Palais
The venue, the Grand Palais, is one of the most famous museums and historic landmarks in Paris, first built for the Paris World's Fair in 1900. It was thoroughly renovated in 2000, and art exhibitions held in its galleries consistently draw the attention of the global art world, and the upcoming Hokusai is the centerpiece of the gallery's program for this year.
[Contact Us]
The Japan Foundation
Europe, Middle East and Africa Section, Arts and Culture Dept.
Persons in charge: Tae Mori, Ayako Nagata
Tel: +81-(0)3-5369-6063
Fax: +81-(0)3-5369-6038
Email: venezia@jpf.go.jp
(When sending an e-mail, please enter a half-width character "@" instead of a full-width character "@.")