First American retrospective for Kazuo Shiraga and Sadamasa Motonaga-central figures of the Gutai group
The Japan Foundation, together with the Dallas Museum of Art (Texas, USA), is presenting the exhibition, Between Action and the Unknown: The Art of Kazuo Shiraga and Sadamasa Motonaga, which examines the art of these two artists who were representative of the Gutai Art Association (Gutai).
There has been a growing interest in the United States in post-War Japanese art. Works by the Gutai group, in particular, have been frequently featured in art exhibitions since they were first introduced to the West during the late 1950s by art critic Michel Tapié. Here, sixty works by Shiraga and Motonaga are exhibited, showcasing not only their work as part of Gutai, but also work spanning the two artists' entire careers.
Between Action and the Unknown: The Art of Kazuo Shiraga and Sadamasa Motonaga presents the highly original physicality and creativity that underpins the unparalleled uniqueness of these two artists. At the same time the exhibition examines Shiraga and Motonaga's pioneering roles in the context of post-War Japanese art.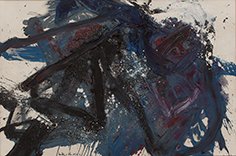 Kazuo Shiraga, Tenshosei Botsuusen
1960, oil on canvas
The Rachofsky Collection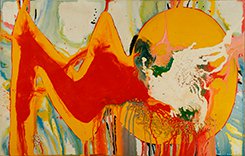 Sadamasa Motonaga, Red and Yellow
1963, oil paint, synthetic resin paint, and gravel on canvas
Mie Prefectural Art Museum
Read an essay on the exhibition contributed by Gabriel Ritter in Wochi Kochi Magazine
Overview
Schedule of Exhibition
Dates
Sunday, February 8 – Sunday, July 19, 2015
Tue, Wed, Fri, Sat: 11:00 a.m. – 5:00 p.m.
Thu: 11:00 a.m. – 9:00 p.m.
Third Friday of the month: 11:00 a.m. – 12:00 a.m.
Closed: Monday
Venue
The Dallas Museum of Art
Co-organized by
The Japan Foundation, the Dallas Museum of Art
Curated by
Koichi Kawasaki (Professor, Konan Women's University)
Gabriel Ritter (Nancy and Tim Hanley Assistant Curator of Contemporary Art, the Dallas Museum of Art)
Special support
Ishibashi Foundation
Support
Nippon Cargo Airlines Co., Ltd.
Artist Profile
Kazuo Shiraga (1924–2008)
After studying Nihon-ga (Japanese-style painting) in the late 1940s, Kazuo Shiraga began making oil paintings with his fingers, and in time, developed a dynamic approach using his feet. During his time as a member of Gutai, Shiraga continually challenged himself to push the boundaries of his physical being, and in doing so, push the limits of painting itself. This can be seen in performances such as Challenging Mud (1955), where the artist used his entire body to wrestle a mound of mud and concrete, or the theatrical Ultramodern Sanbaso (1957), in which the artist performed on stage dressed in a dramatic red costume with long flowing arms, a pointed hat, and mask. While these early performances represent Shiraga's most radical expression of action as painting, the artist is best known for his large oil-on-canvas paintings done with his feet. He continued the vigorous process of painting with his feet well into his eighties, exploring ideas of chance and performativity through themes related to Buddhism and Japanese folk tales.
Sadamasa Motonaga (1922–2011)
Motonaga was a self-taught artist who became aware of abstract painting after meeting Jiro Yoshihara, the founder of the Gutai Art Association. His unique approach, using enamel paint, was in part inspired by the traditional Japanese technique of tarashikomi, in which layers of wet paint are allowed to pool irregularly. Motonaga's work was included in an exhibition of Gutai art that traveled around the U.S. in 1958, and after signing with the Martha Jackson Gallery in 1960, he began developing closer ties with the country. In 1966, Motonaga was invited by the Japan Society to take part in a year-long residency program in New York. While there, he began experimenting with airbrushing techniques resulting in a dramatic change in his style. His amorphous poured canvases took on new clarity as he explored more hard-edged shapes that played with color and contour. After returning to Japan, he began making silkscreen prints and picture books, attaining popularity as one of the country's most prominent contemporary artists. Much of his later work has yet to be addressed by art historians.
[Contact Us]
The Japan Foundation
Americas Section, Arts and Culture Dept.
Tel: +81-(0)3-5369-6061 Fax: +81(0)3-5369-6038
Person in charge: Miki Okabe (Ms.), Etsuko Yamada (Ms.)
E-mail: Miki_Okabe@jpf.go.jp / Etsuko_Yamada@jpf.go.jp
(When sending an e-mail, please enter a half-width character "@" instead of a full-width character "@.").