transphère #1
Fertile Landscapes,
Daito Manabe+Motoi Ishibashi
For this first part of the series, these two creators, specialized in new technologies, will present their latest creation: an installation shrouded in a cloak of mystery given that the two designers tend to privilege unpredictable developments during the creative process. The new work, rate-shadow, is making its premiere in Paris. Inspired by rate, a piece, which made with a light-emitting sphere, that the artists showed at the STRP 2015 media festival in the Netherlands last year. This new installation for transphère will use the device to project and express shadows and colors in the space. It is a combination of art and technology, the real and the virtual, and is sure to generate excitement, wonder and reflection in the spectator.
Some of Manabe and Ishibashi's older projects will also be on display to the public (in video format): several pieces choreographed by MIKIKO for the company ELEVENPLAY, and Music for the Deaf, a performance where deaf dancers seem to evolve in harmony with the music thanks to the aid of tactile stimuli.
Daito Manabe is an extremely creative programmer and Motoi Ishibashi is a brilliant designer of devices and machines. Together they merge art and technology in projects that are at the cutting edge of innovation. Both are directors of Rhizomatiks Research, an organization devoted to research through the development of innovative experimental projects in the fields of interactive and digital design. In 2014, they also collaborated in a dance production, which involved female dancers and drones and gave the audience a surprise (MOSAIC).
Some of Manabe and Ishibashi's works transform the venue they exhibit into a space of great beauty: the Ars Electronica Festival prize winner particles, which was a poetic installation, and pulse which created with excellent use of laser beams. For rate, they used huge white balloons and showed beautiful colors of them only through the filter of a screen. They create unprecedented physical sensations for audience.
rhizomatiks.com / rzm-research.com

Rhizomatiks Research
particles at YCAM, 2011
Photo by Ryuichi Maruo (YCAM)

Rhizomatiks Research + ELEVENPLAY,
border, 2015
Photo by Muryo Homma (Rhizomatiks Research)
Outlines
Title
Fertile Landscapes
Dates
Tuesday, March 15*– Saturday, May 7, 2016
*Preview/Opening reception
Artists
Daito Manabe + Motoi Ishibashi
Curator
Aomi Okabe (Artistic Director of Exhibitions, MCJP)
Website
http://www.mcjp.fr/fr/agenda/daito-manabe-motoi-ishibashi
Organized by
The Japan Foundation, The Japan Cultural Institute in Paris (The Japan Foundation)
Special support by
Ishibashi Foundation
Support by
The OBAYASHI Foundation
Sponsored by
Shiseido, Japan Airlines Co., Ltd.
Profile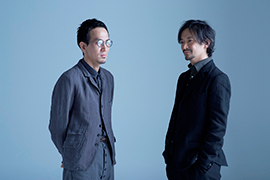 Photo : Shizuo Takahashi
Daito Manabe (right)
Artist/Programmer/DJ
Daito Manabe was born in 1976 and lives and works in Tokyo. In 2006, he launched Rhizomatiks, a company specializing in web, interactive, and graphic design as well as architecture. Since 2015, he has been working with Motoi Ishibashi on Rhizomatiks Research, spearheading research and development projects. In collaboration with artists from various disciplines, he also works on projects that privilege interactive design.
In 2011, particles, which he created in collaboration with Ishibashi, received an Award of Distinction in the interactive art category of the Prix Ars Electronica. Since 2011, he has collaborated with the dance company ELEVENPLAY. He makes use of various technologies, such as computer vision, drones, and robotic arms, to give birth to new forms of physical expression.
Motoi Ishibashi (left)
Artist/Programmer/Designer/Engineer
Motoi Ishibashi was born in 1975 in Shizuoka and he lives and works in Tokyo. After studying control systems engineering at the Tokyo Institute of Technology, he went on studying mechanical and image processing engineering at the Institute of Advanced Media Arts and Sciences (IAMAS) in Gifu, at the inception of digital media production. He is currently working on the development of new artistic methods touching on both the visual environment and the elaboration of engineering solutions in terms of artistic production and interactive public spaces. In 2011, he and Manabe were the recipients of an Award of Distinction in the interactive art category of the Prix Ars Electronica. That same year, he received the Excellence Award at the 15th edition of the Japan Media Art Festival. Since 2015, he has co-directed Rhizomatiks Research, an organization devoted to research and development in the spheres of art, technology, and entertainment, along with Manabe.
Aomi Okabe
Art critic/Curator
Born in Tokyo, Aomi Okabe co-curated The Japanese Avant-Gardes 1910-1970 exhibition, held at the Centre national d'art et de culture Georges Pompidou in Paris from 1986 to 1987, and worked as a chief curator at the Musée d'art Mercian KARUIZAWA, which focused on modern and contemporary arts of France. She taught Non-Occidental Art History at the École nationale supérieure des beaux-arts de Paris between 1993 and 1995. From 1999 to 2011, she was a professor of Art History and Museum Studies at Musashino Art University, and a visiting scholar at New York University from 2006 to 2007. She launched the Hanshin Art Project after the Great Hanshin-Awaji Earthquake of 1995, as well as the Georges Rousse Art Project in Miyagi in 2013 after the Great East Japan Earthquake. She served as a member of jury at the Japan Media Arts Festival (Art Division), from 2012 to 2014, and a selection committee member for the exhibition IN SITU-1 at the Espace Louis Vuitton in 2014. She is currently an advisor to the Shiseido Gallery.
She established the website Culture Power for interaction with supporters of contemporary art. Her written works include Art Seed: Pompidu Senta Bijutsu Eizo Nettowaku [Art Seed: Art Documentary Films on the Pompidou Center Collection] and Ato to Josei to Eizo [Art, Women, and Image]. She also directed the video Atsuko Tanaka: Another Gutai.
The interview with Daito Manabe and Motoi Ishibashi in English appeared in the exhibition catalogue transphère #1 has been reprinted in Wochi Kochi Magazine.
[Contact Us]
The Japan Foundation
Arts and Culture Dept.
Person in charge: Kobayashi (Mr.), Nagata (Ms.)
Tel: +81-(0)3-5369-6063
E-mail: arts2@jpf.go.jp
(When sending an e-mail, please enter a half-width character "@" instead of a full-width character "@.")