Japanese Pottery: The Rising Generation from Traditional Japanese Kilns
Japan has traditionally produced a large amount of ceramic works. This exhibition introduces outstanding works by young artists who are carrying on the kiln tradition in areas with distinctive styles such as Arita and Karatsu, Hagi, Bizen, Kyoto, Kutani, Seto and Mino, and Mashiko.
This touring exhibition is completed.
January 14 - February 19, 2017
Kaohsiung Cultural Center (Kaohsiung, Taiwan)
November 18 - December 4, 2016
Vietnam Fine Arts Museum (Hanoi, Vietnam)
October 14 - 30, 2016
Exhibition Hall, Museum of Ho Chi Minh City (Ho Chi Minh, Vietnam)
September 1 - 22, 2016
St. James Theatre, Level 1 Gallery Space (Wellington, New Zealand)
July 1 - August 7, 2016
Aigantighe Art Gallery (Timaru, New Zealand)
May 11 - June 19, 2016
TSB Bank Wallace ARTS CENTRE (Auckland, New Zealand)
March 20 - April 20, 2016
Galeria W.Angelina Messenberg (Bauru, Brazil)
February 18 - March 13, 2016
National Museum (Brasilia, Brazil)
January 12 - February 7, 2016
Parana Museum (Curitiba, Brazil)
December 2 - 20, 2015
National Historical Museum (Rio de Janeiro, Brazil)
July 31 - August 30, 2015
San Jose Museum (San Jose, Uruguay)
April 24 - May 24, 2015
National Museum of Oriental Art (Buenos Aires, Argentina)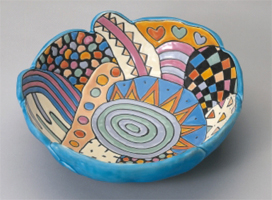 Masamitsu Shibata: Blue pop-art bowl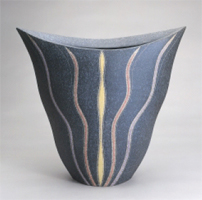 Ichiji Shimizu: Vase with linear motif and spattered slip decor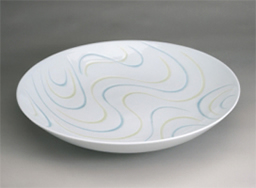 Yasunori Inoue: Bowl in overglaze enamels with carved decor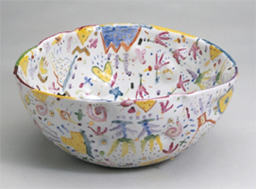 Jun Kawaguchi: Bowl with gold and overglaze enamel decor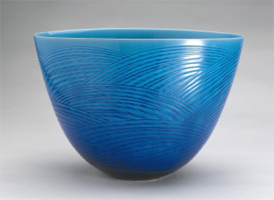 Atsushi Miyanishi: Blue-glazed vase with wave motif