YUGEN -THE HIDDEN BEAUTY OF JAPAN-
World Premiere Noh in 3D Live at the River Night Festival 2016
To celebrate the 50th anniversary of Singapore-Japan diplomatic relations, the Japan Foundation will present YUGEN: The Hidden Beauty of Japan. In this show, Japanese traditional performing art Noh meets new technology. This bold fusion of the age-old Japanese theater form and 21st century 3D scenography in Japan's latest art development will have its world premiere at the River Nights Festival 2016.
Created by renowned director Amon Miyamoto and scenographer Shutaro Oku, travel into the fugitive world of YUGEN, where nature unfolds with special 3D glasses mounted on an Omote Noh mask.
Step into the mysterious world of YUGEN and savor glimpses of profound beauty of nature with Noh actors performing the extraordinary lions' dance Shakkyo and the celestial maiden's dance Hagoromo, set against a rich visual tapestry.
An original theatrical experience under the night sky not to be missed.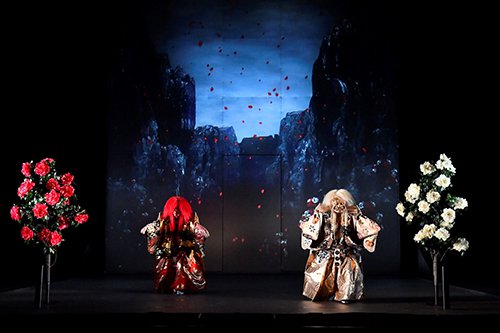 Outline
YUGEN -THE HIDDEN BEAUTY OF JAPAN-
Overview
Date & Time
Friday, October 28 – Saturday, October 29, 2016 8:00 p.m. and 9:30 p.m.
Place
Asian Civilisations Museum
ACM Green
1 Empress Place Singapore 179555
Implemented by

Organized by:

The Japan Foundation

Co-organized by:

Asian Civilisations Museum (Singapore)
Meiji University (Tokyo)

Supported by:

Japan Creative Centre
The Fullerton Hotel

Projection Partner:

Panasonic

Special cooperation by:

Grand Master of the Kanze-School, Kanze Foundation

In conjunction with:

River Nights Festival 2016
The 50th Anniversary of Singapore-Japan Diplomatic Relations

Co-produced by:

Culture Link

Performers

Shakkyo

White Lion:

Shigehiko Fujinami

Red Lion:

Kojiro Sumi

Hagoromo

Maiden:

Yoshinari Shimizu

Man:

Kazuki Takase

Young Man:

Ryuji Aigase

Creative Team

Supervisor:

Keiichiro Tsuchiya

Director:

Amon Miyamoto

3D Movie Director:

Shutaro Oku

Animation Designer:

Tatsuro Hirasawa

Technical Assistance (3D movie):

Fukuchi Laboratory (Meiji University)

Composer:

Yutaka Fukuoka

Stage Designer:

Hiroko Oshima

Lighting Designers:

Harumi Fujimoto, Mitsuhisa Ogaki

Sound Designer:

Atsushi Tagami

Assistant Director:

Moeko Yamazaki

Production Manager:

Michio Tomoi

Production Team

Administrator:

Junichi Tsuchiya

Production:

Naoko Suzuki, Hiromi Yamakawa

Production Assistance:

WM Inc.
Profile
Amon Miyamoto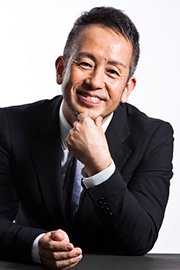 Born in 1958 in Ginza, Tokyo, Miyamoto is a director of musicals, operas, plays, kabuki and other art genres, active both in Japan and internationally. In 1987, he made his directing debut with his original musical I Got Merman, which received the National Arts Festival Award of the Agency for Cultural Affairs. In 2004, he became the first Asian director on Broadway for his staging of the musical Pacific Overtures, which received four Tony Award nominations. In 2011, he directed The Temple of the Golden Pavilion, a stage adaptation of the novel by Yukio Mishima, which was invited to the Lincoln Center Festival in New York. In 2013, he made his European opera directorial debut with the world premiere of The Magic Flute by Mozart. In October 2016, he directs a brand new original show as part of the World Forum on Sports and Culture, a kick-off event toward the 2020 Tokyo Olympic and Paralympic Games. In recent years, he has been placing special focus on directing and introducing a wide range of Japanese performing arts and cultures, from the classical theater to most advanced entertainment.
Shutaro Oku
3D movie director Shutaro Oku was born in 1975 in Tokyo. His major films are The Labor Cop, Japanese Naked Tribe, Aka-sen, Cain's Descendant (which was officially selected for the 57th Berlin International Film Festival), USB (starring Kazushi Watanabe, Kaori Momoi, Nao Omori, Hideki Noda et al.). He has been involved in stage productions as visual planner for such plays as Elisabeth and MOZART! for TOHO Musical, The Bee and Egg for NODA MAP productions, 1789, Casablanca for the Takarazuka Revue, and so on. He also has energetically worked on staging as stage director making full use of visuals. These activities brought him the 2008 Yomiuri Theater Awards for Excellent Staff Award for Black Cat (which he wrote and directed). His major stage productions include Persona, BLOOD-C The LAST MIND, GHOST in THE SHELL ARISE: GHOST is ALIVE.
Shigehiko Fujinami

Noh actor (Kanze School) Shigehiko Fujinami was born in 1964 as a son of a renowned Noh actor Shigemistu Fujinami. He studied Noh under his father and Grand Master Kiyokazu Kanze. He is a member of the Nohgaku Performers' Association.

Kojiro Sumi

Noh actor (Kanze School) Kojiro Sumi was born in 1975 as a son of a renowned Noh actor Hirojiro Sumi. He studied Noh under his father and Grand Master Kiyokazu Kanze. He is a member of the Nohgaku Performers' Association.

Yoshinari Shimizu

Noh actor (Kanze School) Yoshinari Shimizu was born in 1973 and studied Noh under Grand Master Kiyokazu Kanze. He is a member of the Nohgaku Performers' Association.
[Contact Us]
The Japan Foundation
International Operations Section 1
Arts and Culture Dept.
Person in charge: Mukai (Ms.)
Tel: +81-(0)3-5369-6061