Anna Sato × Toshiyuki Sasaki, Mika Stoltzman and Travis Japan to perform at the Opening Ceremony of the National Cherry Blossoms Festival in Washington DC, USA!
The Japan Foundation (JF) is delighted to bring three popular artist groups to the National Cherry Blossom Festival in Washington D.C., U.S.A. They will be performing at the opening of the festival, to pay tribute to the longstanding friendship between Japan and the United States. We hope that the spectacular performances bring new interests to wide genre of Japanese performing arts.

National Cherry Blossom Festival Opening Performance
Project Schedule
March 25, 2023 (Saturday) 5:00 P.M.~6:30 P.M.(EDT)
Venue
Warner Theatre
Performer
Anna Sato × Toshiyuki Sasaki, Mika Stoltzman, Travis Japan and others
Ticket
Reservation required (Free entrance/ additional 5USD registration fee required) ※YouTube Livestreaming
YouTube
live streaming
youtube
Website
Opening Ceremony - National Cherry Blossom Festival
Organizer:

National Cherry Blossom Festival, Inc.

Co-presenter:

The Japan Foundation
Anna Sato × Toshiyuki Sasaki
Performance at Freer Gallery
Co-presenter:

The Japan Foundation, Smithsonian National Museum of Asian Art

Cooperation:

MINFAPLAN

Costume Design:

Kansai Yamamoto
Profiles
Anna Sato X Toshiyuki Sasaki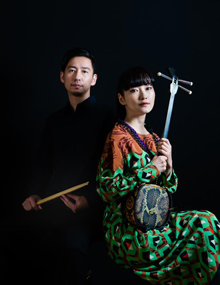 Anna Sato is a Shimauta singer from Amami Islands and Toshiyuki Sasaki is a drummer. They originally formed the unit just to perform for Rencontres de Chants Polyphoniques, a music festival held in Corsica (France) in 2016, but officially made a debut as a duo after that. Shimauta repertoire is traditionally accompanied by Chijin drumming. While Sato keeps the fundamental structure of Shimauta singing with Chijin playing, she is also accompanied by the sound of western style drumming by Sasaki and changes up her choice of musical instrument from Chijin to Sanshin (three string banjo-like instrument) or Amami Tategoto (vertical harp). By doing so, the duo creates a completely original groove and produces the traditional music that is relevant to the present audience. They had a successful concert in Paris in 2017. Since then, they have released three full-albums, one LP and six 7-inch singles together. Most recently, they released a limited-edition album only for Europe and keep expanding the field of activities tirelessly.
Mika Stoltzman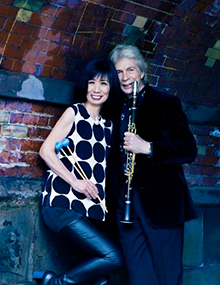 Mika Stoltzman, called "High-wire jazz marimbist... an amazing, energetic performer ready for major exposure." (LA Times) was born in Amakusa Island, Kumamoto, Japan, and now resides in Boston.
Mika has performed 10 times at Carnegie Hall (Zankel & Weill), PASIC 2005&2007, Blue Note NY,Blue Note Tokyo, Cairo Jazz Festival, YOSHI's CA and other Jazz club. On August 13th 2015, Mikarimba celebrated a sell-out concert at the Rockport Jazz Festival (MA) with Steve Gadd.
In addition to touring in 19 countries and 60 cities around the world.
She premiered Marimba Concerto with the Kyushu Symphony Orchestra and Kumamoto Symphony Orchestra. She was also guest soloist in the Kracow Philharmonic in Poland, and Szombathey Symphony Orchestra in Hungary.
In 2013, Mika's guest performance of Chick Corea's Piano Concerto No. 1 on Marimba (World Premiere) with Xalapa Symphony Orchestra in Mexico and Verona Italy. Also, Chick Corea's Concerto recorded with Boston Modern Orchestra.
  Mika produced and performed the Amakusa Island Magic(International Music Festival)  2005-2008 and  "Kumamoto Red Music Festival" 2014 for celebrate her 50 years anniversary.
She has been performing actively with the duo "The Stoltzmans on Clarinet and Marimba" with Richard Stoltzman. They have been performing globally in New York, Boston, Austin, Buenos Aires, Beijing, Hong Kong, Italy, France, Germany and Japan.

Travis Japan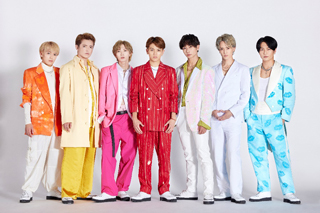 Travis Japan is a formidable 7-member dance and performance pop group from Tokyo, named in honor of award-winning American choreographer Travis Payne (Michael Jackson's This is It, Lady Gaga's The Monster Ball Tour, etc.), who helped audition them in 2012. The group is managed by the legendary Japanese talent agency Johnny & Associates, and their style is a captivating mix of modern, jazz, and hip hop.
In their native country, Travis Japan has headline numerous performances, including their own Japanesque stage show TORA JA -NINJAPAN-. In the fall of 2020, the group held their wildly successful Travis Japan LIVE 2020 ENTER 1234567 online, before going on to host their 12 city IMAGE NATION national tour in the spring and summer of 2021.
The group has drawn acclaim for its captivating, syncopated dance moves and catchy pop music stylings, and in March of 2022 headed to Los Angeles to further develop as performers. Their journey from World of Dance to America's Got Talent caught the attention of Capitol Records and the Universal Music Group, and the decision was made to sign and release their music globally. Their highly anticipated debut single "JUST DANCE!" has surpassed 13 million video views on YouTube and even launched at No.5 on Billboard Global (ex. US) chart, making them the first Japanese act to do so since the chart's inception.
[Contact Us]
The Japan Foundation, Arts and Culture Dept., Performing Arts Section
Persons in Charge: Nemoto (Ms.), Yuhashi (Ms.), Kondo (Ms.)
Tel: +81-(0)3-5369-6063
E-mail: pa@jpf.go.jp
(When sending an e-mail, please enter a half-width character instead of a full-width character "@.")