Worth Sharing - A Selection of Japanese Books Recommended for Translation Vol.3 Japan's Love
<News>
We are pleased to announce the launch of a new website entitled Worth Sharing – A Selection of Japanese Books Recommended for Translation (https://www.worthsharing.jpf.go.jp/en/).
We will continue to update the website with information related to the recommended titles and projects for interaction between authors, translators, and editors. We hope you enjoy the new site!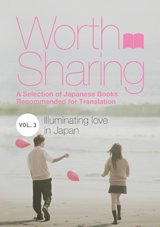 The Japan Foundation has compiled a booklet titledWorth Sharing―A Selection of Japanese Books Recommended for Translations "the list of recommendable good books for translation" in order to give people overseas a better understanding of contemporary Japan and to help spread the word in Japan about these brilliant books that depict what the nation is like now, providing readers with authentic views of Japanese society and its people.
Following Vol.1, "Shedding light on Japan's youth," and Vol.2, "Exploring Japan's diverse regions," the theme of the third volume is "Illuminating love in Japan." Love is a word with a multiplicity of meanings, encompassing romantic love, familial love, love of home, and numerous other concepts. And it is only through love that people's universal emotions and values display themselves so strikingly. The list of 20 works, centered on fiction exploring the various forms of love Japanese people of the same age carried, has been compiled with the valuable assistance of four specialists who are all well versed in Japanese literature and literary translation. We hope the books will inspire empathy in international readers while also allowing them to reassess contemporary phenomena in their own countries.
The titles recommended in this publication are works that the Japan Foundation would also prioritize for its own support program, provided the translations are of adequate quality and appropriate publication plans are submitted.
We aim for this new list to bring together literary works and their authors with translators and publishing companies so that the books can reach overseas readers, thereby enhancing their interaction with Japan.
The following selection committee members chose the titles for inclusion. (Japanese syllabary order/honorific titles are omitted)
Mariko Ozaki (Editorial board member, Yomiuri Shimbun)
Chō Kyō (Jing Zhang) (Professor , Meiji University)
Mitsuyoshi Numano (Professor, University of Tokyo)
Kan Nozaki (Professor, University of Tokyo)
The selection committee members' titles and affiliations refer to the membership period.
Read an essay written by Professor Kan Nozaki, a member of the selection committee in Wochi Kochi Magazine
<Recommended Selections>
Himeno Kaoruko
Kawakami Hiromi
Kawakami Mieko
Kishimoto Sachiko
Kubo Misumi
Murata Kiyoko
Nishi Kanako
Okada Toshiki
Ōsaki Yoshio
Sakai Junko
Kashimada Maki
Kōno Taeko
Yumoto Kazumi
Ekuni Kaori
Horie Toshiyuki
Shigematsu Kiyoshi
Tsujihara Noboru
Iwaki Kei
Tsujimura Mizuki
Matsuura Rieko