Symposium: Reconciliation through Culture –Randooga in Sri Lanka –Accomplishments & Perspective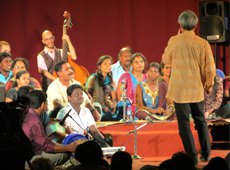 The long Sri Lankan civil war ended in 2009; however, mutual understanding among Sri Lanka's diverse ethnic communities has not been developed enough.
Can cultural exchange play a role in reconciliation and peace-building after the end of conflict?
Taking into this account, the Japan Foundation, under the supervision of Professor Yoshiko Ashiwa at the Graduate School of Social Sciences of Hitotsubashi University, conducted a three-year cultural project entitled "Culture for Harmony and Peace" in order to promote reconciliation and cooperation among societies. In this project, we took an improvisational method "Randooga," invented by Masahiko Satoh, as a means of involving people from societies with different languages and cultural backgrounds.
To this symposium, we will invite four Sri Lankan experts who have participated in the project in Colombo, Jaffna, Batticaloa, and Galle. Together with a Japanese artist and scholars, we will present the background of the project, the method we used, and the accomplishments and academic perspectives we attained.
We hope that this symposium will be worth listening to for those interested in using culture as a measure of dealing with social issues.
Symposium
Date
Monday, December 2 , 14:00-17:30 (Door Open: 13:30)
(An Improvisation session will follow the symposium.)
Venue
Sano Shoin, Hitotsubashi University
2-17-35, Naka, Kunitachi-shi, Tokyo
(About a 12-minute-walk from the South Exit of JR Kunitachi station)
Admission
Free (registration required, seats limited to 60 people)
Language
English and Japanese (simultaneous interpretation available)
Co-organizer
Center for the Study of Peace and Reconciliation (CsPR), Hitotsubashi University
Panelists

Yoshiko Ashiwa (Professor, Graduate School of Social Sciences, Hitotsubashi University)
Masahiko Satoh (Jazz Pianist / Composer)
Pradeep Ratnayake (Zitherist / Composer)
Nirrosion S. Perera (Peace-building Program Facilitator)
Nagalingam Shanmugalingam (Professor, the University of Jaffna)
Sivagnanam Jeyasankar (Senior Lecturer, Eastern University)
Akira Okazaki (Special-appointment Professor, Graduate School of Social Sciences, Hitotsubashi University)
Yutaka Nakamura (Associate Professor, Tama Art University)
Machiko Sawabe (Ph.D. student, Hitotsubashi University)

Registration
Please send your name, affiliation, telephone number, and e-mail address in the text with "Registration/Peace-building through culture" in the subject line to j-asia@jpf.go.jp
(When sending an e-mail, please enter a half-width character "@" instead of a full-width character "@.").
Enquiries
Asia and Oceania Section, Japanese Studies and Intellectual
Exchange Dept., The Japan Foundation
TEL: +81-(0)3-5369-6070 FAX: +81-(0)3-5369-6041
Program
Program
14:00
Opening of the symposium

Opening remarks

(Eiji Taguchi, Executive Vice President of the Japan Foundation)

Purpose and background of the project

(Yoshiko Ashiwa)

14:10

Session 1 "Randooga in Sri Lanka: Accomplishments Report"

【Reports】

General Overview (Nirrosion Perera)

Colombo (Pradeep Ratnayake)

Jaffna (Nagalingam Shanmugalingam)

Batticaloa (Sivagnanam Jeyasankar)

Galle (Nirrosion Perera)

【Moderator】

Machiko Sawabe

-Break-
15:50

Session 2 "Evocativeness of Culture and Vita - Randooga in Sri Lanka and Beyond"

【Reports】

Masahiko Satoh

Pradeep Ratnayake

Yoshiko Ashiwa

【Comments】

Yutaka Nakamura

Akira Okazaki

Nagalingam Shanmugalingam

【Moderator】

Yoshiko Ashiwa

17:30
Closing of the symposium
-Break-
17:45

Improvisation

Masahiko Satoh, Piano, and Pradeep Ratnayake, Zither
[Contact Us]
The Japan Foundation
Asia and Oceania Section, Japanese Studies and Intellectual Exchange Dept.
TEL: +81-(0)3-5369-6070 FAX: +81-(0)3-5369-6041
E-mail: j-asia@jpf.go.jp
(When sending an e-mail, please enter a half-width character "@" instead of
a full-width character "@.")