Public Lecture "Persisting Inclusive Peace Process: a Fresh Thinking" Lahpai Seng Raw, Founder and Former Director, the Metta Development Foundation
Public Lecture "Persisting Inclusive Peace Process: a Fresh Thinking"
Lahpai Seng Raw, Founder and Former Director, the Metta Development Foundation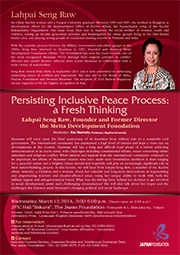 Leaflet (PDF:799KB)
Myanmar will soon mark the third anniversary of its transition from military rule to a nominally civil government. The international community has maintained a high level of interest and kept a close eye on developments in the country. Myanmar still has a long and difficult road ahead of it before achieving democratization in its truest sense, with challenges including constitutional reform, issues concerning ethnic minorities and religious conflict. While interest and support from the international community continues to be important, the efforts of Myanmar citizens who have made such tremendous sacrifices in their longing for a peaceful nation and a brighter future should and hopefully will play an increasingly significant role in their nation-building process.
In this lecture, we will hear from Lahpai Seng Raw, a member of the Kachin ethnic minority, a Christian and a woman, about her valuable and long-term interventions in regenerating and empowering war-torn and disaster-affected areas, using her unique ability to work with both the military regime and anti-government forces. What was the driving force behind her decision to get involved in social development under such challenging circumstances? She will also talk about her hopes and the challenges she foresees amid Myanmar's changing political and social landscape.
Read a summary of the lecture in Wochi Kochi Magazine
schedule
Date
Wednesday, March 12, 2014 3:00 p.m. ~ 5:00 p.m. (Doors open: 2:30 p.m.)
Venue
JFIC Hall "Sakura", The Japan Foundation
(Yotsuya4-4-1, Shinjuku-ku, Tokyo)
Access
Lecturer
Lahpai Seng Raw (Founder and Former Director, the Metta Development Foundation)
Moderator
Kei Nemoto (Professor, Sophia University)
Admission
Free (reservations required, seating capacity: 100)
Language
English / Japanese (with simultaneous interpretation)
For Reservation
Please send an E-mail (jfmyanmar@jpf.go.jp) or fax (03-5369-6041), with title "JF Myanmar Lecture", your name, affiliation/occupation, address and telephone number.
(When sending an e-mail, please enter a half-width character "@" instead of a full-width character "@.").

Note: We do NOT reply to each reservation request unless the event is fully booked.
Profile
Lahpai Seng Raw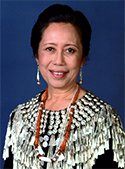 Seng Raw, an ethnic Kachin woman and a daughter of a state-level public official and a teacher, is a Yangon University graduate. Between 1990 and 1997, she worked in Bangkok, being as development officer for the Representative Office of Kachin Affairs, the humanitarian wing of the Kachin Independent Organization. Her main focus then was to improve the social welfare of women, youth and children, setting up income generation activities and Kindergarten for ethnic groups living in the Sino-Burma border area, and placing young people in vocational training schools in Thailand and India.
With the ceasefire process between the Military Government and ethnic groups in the 1990s, there came a need for recovery and trust building measures after decades of armed conflict in the ethnic minority areas in the borderland. Having the purpose of assisting the refugees and internally displaced populations, Seng Raw returned to Myanmar in 1997, founded and directed Metta Development Foundation (Metta). The Foundation has over the years become one of the most recognized Myanmar NGOs through their support activities in conflict-affected and natural disaster- affected areas across Myanmar in collaboration with a wide variety of stakeholders.
After 14 years leading Metta, Seng Raw retired from Metta in September 2011 and is now committed to addressing underlying issues of conflicts and regressions. She also sits on the Board of Metta, Shalom Foundation and Swissaid-Myanmar. She is the recipient of 2013 Ramon Magsaysay Award, regarded to be the highest recognition in Asia.
Adobe Reader software is available for free download from the Adobe Systems web site. To download and install Adobe Reader,
click on this link

and follow the instructions given for your operating system.
[Contact Us]
The Japan Foundation
Asia and Oceania Section
Japanese Studies and Global Partnerships Programs Dept.
Persons in charge: Yagi (Ms.)/Honda (Ms.)
TEL: +81-(0)3-5369-6070 FAX: +81-(0)3-5369-6041