Japan-China 21st Century Friendship Program
The program, which primarily targets youth who will be the next generation of leaders in Japan and China, aims to promote mutual understanding by providing participants with opportunities to experience each other's culture and lifestyle, and to engage in dialogue and collaborative activities. The program will continue to implement projects that emphasize interactivity and collaboration, aiming to build a deeper and longer-lasting Xin Lian Xin ("Heart to Heart" in Chinese).
*The Japan Foundation China Center, established in 2006, was reorganized into the Global Partnerships Department on April 1, 2022.
High School Student Exchange Program
In an effort to build trust among the younger generation as a base for future Japan-China relations, the Japan Foundation is developing programs such as the Long-Term Exchange Program for Chinese High School Students, which invites Chinese high school students to stay in Japan for roughly 11 months to provide them with the opportunity to experience life in Japan, and the Program for Dialogue and Collaboration between Japanese and Chinese High School Students, an online program which fosters a sense of solidarity and cooperation among young people in both countries through dialogue and collaboration to solve common problems that occur at school and in local communities, while deepening their understanding of each other's culture and society.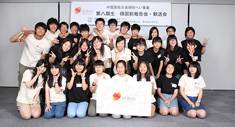 Centers for "Face-to-Face Exchanges" in China
Centers for "Face-to-Face Exchanges" are established in universities and other institutions in regional cities around China where opportunities to meet Japanese people and gain information about Japan are relatively limited. The centers provide venues where visitors can experience contemporary Japanese culture by browsing, viewing and listening to the latest magazines, books, visual materials and other contents from Japan while enabling young people from both countries to interact via various events. Furthermore, a wide variety of Japan-China exchange events are held in addition to utilizing online formats such as online seminars on Japanese culture by experts from both countries.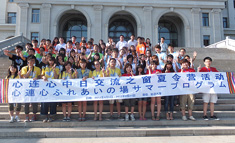 Network Strengthening Programs
We implement a variety of programs emphasizing collaborative work with the aim of building networks among young people who will be the future bearers of Japan-China exchanges. We hold online the University Student Exchange Program in which university students from both countries collaborate in planning, organizing and holding events that introduce Japanese culture along with a program for dialogue on common issues. We also operate the bilingual Japanese-Chinese "Heart to Heart" program website.
[Contact Us]
The Japan Foundation
International Operations Section Ⅱ, Global Partnerships Department
Tel: +81-(0)3-5369-6074
Fax: +81-(0)3-5369-6043