Japan-India Dialogue 2016: Distinguished Visitors Program 2016
India's New Frontier: Healthcare Technology In Making Social Impact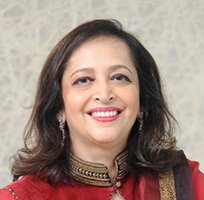 India continues economic growth with its population of 1.3 billion. Although this country is richly diverse in race, language, and religion, there also exists huge disparity between cities and rural areas, poverty and wealth, genders, and quality of education. Dr. Swati A. Piramal, who has a background in medicine, public health and business, has been wrestling with these social problems using technology. In doing so, she also raises an alarm over some of the current critical situations in India: that more than 50% of women suffer from anemia; or that drug price controls by the government have failed to deliver medicines to those who need them most. In Japan, we see the same disparity and problems in education and healthcare due to income differentials. In this lecture, Dr. Piramal, who has been nominated as one of Business Today's 25 most powerful women in India for eight consecutive years in recognition of her distinguished services, will share with us her approach and its impact on social issues, touching upon her ideas on leadership and the future of society.
* This event is fully booked and is no longer accepting reservations.
Outline
Profile
Lecturer: Dr. Swati A. Piramal
Dr. Piramal is the Vice Chairperson of Piramal Enterprises*, India's leading multinational company in healthcare, financial services and information management, and a founder of the Gopikrishna Piramal Memorial Hospital, where there has been an emphasis on polio prevention. She earned her medical degree from Mumbai University and master's degree from Harvard School of Public Health. She is currently a member of the Harvard Board of Overseers and Dean's Advisor to Harvard Business School and School of Public Health.
Dr. Piramal has used her background in medicine, public health and business to change the trajectory of healthcare, education, and public policy in India. As Director of the Piramal Foundation, she runs projects across healthcare, education, livelihood creation and youth empowerment. She aims to resolve issues that are critical roadblocks towards unlocking India's economic potential by finding innovative solutions. She helps promote health in rural India with mobile health services, women's empowerment projects and support for community education creating young leaders.
As the first woman president of India's Apex Chamber of Commerce, ASSOCHAM, in 90 years of its existence, she played a pivotal role in influencing important public policies and governance. She also served as an adviser to the Indian Prime Minister in science, technology and economic policy (2006-2014).
For her contributions, Dr. Piramal has received many distinguished awards including the Padma Shri in India, Chevalier de l'ordre national du Mérite in France, and the Global Empowerment Award in the UK.
*Piramal Enterprises Limited is the flagship company of Piramal Group which is a diversified conglomerate with operations in over 30 countries and a strong presence in more than 100 markets around the world.
[Contact Us]
The Japan Foundation
Asia and Oceania Section
Japanese Studies and Global Partnerships Programs Dept.
TEL: +81-(0)3-5369-6070 FAX: +81-(0)3-5369-6041