Japan Foundation Fellow Lunch Seminar Japanese Washi and Woodblock Print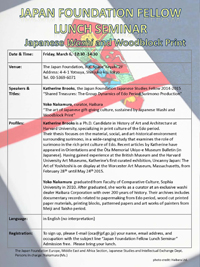 flier(PDF:357KB)
In 2014, the traditional craft of hand-making paper, or washi, was added to UNESCO's Intangible Cultural Heritage list. Hokusai's exposition held at Grand Palais from October 2014 to January 2015 drew approximately 359,000 visitors. We might say that these Japanese traditional art and culture have attracted renewed attention.
Having Ms. Katherine Brooks, a graduate student at Harvard University, and Ms. Yoko Nakamura of Haibara Corporation as speakers, the Japan Foundation Fellow Lunch Seminar will be held under the theme of "Japanese Washi and Woodblock Print." In addition to the lectures, Ms. Nakamura offers a small workshop to make money envelop by washi and patterned papers.
schedule
Date & Time
Friday, March 6th, 12:30 - 14:30
Venue
The Japan Foundation, JFIC Space "Keyaki" 2F
Address: 4-4-1 Yotsuya, Shinjuku-ku, Tokyo Access
Tel. +81-(0)3-5369-6071
Program

Lecture 1
Katherine Brooks, the Japan Foundation Japanese Studies Fellow 2014-2015
"Shared Treasures: The Group Dynamics of Edo Period Surimono Production"
The small, exquisitely printed, privately published prints known as surimono have often been recognized for their superlative print effects, achieved through embossing, metallic pigments, and finely carved, detailed compositions. However, they have been less well studied as produced amongst a growing community of art-historically aware individuals. Drawing on their current dissertation research, Katherine Brooks will discuss the late 18th century poetry communities that popularized surimono commissions, paying particular attention to the efforts of Ōta Nanpo (1749–1823). A key figure in the historiography of ukiyo-e, Nanpo organized "treasure viewing parties" (takara awase), in which participants would bring objects with fictitious histories to serve as inspiration for poetry verses. Such objects often became the subject of surimono prints, and represent an important vector for the development of the still life genre in surimono.

Lecture 2
Yoko Nakamura, curator, Haibara Corporation
"The art of Japanese gift-giving culture, sustained by Japanese Washi and Woodblock Print"
In Japan, pure white washi has been considered to symbolize sense of integrity, and used to wrap money and gifts.
This custom has been developed variety of styles, involving decorative knots of mizuhiki, and wood block printed noshi, and nowadays, established as a part of Japanese culture.

In this lecture, Yoko Nakamura will talk about the art of Japanese gift-giving culture, in which washi and woodblock print is taking a significant role, and offers a small workshop to make money envelop by washi and patterned papers.
Profile

Katherine Brooks is a Ph.D. Candidate in History of Art and Architecture at Harvard University, specializing in print culture of the Edo period. Their thesis focuses on the material, social, and art-historical environment surrounding surimono, in a wide-ranging study that examines the role of surimono in the rich print culture of Edo. Recent articles by Katherine have appeared in Orientations and the Ukiyo-e Ōta Memorial Museum of Art Bulletin (in Japanese). They have received grants and awards from the Japan Foundation, Harvard University, the College Women's Association of Japan, and the Leverhulme Trust. Having gained experience at the British Museum and the Harvard University Art Museums, Katherine's first curated exhibition, Uncanny Japan: The Art of Yoshitoshi is on display at the Worcester Art Museum, Massachusetts, from February 28th until May 24th 2015.

Yoko Nakamura graduated from Faculty of Comparative Culture, Sophia University in 2010. After graduated, she works as a curator at an exclusive washi dealer Haibara Corporation with over 200 years of history. Their archives includes documentary records related to papermaking from Edo period, wood cut printed paper materials, printing blocks, patterned papers and art works of painters from Meiji and Taisho period.
Language
in English (no interpretation)
Capacity
30 seats
Registration
To sign up, please E-mail (oca@jpf.go.jp) your name, email address, and occupation with the subject line "Japan Foundation Fellow Lunch Seminar"
Admission is free.
Please bring your lunch.
Note: We do NOT reply to each reservation request unless the event is fully booked.
(When sending an e-mail, please enter a half-width character "@" instead of a full-width character "@.").
[Contact Us]
The Japan Foundation
Europe, Middle East and Africa Section
Japanese Studies and Intellectual Exchange Dept.
Persons in charge: Nakamura (Ms.)
TEL: +81-(0)3-5369-6071 FAX: +81-(0)3-5369-6041