JF Language Course
The Japan Foundation provides the Japanese-Language Course (JF language course) targeting the general public at our overseas offices and some other venues around the globe in 28 cities as of October 2020. Approximately 15,000 people studied Japanese through the JF language course in 2019.
The JF language course offers a new type of Japanese-language courses in compliance with the JF STANDARD FOR JAPANESE-LANGUAGE EDUCATION (*), which defines Japanese language proficiency, level classification, goal setting, evaluation methods, and others. We expect the JF language course to be a good model of Japanese-language education, which leads to improving the educational environment for learners and teachers. We hope the JF language course enables us to welcome a larger number of Japanese learners.
*For more details on the "JF STANDARD FOR JAPANESE-LANGUAGE EDUCATION" , please visit here.
The advantages of the JF language course are as follows.
1. Distinctive High-Quality Education of the Japan Foundation
The JF language course is based on experiences and know-how of the Japan Foundation, which has been promoting Japanese-language education overseas over the years. Teachers having completed our training courses design the syllabus and conduct classes. Based on the level of the JF STANDARD FOR JAPANESE-LANGUAGE EDUCATION, learners' Japanese-language proficiency can be evaluated with can-do-statements, which describe what the learners can do in Japanese. This encourages the learners to establish a concrete goal to be realized.
2. Learn Japanese Culture as well as Language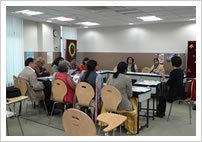 To improve communication skills, both competence in accomplishing tasks and competence in intercultural understanding are required. The JF language course has prepared textbooks "Marugoto: Japanese Language and Culture" to learn Japanese society and culture as well as Japanese language. This aims to develop competence in accomplishing tasks in Japanese and furthermore to have Japanese learners feel familiar to people living in the Japanese society.
3. Diverse Cultural Experience and Exchange Programs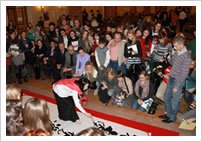 The JF language course provides a wide range of events to feel the touch of Japanese culture such as music, film, art and cuisine, the latest information on Japan, and cultural exchange programs out of classroom by making the most use of advantages of the Japan Foundation as an institution to comprehensively implement international cultural exchanges. Through such cultural experience activities, participants of the JF language course can broaden their perspective on Japanese culture and understand the culture more deeply.
JF Language Course around the world (As of October 2020)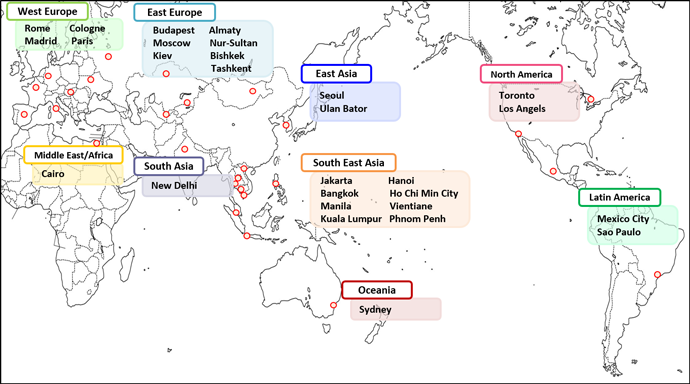 The JF Language Course Site List (As of October 2020)
Region
Country
City
Organizer

East Asia

Korea
Seoul
The Japan Foundation, Seoul
Mongolia
Ulan Bator
Mongolia-Japan Center
Southeast Asia
Indonesia
Jakarta
The Japan Foundation, Jakarta
Cambodia
Phnom Penh
Cambodia-Japan Cooperation Center
Thailand
Bangkok
The Japan Foundation, Bangkok
The Philippines
Manila
The Japan Foundation, Manila
Malaysia
Kuala Lumpur
The Japan Foundation, Kuala Lumpur
Vietnam
Hanoi
The Japan Foundation Center for Cultural Exchange in Vietnam
Ho Chi Min City
Laos
Vientiane
Laos-Japan Human Resource Development Institute
South Asia
India
New Delhi
The Japan Foundation, New Delhi
Oceania
Australia
Sydney
The Japan Foundation, Sydney
North America
Canada
Toronto
The Japan Foundation, Toronto
USA
Los Angeles
The Japan Foundation, Los Angeles
Latin America
Mexico
Mexico City
The Japan Foundation, Mexico
Brazil
Sao Paulo
The Japan Foundation, Sao Paulo
Western Europe
Italy
Rome
The Japan Cultural Institute in Rome
Germany
Cologne
The Japan Cultural Institute in Cologne
France
Paris
The Japan Cultural Institute in Paris
Spain
Madrid
The Japan Foundation, Madrid
Eastern Europe
Hungary
Budapest
The Japan Foundation, Budapest
Russia
Moscow
The Japanese Culture Department "Japan Foundation" of the All-Russia State Library for Foreign Literature
Ukraine
Kiev
Ukraine-Japan Center
Uzbekistan
Tashkent
The Uzbekistan-Japan Center For Human Development
Kazakhstan
Almaty
Kazakhstan-Japan Center
Nur-Sultan
Kyrgyz Republic
Bishkek
Kyrgyz Republic-Japan Center for Human Development
Middle East/ Africa
Egypt
Cairo
The Japan Foundation, Cairo
[Contact Us]
The Japan Foundation
Japanese-Language Department Ⅰ
Planning and Coordination Section
Tel: +81-(0)3-5369-6066