Opening of the New Level "Elementary 1 (A2)" on the Japanese Language Study Support Site "MARUGOTO Plus"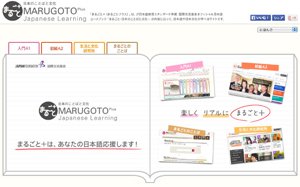 "MARUGOTO Plus" Global Home
The Japan Foundation has developed a site, named "MARUGOTO Plus", based on the Marugoto Japan Language and Culture textbooks which comply with the JF Standard for Japanese-Language Education to support learners of Japanese to study about the language and culture of Japan. The site supports adults who are studying Japanese overseas.
A new section of the site has launched for the Elementary 1 (A2) in both English and Japanese.
By using this site, it is possible for learners to use the textbook to study in the classroom with a teacher, and use the website at home to review and practice themselves at their own pace.
Summary of MARUGOTO Plus
Site Name
MARUGOTO Plus
Target
Adults learning Japanese overseas
Creation/
Management
The Japan Foundation Japanese-Language Institute, Kansai
Features

Learning contents in which the user can learn about how the sentence patterns are used in "real-life" situations and the lives and culture of Japanese people by heavy use of videos and audio
Learn about Japanese language and culture in a comprehensive manner, with character practice (hiragana, katakana, and kanji), conversation practice, grammar exercises, Japanese culture introductions and more.
It is possible to search for vocabulary words that appear in the

Marugoto: Japanese Language and Culture

textbooks as well as create a list of words that the user determines themselves for study.
Summary of Elementary 1 (A2) Site
Languages
Japanese, English
Level
In the "JF Standard" for Japanese-Language Education, there are six levels, based on the user's proficiency of Japanese, Basic User (A1, A2), Independent User (B1, B2), and Proficient User (C1, C2).
This time, on the support site for "Elementary 1 (A2)", you can do the following things.

Can understand sentences and frequently used expressions related to areas of most immediate relevance (e.g. very basic personal and family information, shopping, local geography, employment).
Can communicate in simple and routine tasks requiring a simple and direct exchange of information on familiar and routine matters
Can describe in simple terms aspects of his/her background, immediate environment and matters in areas of immediate need.

Example of Contents
Example of Elementary 1 (A2) Contents

"Challenge Drama"
The user, while watching videos in a first-person perspective, becomes the main character in a drama, and practices conversation in a simulated experience
"Life and Culture"
Contents introducing the lifestyle, customs, and way of thinking of both Japanese people and people around the world in nine themes, such as "Bentos" and "Husband and Wife Roles."
Marugoto: Japanese Language and Culture

Textbook
Marugoto: Japanese Language and Culture is a coursebook, developed on a basis of the Japan Foundation's JF Standard for Japanese-Language. Targeting adult Japanese-language learners living overseas, the book was designed with an emphasis on using Japanese to communicate, and on understanding and respecting other cultures. In addition, the contents and approach were devised so that learners can enjoy studying language and culture for its own sake, even if they are not in Japan. Each topic contains situations where people from a variety of cultural backgrounds interact in Japanese. Also, learners can experience various aspects of Japanese culture through photographs and illustrations while listening to a number of natural conversations taking place in each situation.
URL: http://marugoto.org
Related Site
Japanese Language Learning Support Site "MARUGOTO-NO-KOTOBA"
This is a site where users can learn the vocabulary and phrases used in the Japanese textbook Marugoto: Japanese Language and Culture. The site is smartphone compatible so users can search quickly when needed.
Languages: English, Spanish, Japanese