Balancing Soccer Training and Learning Japanese: Patric (Professional Soccer Player)
※click image to display video
Patric came to Japan in 2013 to play for a professional Japanese soccer club. He is also working hard to learn the Japanese language, studying with online learning tools and by using social media, where he has more than 70,000 followers. In the future, he wants to become a Japanese citizen and play as a member of the Japan national soccer team.
We conducted an online interview with Patric to ask about his motivations for balancing soccer training and learning Japanese.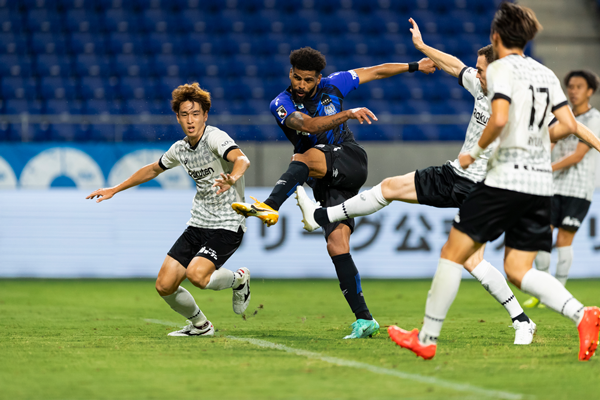 ―Photo provided by Gamba Osaka―
Patric

Patric is a Brazilian professional soccer player born on October 26, 1987. He came to Japan in 2013, and in 2014 he started playing for his current club, Gamba Osaka. As of the end of the 2021 season, he has played more than 300 matches in Japan and scored more than 100 goals.
A Challenge in Japan
―Why did you decide to play for a Japanese soccer club?

Patric: First, I was thinking that I wanted to leave Brazil if I had a chance to play soccer overseas. I listened to what my friends said about Japan, and that image stuck in my head. Then, when I had a chance to leave Brazil to play, I realized that I wanted to make my mark here [Japan], and I decided to go to Japan.

―Did your impressions of Japan and Japanese people change after coming here?

Patric: They changed a lot. I learned a lot after coming to Japan, and now I feel like I have become Japanese. I studied Japanese culture, and a lot has changed even in my daily life.

―What are your current impressions of Japan?

Patric: Japan is very welcoming to people, and it's comfortable. Personally, I always have a lot of close support, and this is a country where I can live in peace.
Learning Japanese Using Online Teaching Materials and Social Media
―When did you start studying Japanese?

Patric: I started studying three years ago, and since then I have continued to study a little bit every day. Sometimes I can't remember even simple, short things [the words don't come out], and sometimes I feel like it's a difficult language. However, I don't allow myself to get annoyed or depressed every time.

―What was the first Japanese you learned after coming to Japan?

Patric:

Tamanegi nashi

[no onions]. I don't really like onions, so I soon remembered these words. I'm always saying "hi" to people, so I quickly learned

ohayo

and

konnichiwa

, but

tamanegi nashi

was something I also quickly remembered.

―Did you find any differences in culture or ways of thinking as you studied Japanese?

Patric: First, education [school and home training] is completely different from that in Brazil. In Japan, I think people are trained very strictly from childhood until they are grown. At school the kids clean the classroom by themselves, and at soccer fields they carry the soccer goals on their own. In Brazil, you don't see things like that.

―How do you usually study Japanese?

Patric: Using books and social media. I also take Japanese classes online, and these can be adjusted to fit my schedule.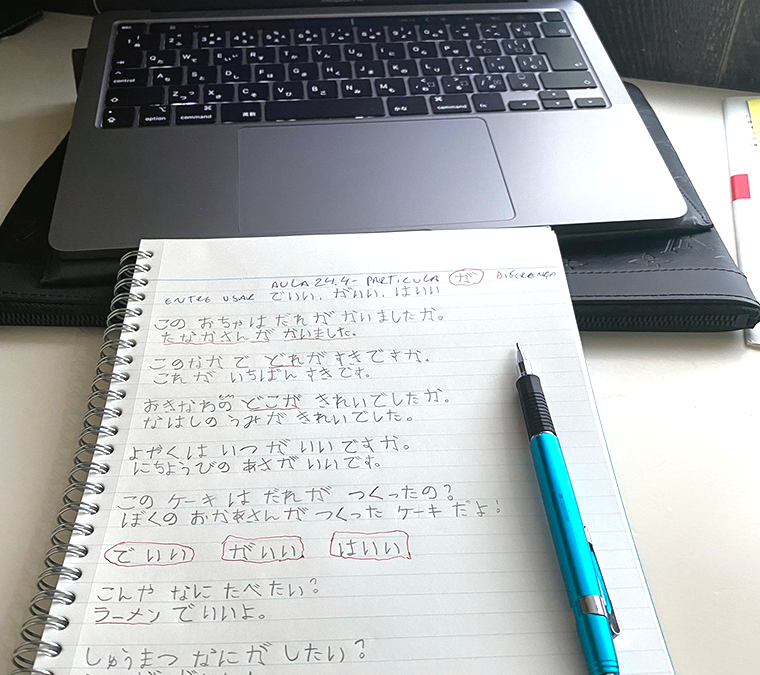 Learning Japanese mainly through online classes
―Photo provided by Patric―
―Patric, you post your Japanese notes on social media, and your fans correct them for you. Tell us about the advice you have received from your fans on social media.

Patric: It is really good because it increases my motivation [to try to use Japanese]. Sometimes I make [grammar] mistakes when I speak or write, or I don't use the right words when I post, but nobody criticizes me for that. Instead, they support me by correcting my mistakes.

―On social media, it looks like your Japanese is improving. What's your sense?

Patric: I feel like my Japanese is better than it used to be. However, though I have what I want to say in my head, the words don't come out when I talk. I'd like to be able to express myself more smoothly. I think if I take a breath [before saying what I want to say] and relax, it will be easier for the words to come out.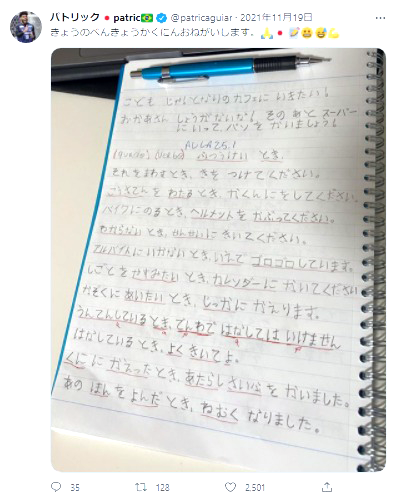 Japanese language study using social media.
He has received many messages of encouragement and admiration.
―Photo provided by Patric―
―What is a good or fun thing about studying Japanese?

Patric: Studying Japanese is fun and interesting. Especially when I am able to read something on my own, or when I can hear what everyone is saying and understand what it means.

―What do you find difficult when studying Japanese?

Patric: Kanji. Kanji are really difficult.

―How do you keep your motivation to study Japanese?

Patric: The most important thing while studying is "self-discipline." You have to set goals and times [to make progress studying]. In my case, I want to feel closer to the Japanese players and supporters, and I want to be able to directly speak using my own Japanese words in interviews after the game. I do my best having those goals in place.

―Could you tell us your favorite Japanese phrases?

Patric:

Ganbarimasho

[Let's do our best] and

Ganbatte kudasai

[Good luck]. These two phrases mean that you have to do your best every time. They bring out my own strength and push me to work even harder, so I use them often, and I like them.

―As a soccer player, what are the advantages of learning Japanese?

Patric: I think it's difficult for a soccer player to study Japanese while playing soccer in Japan. You really need a strong feeling to do it. However, if you work hard to study and remember some Japanese, you can feel closer to Japanese people—not just on the soccer field, but also off the field. You can broaden your life. I think that's a big advantage.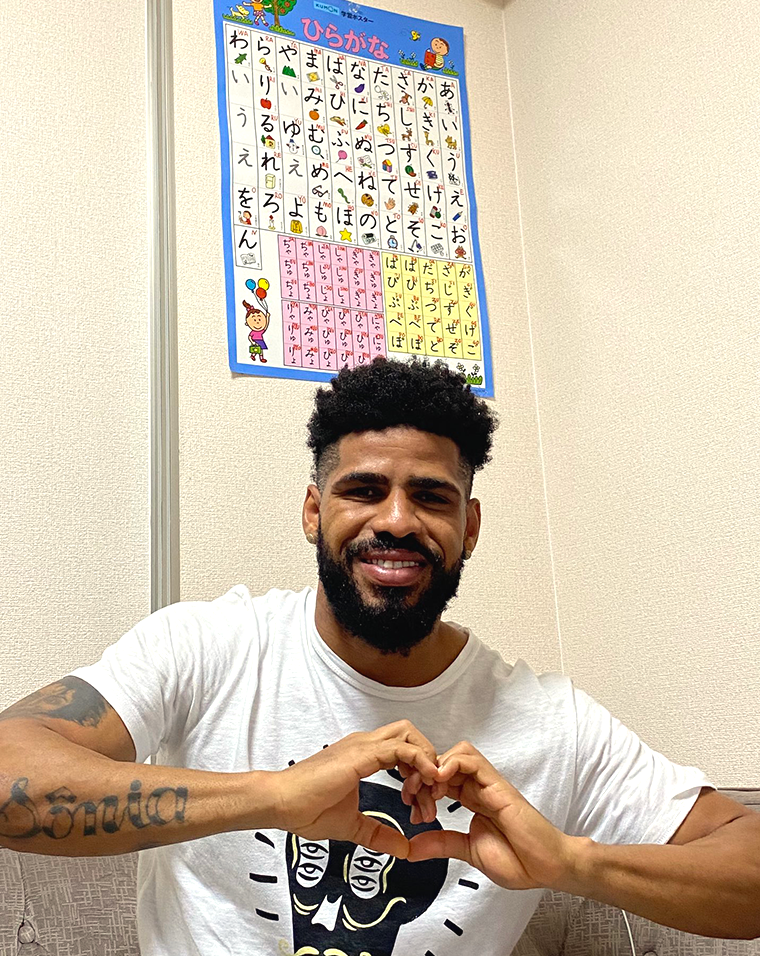 Patric, who studies Japanese every day
―Photos provided by Patric―
Future Goals: Becoming a Japanese Citizen, Joining the Professional Japanese National Team...
―Please tell us your future goals.

Patric: My future goals are to improve my Japanese level, further my learning, and become able to communicate more [with Japanese people].

―Do you want to continue living in Japan after you retire from professional soccer?

Patric: That's definitely my hope. I'm studying Japanese so I can keep living in Japan. After I retire, I want to continue supporting soccer in Japan in different ways. For example, I think I can provide language and lifestyle support for foreign athletes from Brazil and other countries when they first come to Japan.

―In the future, do you want to become a Japanese citizen and play for the Japan national team?

Patric: Yes. That's what I'm thinking. It's not easy, but I believe it's important to have a personal ambition to work hard every day.
I'm always watching the games of the Japan national soccer team, and I always have the feeling that it's something I want to participate in. Please look forward to seeing what happens.
A Message to Japanese Language Learners
For people studying Japanese now, Japanese might be really difficult. However, if you make the effort to keep studying just a little bit every day—10, 15, 20 minutes—it will definitely bring results one day. I actually think it's best to take a longer time to study, like 50 minutes or an hour, but the important thing is to make time every day (not every other day) to engage with the Japanese language, even if it's just 10 or 15 minutes of study time.
Ganbatte kudasai. [Good luck]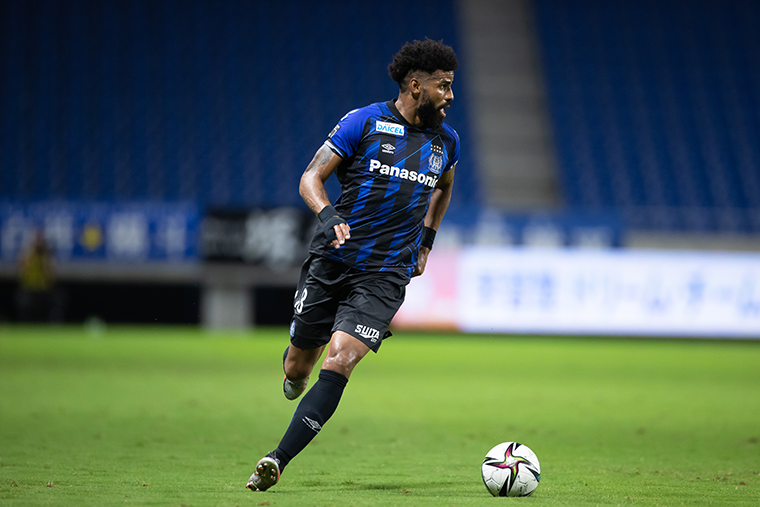 ―Photo provided by Gamba Osaka―
Patric, doing his best to balance soccer training and Japanese language study while he aims for Japanese citizenship and a spot on the national team. We're cheering for him to succeed!