Basic Japanese-English Dictionary, 2nd Edition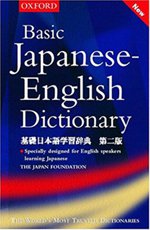 Compact, easy to use, and completely up to date, this Basic Japanese-English Dictionary is specifically designed for English-speaking beginners who are studying Japanese.
Containing near 3,000 Japanese entries with Japanese compounds and example sentences in both romanized and Japanese script, the dictionary also offers entries for verb endings and a guide to grammar. Headwords are given in both hiragana as well as in kanji or kana, so that users can get used to Japanese script from the outset.
Vocabulary in the syllabus of the Japanese-Language Proficiency Test Levels 3 and 4 is fully covered. It also features a new katakana glossary.
For purchase outside of Japan:
For purchase in Japan:
Bonjinsha (Kojimachi)
Ryoshin-Hirakawa Bldg.,
1-3-13 Hirakawa-cho,
Chiyoda-ku, Tokyo 102-0093
Tel: 03-3239-8673 / Fax: 03-3238-9125
For inquiry about the contents:
Teaching Resources Div., Japanese-Language Institute, Urawa
5-6-36 Kita-urawa,
Urawa-ku, Saitama 336-0074
Tel: 048-834-1183 / Fax: 048-831-7846
ISBN 4-89358-554-1
Price ¥3,780(incl. tax, Japan), £16.99(U.K.), $19.95(U.S.)
1,018 pages
2,981 separate entries
A new Electronic Dictionary has been released.
This Electronic Dictionary contains 'The Japan Foundation Japanese- English Dictionary' with full native voice.
For more information:
http://www.toko-trd.com/
Contact
Bonjinsha Co., Ltd. (Japan)
1-3-13 Hirakawa-cho, Chiyoda-ku,Tokyo, 102-0093, JAPAN
Tel: +81-3-3263-3959 Fax: +81-3-3263-3116 E-mail
Sample Page