Nihongo "Doki-Doki" Taiken Koryu Katsudo-shu: Japanese through Real Activities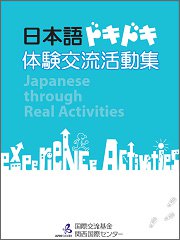 ISBN978-4-87540-182-7
This is a material to learn Japanese through experiences by utilizing various resources outside the classroom.
With conversation examples and worksheets, this book introduces the activity flow: (1) preparation in the classroom; (2) activity outside the classroom; and (3) summarization of the activity in the classroom.
Following contents are also included: "Nippon Guide" (in print and in PowerPoint file) to introduce the basic knowledge of Japanese society that is required for learning activities; ideas on how to evaluate and examples of course designs to create learning courses focusing on real activities. This book is full of useful ideas to acquire the ability to take action in the Japanese environment.
You can download the e-Book version from here (in Japanese).
*The paperback version has been out of print since December 2019.
1. Real Activities
1. Real Activities
(1)

Town Orienteering

(2)

Neighborhood Orienteering

(3)

Makeing Town Information Booklet

(4)

Social Gathering

(5)

Home Stay

(6)

Field Trip

(7)

Interview

(8)

Elementary School Visit

(9)

High School Visit

(10)

Factory Study Trip

(11)

Presentation
2. Course Design
2. Course Design
(1)

Beginning the Course
- Icebreakers - Interview & Study Counseling
- Goal Setting
- Keeping Weekly Journal

(2)

Concluding the Course
- Self-evalution
- Making a Future Study Plan
- Study counseling at the end of the course
- Course Evaluation

(3)

Curriculum Design Example (2 weeks/6 weeks/ 2 months)
3. Nippon Guide
3. Nippon Guide
(1)

Geography of Japan

(2)

History of Japan

(3)

Dialect (Kansai Dialect)

(4)

Current expressions of younger generation

(5)

Home Stay

(6)

Education in Japan

(7)

Anime & Manga

(8)

Traditional Performing Arts of Japan

(9)

Tea Ceremony

(10)

Flower Arrangement

(11)

Calligraphy

(12)

Kimono Dressing