The Old Japan Students' Association, Thailand (OJSAT) (Thailand) Alumni Thai Members
The Japan Foundation Awards

The Japan Foundation Special Prizes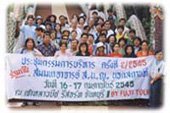 The Old Japan Students' Association, Thailand (OJSAT) (Thailand)

This Association, known as OJSAT, has the longest history of its kind in all Asia, and, over a period of many years, it has made an enormous contribution toward the uniting of former exchange students to Japan in Thailand, the enhancement of their social position, and the introduction of Japanese culture to Thailand.
At present, it has a Membership of 2,700. It has made a significant contribution to Thai society, and some members have served as congressmen and cabinet members. In addition, OJSAT makes concerted efforts toward the development of Japanese-language education through its own Japanese-language school; carries out a broad variety of events for the introduction of Japanese culture; and plays an indispensable role in the formulation and maintenance of the present favorable relationship between Japan and Thailand.
Brief History

| | |
| --- | --- |
| 1951 | Established under the name of Old Japan Students' Association (OJSA) |
| 1964 | Opened the Rajdamri Japanese-Language School (RJLS) |
| 1966 | Placed under the patronage of His Majesty King Bhumipol |
| 1986 | Established a northern branch (Chiang Mai) |
| 1991 | Initiated publication of the Japanese-language education. periodical Ano-ne |
| 1994 | Changed its name to Old Japan Students' Association, Thailand (OJSAT) |
| 2001 | Held events in celebration of its 50th anniversary |
Major Activities
Strengthening of Links and Exchange Among Japan Alumni Thai Members


Apart from the individual members, there are ten major groups registered under OJSAT, including the Japanese-Speaking Guide Association and the Kyoto University Alumni Association. OJSAT contributes to Thai society through training sessions and seminars, the publishing of a periodicals and books, the carrying out of aid programs, and the providing of information.

Operation of a Japanese-Language School and Cooperation in Education


At the Rajdamri Japanese-Language School (RJLS) and its two branches, a total of 130 Japanese-language classes are held, with a total enrolment of over 5,000 students. In cooperation with the Japan Foundation, the Japanese-Language Proficiency Test is administered and Japanese-language speech contexts are held, and the Japanese-language periodical Ano-ne is published quarterly.
Publications, Academic Activities, and Seminars
OJSAT publishes books written by Japan alumni, supports the publication of seminar/workshop proceedings and academic work, and publishes the OJSAT Journal for its members.
Social, Artistic, and Cultural Activities
OJSAT carries out such programs for the introduction of Japanese culture as ikebana, origami, tea ceremony, calligraphy, and Japanese cuisine classes.
International Exchange
OJSAT is a member of the ASEAN Council for Japan Alumni (ASCOJA), and actively participates in its programs for the purpose of promoting solidarity and prosperity among Japan alumni in ASEAN nations. The general meeting of the ASCOJA has been held in Thailand three times.