Warsaw University, Oriental Studies Institute, Department of Japanese and Korean Studies (Poland)
The Japan Foundation Awards

The Japan Foundation Special Prizes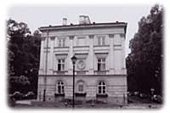 Warsaw University, Oriental Studies Institute, Department of Japanese and Korean Studies (Poland)

The Japanology department of the University of Warsaw, the oldest and most traditional of its kind in Poland, was founded in 1919. During the ensuing 83 years, it has contributed to the development of Japanese studies and Japanese-language education in Poland.
In the days of its inception, there was a strong tendency to perceive Japanology as a part of Sinology, but thanks to the unstinting efforts of scholars such as Professor
, the department gave birth to high- quality research results and outstanding scholars, and today, it continues to develop research in a broad range of fields, including literature and theatre, ideology and religion, history, and linguistics.
Under close links with the Japanese studies departments of Adam Mickiewicz University and Jagiellonian University, which were founded at a later date, the University of Warsaw Japanese-Korean Studies Department has made an enormous contribution as the core Japanese studies organization not only in Poland but in all central Europe as well.
Brief History
The rise in interest in Japan that came about through the influence of Japonisme in Europe brought good fortune to Japanese studies at Warsaw University, resulting in the establishment of a Japanology department as one of the new academic faculties that were founded after the end of World War I.
From the period of World War II to the postwar period,
carved out the foundation of Japanese studies, resulting in a gradual escape from the influence of China, and the unique development of Japanese studies has continued there up to the present.
A total of 12 scholars have already received their doctoral degrees in Japanese studies there, and the department has also published translations of Japanese literature ranging from the classics to contemporary works, and outstanding textbooks on Japanese literature and history, as well as a specialist periodical for the introduction of Japanese culture titled Japonica and a series of books titled "Japanese Literature Library," maintaining throughout a position of leadership in the field of Japanese studies in central Europe.
Major Activities

| | |
| --- | --- |
| 1919 | Opening of the first Japanese-language course in Poland |
| 1933 | Amalgamation of the Japanese-language course and the Chinese studies department |
| 1952 | Opening of a Master's course seminar for students majoring in Japanese studies |
| 1955 | Opening of a Japanese-language course (Master's course) |
| 1978 | Signing of an agreement on academic exchange with the University of Tokyo |
| 1991 | Amalgamation with the Korean studies department to become the Japanese-Korean Studies Department |
| 1991 | Establishment of the Poland Japanese Studies Foundation under the initiative of the Japanese-Korean Studies Department |
| 1994 | Holding of an international conference in celebration of the 75th anniversary of Japanese-language education at Warsaw University |
| 2002 | Reorganization of the curriculum to offer a major in Japanese studies (five years), including an undergraduate degree (3 years) and a Master's degree (2 years) |
| 2003 | Sponsoring of a general meeting of the European Association of Japanese Studies (projected) |