The Japan Foundation Prizes for Global Citizenship (2019)
This year marks the 35th anniversary of the establishment of the Japan Foundation Prizes for Global Citizenship in 1985. In its 34 year history, 109 organizations have been awarded. The Japan Foundation Prizes for Global Citizenship is intended to support organizations located throughout Japan that endeavor to strengthen networks among citizens both Japan and abroad, and to share knowledge, ideas, and expertise through intercultural exchange.
The Japan Foundation Prizes for Global Citizenship was established under the name of the Prizes for the Promotion of Community-Based Cultural Exchange, and renamed as the Japan Foundation Prizes for Global Citizenship in 2005.
In 2019, of the 98 organizations that applied or were nominated for the prizes, the following three organizations were selected as awardees. The recipient organizations were presented with the main prize (a certificate) and prize money of 2 million yen per organization. Awardees (in geographical order)
Awardees (in geographical order)
The Multicultural Coexistence Circle of Yokkaichi City Nishi Sasagawa Junior High School
(Yokkaichi City, Mie)
Representative

Kobayashi Masato

Year of Establishment

2015

Website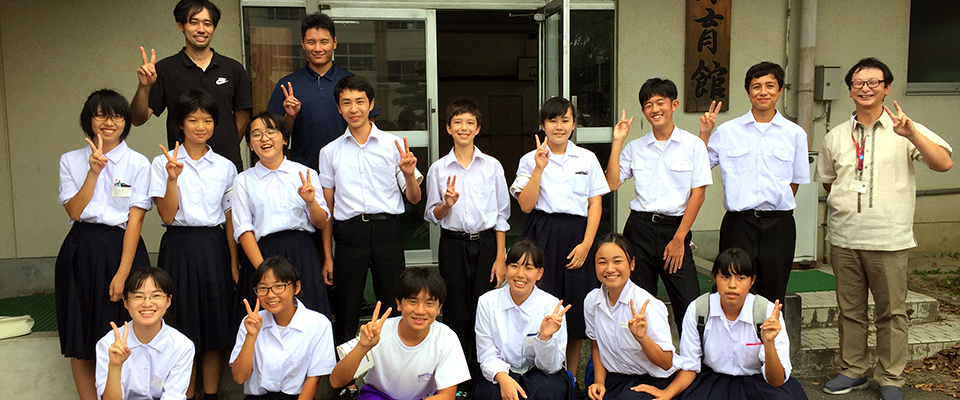 Activity Outline
The Multicultural Coexistence Circle of Nishi Sasagawa Junior High School was launched five years ago in 2014 as an activity open to all students for thinking about multicultural coexistence and community contributions. Currently, 15 students participate in this circle. The circle is an organization outside the larger framework of schools and school grade-levels for proactively addressing such emerging community issues as the declining population, decreasing birthrates, an aging population and multinational multilingualism. The circle also collaborates with the Junior Supporter Training Course sponsored by The Yokkaichi City Multicultural Salon of the Multicultural Affairs Division, Citizens'Affairs & Culture Department. The training course promotes an understanding for community building and learning about participating in community activities.
The Sasagawa school district has been positioned as a "multicultural coexistence model district" in Yokkaichi City since 2010. This aims to spread the results of activities in the Sasagawa district citywide as multicultural coexistence measures of Yokkaichi City. There are hopes that these initiatives will mark the start of multicultural coexistence.
The circle seeks to raise a multicultural coexistence awareness mainly through its involvement with the local community. Three years ago, the circle began operating a "yo-yo fishing" booth at the Sasagawa Fureai Summer Festival held in August, which local residents come to enjoy. The aim is to acquaint foreign nationals with Japan's traditional night stalls. The booth is also winning favorable acclaim as a shop for young children in the community, who are few in number. In September, circle members participated as staff in the Disaster Prevention Seminar, an event coordinated by the community, disaster prevention organizations and the Multicultural Coexistence Promotion Office. For this event, circle members planned and ran the Disaster Prevention Maze and Emergency Takeout Item Quiz. This activity concurrently served as an accreditation training course for Junior Supporters, which aims at revitalizing the community through the participation of junior high school students in community activities.
In addition, as part of a schoolwide event in June, the circle operates and serves as panelists for a panel discussion to consider multicultural coexistence and careers. The circle holds International Cooking, an event for cooking and eating foods from a variety of countries within the school, and undertakes the circle's own PR activities (at junior high school culture festivals, community culture festivals and multicultural coexistence salon presentations). In recent years, alumni of this circle have been participating at local events, leading the circle's activities to continuous community contributions.
Reasons for the Prize
Nishi Sasagawa Junior High School is the only junior high school in Yokkaichi City's Sasagawa District, an area with a large foreign community. Around 30% of the students have non-Japanese ancestry. The school's "Multicultural Coexistence Circle" was founded after many years of trial and error, in response to calls from adults who believed that "young people hold the key to multiculturalism." The circle has helped build a more multicultural community while participating closely in community events, such as student-led disaster drills, the summer festival and school culture festivals. Community activities undertaken by the students have helped to build a close relationship between citizens which transcends divisions between non-Japanese and Japanese, with students who have developed an attachment to their hometown establishing their own circles after graduation or joining other community events. The Japan Foundation hereby grants this award to the Multicultural Coexistence Circle of Nishi Sasagwa Junior High School as we believe these initiatives will prove instructive to other communities anticipating an increase in foreign residents.
Comments from the Awardee
Thank you very much for selecting us for the 2019 Japan Foundation Prizes for Global Citizenship.
The Multicultural Coexistence Circle of Nishi Sasagawa Junior High School is still a young organization in its 5th year since its establishment. We thought about what we could do as a junior high school in a community that has a large number of foreign residents and faces continued declining birthrates and an aging population. After trial and error, we founded the Multicultural Coexistence Circle, which undertakes voluntary activities that differ from activities of existing clubs and student councils. We were able to experience the joy of these activities thanks to the unrelenting efforts of our predecessors and our former school principal Makoto Kobayashi, who initiated these activities. We are also grateful for the support and guidance of community residents. Thank you from the bottom of our hearts. We will continue to make our best efforts for the local community and multicultural coexistence.
Hearts of Gold
(Okayama City, Okayama)
Representative

Arimori Yuko

Year of Establishment

1998

Website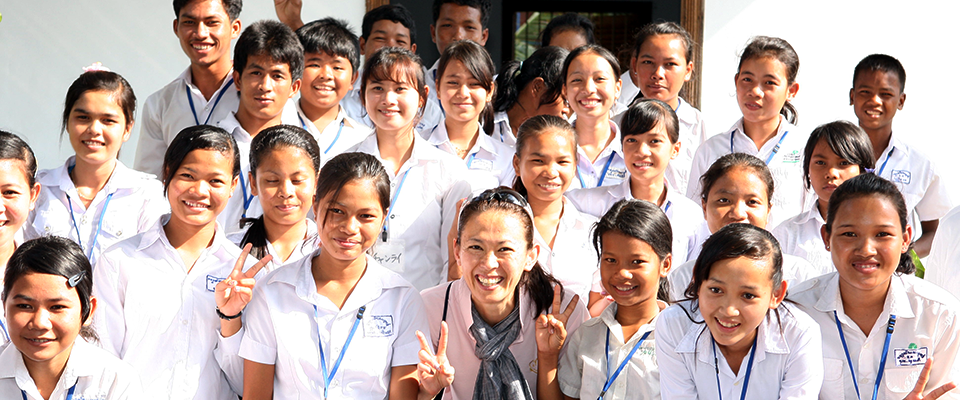 Activity Outline
Hearts of Gold began supporting the operation of the Angkor Wat International Half Marathon in 1998 for the purpose of eliminating landmines throughout the world and supporting landmine victims. Over the years, calls for developing human resources arose so that citizens could rebuild Cambodia on their own to rise up from poverty. In response, Hearts of Gold engaged in dialogue with local communities while promoting the following international cooperation activities for human development.
1.

Development support through sports: Undertake activities to promote the spread of physical education at elementary and junior high schools in Cambodia

2.

Support for children's independence: Operate childcare facilities and promote Japanese-language education in Cambodia

3.

International understanding/exchange programs: Nurture Japanese children's ability to learn about the world and to put this knowledge into practice
Over the past 20 years, Hearts of Gold has overcome difficulties and engaged in discussions with local residents with the aim of mutually accepting each other's differences, building trust and passing on these activities to local residents.
Reasons for the Prize
Hearts of Gold started by organizing an international half marathon in Cambodia in December 1996. The organization's activities have since expanded around the concept of "fostering the healthy development of body and mind" to include Japanese classes and cultural exchange initiatives linked to organizations across Okayama Prefecture, designed to support physical education, provide childcare facilities and develop young talent. Primarily, these initiatives target children, persons with disabilities, and the impoverished in areas affected by conflict/natural disasters or in developing countries. Although this kind of support can often result in one side doing all the giving while the other passively receive, Hearts of Gold aims to have both parties do their part. It created a framework that empowers local communities to independently and sustainably conduct activities themselves, such as by turning the marathon or Japanese class over to the community. Large-scale efforts bringing together private, public, and academic institutions have been drawing more considerable attention as a way to solve complex social issues. Japan Foundation grants this award to Hearts of Gold in the hopes that they may serve as a model to all organizations involved in such support activities.
Comments from the Awardee
For the last 20 years, the mission of Hearts of Gold's activities has been to develop human resources. We have steadily promoted such efforts through education so that people deprived of opportunities will have the capabilities and chances to stand on their own and change their lives by themselves. That said, human resource development takes a long time. Unlike "hard" support, however, this kind of "soft" support never wanes and continuously evolves.
We feel that this prestigious Japan Foundation Global Citizen Award is also recognition for the schools, companies, organizations and individuals that have been involved in such activities with us. We will continue to forge ahead as an organization and work together with them for human development (co-development). Thank you very much.
The International Theater Festival Okinawa for Young Audiences Executive Committee
(Naha City, Okinawa)
Representative

Shimoyama Hisashi

Year of Establishment

2013

Website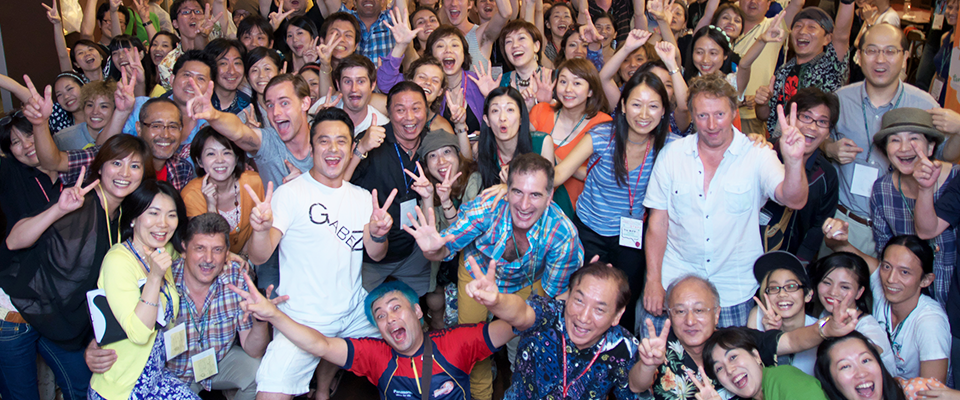 Activity Outline
Based on the idea of that a great artistic experience is nuchigusui (literally "medicine for life" in the Okinawan dialect) and the motto of presenting top-quality performing arts especially for children and young people, the festival creates programs that enable audiences of all ages to share a rich artistic experience and to obtain spiritual nuchigusui.
Throughout its history, the organizers have actively sought to exchange opinions and information about children and youth theater by promoting interchanges with numerous countries and holding symposiums. In particular, its network with theater professionals and theater festival organizers in East Asia and Southeast Asia is attracting worldwide attention. The festival is promoting collaboration with governmental cultural institutions of such countries as Scotland, Denmark and Belgium as well as with international child and youth theater associations.
In step with a growing recognition for the festival's excellent quality works, more and more theater companies from Japan, Asia and around the world are participating. This in turn has created a venue where artists can inspire each other and enhance their skills. Each year, there has also been an increase in artists, theater professionals and students wishing to participate. The festival is also accepting volunteers and interns from universities in Japan and overseas, thereby promoting initiatives for developing professionals who will lead the way in international cultural arts activities.
Reasons for the Prize
The International Theater Festival OKINAWA for Young Audiences (colloquially known as "ricca ricca*festa") has been put on by its organizing committee as an international performing arts festival for families. For many years, the festival's numerous performances have provided an opportunity for children and community members to casually acquaint themselves with creative, high-quality theater pieces from around the world, based on the idea that a great artistic experience is nuchigusui — literally "medicine for life" in the Okinawan dialect. The festival seeks to develop children's emotional sensitivity and creativity and teach them to accept and recognize each other's differences, primarily through non-verbal productions. Roughly 20 productions from around 10 countries are featured each time. As the festival now brings together theater professionals from around the world, it has evolved into the hub of the Asia theater festival network. It is an excellent example of how international cultural exchange can connect entities at the local, global and individual level, including audiences, theaters, theater troupes, local residents, shopping districts, volunteers and interns from abroad.
Comments from the Awardee
Thank you very much for this prestigious award. We owe this award for all the people who encourage us every day, the staff who support us and the audiences who come to the festival. No words are enough to express our gratitude. We will share the joy of receiving this award with all the people involved in organizing the event and thank them in person. We are resolved with a sense of motivation to be worthy of this award and devote ourselves to organizing even better festivals.
[Contact Us]
The Japan Foundation Prizes for Global Citizenship Secretariat

The Japan Foundation Communication Center
Tel: +81-(0)3-5369-6075 FAX: +81-(0)3-5369-6044
chikyushimin@jpf.go.jp
(When sending an e-mail, please replace the full-width "@" character with a half-width "@" character.)