The Japan Foundation Prizes for Global Citizenship (2020)
This year marks the 36th anniversary of the establishment of the Japan Foundation Prizes for Global Citizenship in 1985. In its 36 year history, 112 organizations have been awarded. The Japan Foundation Prizes for Global Citizenship is intended to support organizations located throughout Japan that endeavor to strengthen networks among citizens both Japan and abroad, and to share knowledge, ideas, and expertise through intercultural exchange.
The Japan Foundation Prizes for Global Citizenship was established under the name of the Prizes for the Promotion of Community-Based Cultural Exchange, and renamed as the Japan Foundation Prizes for Global Citizenship in 2005.
In 2020, of the 98 organizations that applied or were nominated for the prizes, the following three organizations were selected as awardees. The recipient organizations were presented with the main prize (a certificate) and prize money of 2 million yen per organization. Awardees (in geographical order)
Awardees (in geographical order)
Takadanobaba SAKURA CLINIC
(Shinjyuku-ku, Tokyo)
Representative

TOMITA Shigeru

Year of Establishment

2014

Website

https://www.sakuraclinic.info/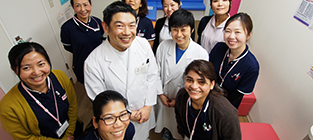 Activity Outline
Opened in 2014, Takadanobaba SAKURA CLINIC is a small clinic situated near Takadanobaba Station in Tokyo. The clinic works toward multicultural coexistence within the community in the field of healthcare backed by its team of orthopedic doctors, part-time internists, nurses, medical office staff and medical interpreters from Southeast Asian and South Asian countries. Known as Tokyo's Little Yangon owing to its numerous residents from Myanmar, Takadanobaba in Shinjuku-ku is also home to a large and ever-growing number of residents from countries such as Nepal and Vietnam, who are still relative newcomers to Japan. Many foreign nationals would become sick after performing unaccustomed physical labor or because of dietary habits that differ from their own countries. Nonetheless, even when they became sick, some foreign residents often avoided visiting doctors due to the languages barrier and cross-border differences in medical systems. They instead turned to self-medication with medicines from their home country or those sold over the counter. With no distinction between Japanese and non-Japanese, foreign nationals also work as clinic staff and collaborate closely with Japanese staff to provide a place where patients feel comfortable consulting with a doctor before their illness becomes so severe that they can no longer work and must be hospitalized. In 2020, Takadanobaba SAKURA CLINIC examined about 20 to 40 foreign residents on a daily basis. Aside from in-person medical examinations, the clinic also listens to people's health concerns over the phone or at the consultation counter and provides appropriate guidance regarding the type of medical institution or health center patients should visit.
The clinic also engages in activities to raise the health awareness among foreign-born residents. By participating in events such as the Myanmar water festival held in Tokyo, it provides physical measurements, blood pressure measurements and health consultations as well as holds health seminars for foreign residents in collaboration with other organizations. Some foreign nationals cannot receive a resident's medical examination because they are unfamiliar with the Japanese language and healthcare systems. The clinic guides these people through the systems and makes it easier for them to receive medical examinations by translating health exam questionnaires and helping them prepare procedural documents, while explanations of results and post-guidance are also provided via interpreters and multilingual leaflets.
Through such activities, Japanese staff at the clinic make presentations through academic conferences and papers while non-Japanese staff have been certified as the first medical interpreters in Japan, which makes the clinic a venue for mutual learning. In 2020, amid the COVID-19 pandemic the inflow of foreign tourists into Japan stopped and festivals and seminars were canceled. Even under such circumstances, a record-high number of foreign residents came to the clinic. The clinic continues to aim for sustainable efforts within the range of its capabilities.
Reasons for the Prize
A community clinic welcomes international patients with open arms
Takadanobaba SAKURA CLINIC is a community clinic in Takadanobaba, an area with a large international population in Tokyo's Shinjuku Ward. While most Japanese medical institutions often have trouble handling foreign patients due to cross-border differences in medical systems and the challenges that the language barrier poses to healthcare-related communication, Takadanobaba SAKURA CLINIC staffs a diverse mix of professionals from across Asia—including people from Myanmar, Nepal, Cambodia, Vietnam, and Thailand—and works together with the local international community to meet patient needs through a multilingual framework. With that ample support structure in place, the clinic makes it easy for foreign patients to come in and get medical assistance. The clinic also pours resources into giving foreign-born residents access to preventive medicine and providing its staff members with paths to human-resource development, filling out an innovative approach to medical care that helps cultivate multicultural harmony for the long run.
Comments from the Awardee
We would like to express our appreciation and gratitude for being presented with the Japan Foundation Prizes for Global Citizenship. What we aim for is a community where everyone can easily access healthcare with peace of mind regardless of their nationalities. I believe we were selected because we are an example for realizing such a community. We are able to undertake our activities thanks to the assistance of nearby hospitals, clinics, pharmacies and health centers as well as the local government, NPOs and foreign communities that always provide excellent support. We are also grateful for the understanding of the Japanese and foreign residents who visit our clinic each day. Encouraged by this award, we will continue to make our utmost efforts to promote community healthcare and multicultural coexistence.
The Volunteers Group to Send Wheelchairs to Overseas Children (Specified Non-Profit Organization)
(Fussa city, Tokyo)
Representative

MORITA Hirokazu

Year of Establishment

2004

Website

https://kaigaikurumaisu.org/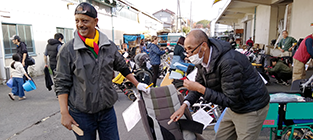 Activity Outline
The Volunteers Group to Send Wheelchairs to Overseas Children commenced its activities in 2004 and has provided needy children in 24 countries with over 8,500 wheelchairs to date. The NPO representative, who has a child with a disability, began these activities based on his wishes and realization for the importance of children with disabilities to enjoy healthier lives. Rather than being stuck inside their homes, he advocates for increased opportunities for the children to engage in outdoor activities to feel the air and enjoy the sunlight that is essential for their physical development.
Almost all child-use wheelchairs are collected from special needs schools in Japan. Under Japan's social welfare system, after children use a wheelchair for around three years, they are provided with a new wheelchair to match their ongoing physical development. This means there are no outlets for reusing them in Japan.
The organization performs overall cleaning and functional maintenance at regular volunteer work meetings. Participants include numerous high school students, university students, working adults, retirees and foreign nationals residing in Japan. Although the spread of COVID-19 has been forced the organization to hold scaled-down mini-meetings, prior to the pandemic 50 to 70 people gathered together for activities at regular monthly work meetings. The refurbished wheelchairs are delivered to homes, schools and hospitals in cooperation with NGOs, welfare organizations and public institutions in each country. If there are opportunities, the organization holds local activities such as home visits, study tours and exchanges with NGOs. They hope that as many wheelchairs as possible can be provided to needy children. To create local circles for promoting the reuse of wheelchairs, several local NGOs have opened engineering shops and begun initiatives for local maintenance and production, in which the organization engages in collaboration in various formats.
Reasons for the Prize
A diverse team unites to send wheelchairs to children with disabilities abroad
The Volunteers Group to Send Wheelchairs to Overseas Children collects used wheelchairs that Japanese children have grown out of, refurbishes the units, and sends them to developing countries at no charge in an effort to help protect and enrich the lives of children with disabilities around the world. The initiative is thoroughly global—roughly half of the 50 volunteers who assist the organization with cleaning and repairing the wheelchairs are foreign-born residents of Japan hoping to send units to their native countries. The international volunteers do more than just work on wheelchairs, however; they also cook up food from their home countries for their fellow members, making the volunteer group a unique platform for intercultural exchange. The organization is working to make its various activities last, too. Having already sent over 8,500 wheelchairs for children to 24 countries around the world, the volunteers team up with partners both in Japan and abroad to ensure that wheelchairs continue to get the proper maintenance after delivery.
Comments from the Awardee
We were both surprised and extremely pleased when informed that we received the distinguished the Japan Foundation Prizes for Global Citizenship. This will provide tremendous encouragement for our activities. Thank you so much.
We have been able to continuously undertake our activities over the course of 16 years thanks to the cooperation of volunteers, wheelchair donors, companies that have provided financial assistance, groups, individuals, public interest groups and local NGOs. I wish to share the joy of receiving this award with all of these supporters.
Because we engage in activities closely intertwined with other countries, we are frustrated at not being able to proceed as we wish due to COVID-19. However, this award will provide us with great encouragement. We hope to continue providing as many child-use wheelchairs as possible, see the smiles of children and use this as a source of energy for further developing our activities. Thank you very much.
The Room for Full of Voice, Words, and Hearts (Cocoroom) (Specified Non-Profit Organization)
(Osaka city, Osaka)
Representative

UEDA Kanayo

Year of Establishment

2003

Website

http://cocoroom.org/

Social Media Accounts

https://twitter.com/info_cocoroom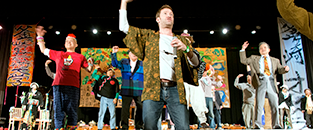 Activity Outline
Recognizing that "Encounters serve as a major element in life. Arts are 'the art of living'" since starting activities in 2003, Cocoroom has operated a cafe that serves as a venue for encounters and expressions as it seeks out relationships with the local community and society. Although the foundation of its operation is fragile because it receives no support through systems and subsidies, the NPO has continued to engage in the coffee shop, guesthouse and art management businesses as its main livelihood.
Cocoroom encounters a diverse range of people, including neighborhood residents, passersby, persons interested in its activities, young people not engaged in employment or education, homeless persons and people with disabilities or addictions. While interacting with those who are marginalized in society, the NPO explores ways for living that transcend "supporting and being supported," encouraged by the expressive powers and sheer force of these people when they open their hearts.
Since 2005, they have participated in the Asia Art Management Conference every year and have been involved with artists and art managers in Asian countries. Meanwhile, since 2007, through the British Council they have engaged in exchanges with the Streetwise Opera of the U.K. and have been involved with various collaborative works to participate in Arts & Homelessness International.
In 2012, Cocoroom opened Kamagasaki University of Arts, a community-based initiative that considers the district as a university and provides various art and other workshops, in Nishinari-ku, Osaka City. This has spurred mutual learning among people from inside and outside the community.
In 2016, the NPO opened a guesthouse in the Kamagasaki district, which serves as a base for exchanges with foreign nationals. In 2019, with Hasuoka Osamu of the Peshawar Association, which dug wells in Afghanistan, and former day laborers from Kamagasaki serving as instructors, 700 persons, including children, young people and foreign visitors, manually dug a well in the guesthouse garden. In addition, Cocoroom is increasingly involved with refugees. By locally practicing the arts in Kamagasaki, the organization is connecting with international networks and taking concrete steps toward realizing a society with mutual coexistence.
Reasons for the Prize
Opportunities for new encounters and free expression propel social engagement
Embracing the belief that "living is expressing," the Room for Full of Voice, Words (Cocoroom), and Hearts strives to help a diverse mix of people in the Kamagasaki area of Osaka's Nishinari Ward—one of the working communities that was vital in driving Japan's rapid economic growth—encounter others and reengage with society through the power of expression. Running a cafe and guest house to provide a stable, lasting foundation for its many efforts, the organization draws on voices from the community and input from foreign travelers in the area to enrich its offerings. From occasional haiku-themed gatherings, readings, and "little corner clinic" services to Kamagasaki University of Arts, an open platform for co-learning, Cocoroom organizes an array of activities geared toward bringing the community together. As it continues to expand its range of activities by forming relationships with similar organizations abroad and making connections with artists, Cocoroom is dedicating itself to helping former workers and people grappling with life's struggles develop the independence and autonomy to thrive into the future.
Comments from the Awardee
A 10-year-old child who was present when we were informed of earning the award immediately proclaimed: "Global Citizenship? Old guys from the Kamagasaki neighborhood are also global citizens!" Everyone on the spot nodded in agreement. We wish to share this award with the people of Kamagasaki, the staff who have continuously operated this venue, everyone who supported us, and people who think of the earth as their home. This award gives us motivation. Thank you very much.
In our constantly changing society, we will use our own words and raise our own head to cultivate the possibilities of a venue for encounters and expressions.