Exhibition Tsuyoshi Ozawa / Masakatsu Takagi –Going through Africa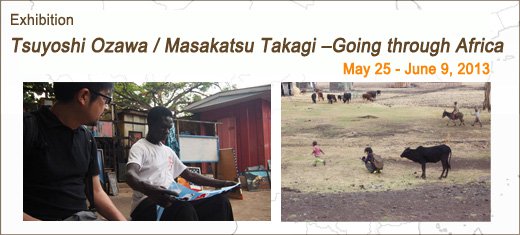 In conjunction with the 5th Tokyo International Conference on African Development (TICAD V), the Japan Foundation presents an exhibition titled Tsuyoshi Ozawa / Masakatsu Takagi Going through Africa – Two Artists Linking Japan and Africa and an African film screening at the Yokohama Creativecity Center (YCC).
Tsuyoshi Ozawa, a contemporary artist, focused on the scientist Hideyo Noguchi, who went to Ghana to study yellow fever about 100 years ago and subsequently died there. Ozawa's work called The Return of Dr. N, which will be installed on the ground floor of the building, deals with the story of an imaginary figure named "Dr. N," who the artist created by combining a unique view of Noguchi's life and achievements with fictional elements.
Meanwhile, on the third floor of the building, visitors can enjoy a video installation inspired by the filmmaker and musician Masakatsu Takagi's trip to Ethiopia. While traveling around the country, noted for its unique history and culture, Takagi captured video and photographic images of the people he met in various farming villages.
The exhibition is opened from May 25 to June 9, 2013. During this period, on the basement floor of the YCC, we will also present a special screening of some 30 African films and documentaries. Through the two artists' displays and the film festival, we hope that visitors will discover a new Africa that is devoid of common stereotypes regarding the continent, and that this might in turn lead to greater mutual understanding between Japan and Africa.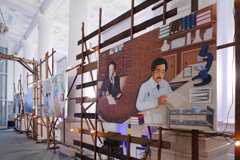 Tsuyoshi Ozawa The Return of Dr.N
© The Japan Foundation
Photo: Keizo Kioku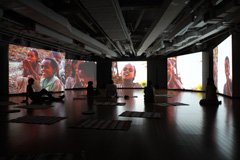 Masakatsu Takagi Utagaki
© The Japan Foundation
Photo: Keizo Kioku
Read a report written by Tsuyoshi Ozawa and Masakatsu Takagi in Wochi Kochi Magazine.
Artists Profiles
Tsuyoshi Ozawa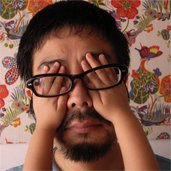 Born in 1965 in Tokyo. As a student at the Tokyo National University of Fine Arts and Music, Ozawa began his Jizo-ing series in which he photographs statues of Jizo that he makes himself situated in different environments. In 1993, he began his Nasubi Gallery series of portable, miniature galleries made from milk boxes, and his Consultation Art. In 1999, he produced his Museum of Soy Sauce Art remakes of masterpieces from Japanese art history painted with soy sauce, and in 2001, began his Vegetable Weapon series of photographic portraits of young women holding weapons made of vegetables. He had his first solo museum exhibition "Answer with Yes and No!" at the Mori Art Museum, Tokyo in 2004, and among his solo exhibitions since is "The Invisible Runner Strides on" held at the
Hiroshima City Museum of Contemporary Art in 2009.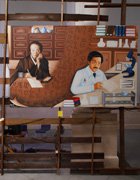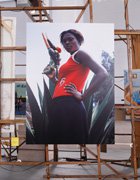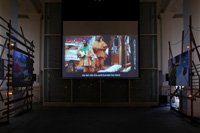 Masakatsu Takagi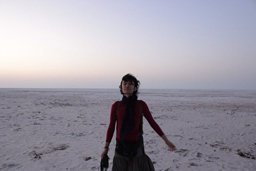 Visual artist and musician Masakatsu Takagi was born in 1979, and lives in Kyoto prefecture. His art includes both filmmaking—incorporating animation or video that he has shot and edited himself—and composing and performing music using computers or piano, an instrument that has long been his favorite.His CDs and DVDs have been released by Japanese and international labels, and he is active in a variety of fields, holding exhibitions at art museums and performing concerts worldwide. In addition to his own creative work, he has toured the world with David Sylvan, produced music videos for performers such as UA and YUKI, and been involved in many joint projects, including collaborations with the Institute for Art Anthropology, RIKEN, Audi, and NOKIA.In 2009, his growing global reputation as an artist led Newsweek Japan to list Takagi as one of the "100 Japanese People The World Respects." Recently he composed the music for Mamoru Hosoda's 2012 movie "Wolf Children (Ookamikodomo no Ame to Yuki)."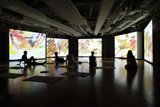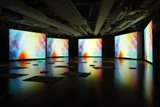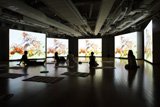 African Film Screenings
A total of about 30 features films and short films will be screened to show the Africa seen by African directors. The films presented are from 9 countries, including Ethiopia, Kenya, Rwanda, and South Africa. These are selected from among works that have been highly rated in Japan at venues such as the Cinema Africa in Tokyo film festival.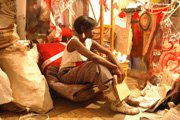 Movies presented (examples)
From a Whisper
(2009, Kenya, dir. Wanuri Kahiu, 79 min.)
Izulu Lami – My Secret Sky
(2008, South Africa, dir. Madoda Ncayiyana, 96 min.)
VENUE : Yokohama Creativecity Center (YCC)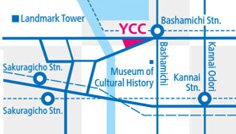 Address :
6-50-1 Honmachi, Naka-ku, Yokohama
Transport :
Bashamichi Station (Minatomirai line), Sakuragicho Station (Keihin-Tohoku, Negishi, Blue lines)
[Contact Us]
The Japan Foundation
Europe, Middle East and Africa Section
Arts and Culture Dpt.
TEL 03-5369-6063   FAX 03-5369-6038
E-mail