Japanese Soul Music to Echo in Thailand: "Ryuz" Performance in Thailand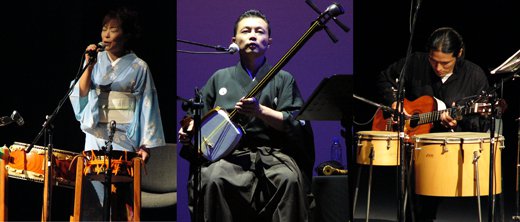 The Japan Foundation is dispatching hogaku (Japanese traditional music) trio "Ryuz" to Phitsanulok and Bangkok, Thailand, from September 4 to 10 on a tour of live performances and a workshop. By promoting the diversity of Japanese culture through music, the program aims to enhance the friendship between Japan and Thailand in the 40th Year of ASEAN-Japan Friendship and Cooperation.
"Ryuz" combines a world of singing inspired by Japanese soul music of minyo with traditional instruments like taiko drums and the Tsugaru shamisen. The introduction of this new form of music not only in Thailand's capital but also in a rural city, where there are relatively few opportunities to experience Japanese culture, promises to attract a great deal of interest. Amid the considerable globalization of modern society, the trio's novel approach to tradition—remaining true to it while also exploring new dimensions of musical expression—will be a breath of fresh air to Thailand's younger generation.
The trio made its debut as the "Hidden Dragon" in a 2011 tour of Central Asia (organized by the Japan Foundation). Now changing its name to "Ryuz," it seeks to reach an even broader audience in Thailand. Shigeri Kitsu delivers a powerful singing voice while beating the taiko drums. Gifted composer and vocalist Kazuki Kunihiro creates a world of imaginative music that transcends genres. And on the Tsugaru shamisen, Nobuto Yamanaka fascinates audiences with the skills of a master and a rich melody. Together, the three talented musicians seek to extend the frontiers of Japanese folk music.
Program overview
Phitsanulok performance
Phitsanulok performance

| | |
| --- | --- |
| Date and time | Friday, September 6, 2013 3:00 p.m. |
| Venue | Naresuan University |
Bangkok performance
Bangkok performance

| | |
| --- | --- |
| Date and time | Sunday, September 8, 2013 4:00 p.m. |
| Venue | Chulalongkorn University |
Bangkok workshop *For students of music at Chulalongkorn University
Bangkok workshop *For students of music at Chulalongkorn University

| | |
| --- | --- |
| Date and time | Monday, September 9, 2013  1:30 p.m. |
| Venue | Chulalongkorn University |
Ryuz http://ryuz-japan.jimdo.com/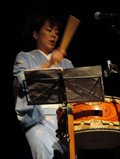 Shigeri Kitsu
Minyo singer and taiko drummer Shigeri Kitsu started practicing minyo, shamisen, and taiko at the age of 3, and has performed on stage since early childhood. In time, she established her unique style of singing while drumming. Having won the trust of renowned Japanese musicians such as Haruomi Hosono and Kazumi Watanabe, she continues to draw on her powerful singing voice to promote minyo as Japanese soul music.
(http://www.shigeri.jp/)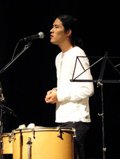 Kazuki Kunihiro
Composer, vocalist, and guitarist Kazuki Kunihiro has earned himself a unique reputation with his strong compositions and performances that not only span various musical genres but also explore freely beyond the very scope of music. Being richly gifted, he composes musical pieces for Cocoon Kabuki, theaters, and films, and also participates in numerous international projects.
(http://kunihirokazuki.com/)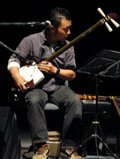 Nobuto Yamanaka
Tsugaru shamisen performer Nobuto Yamanaka started playing at the age of 13 and studied as an apprentice to the late master Chisato Yamada. Even after earning the title of master of the Yamada school, he continued his string of wins in the vocal-instrumental category of the National Tsugaru Shamisen Competition. Currently as a solo artist, he fascinates audiences with his technical and powerful performances and prolific musical talent.
(http://www18.ocn.ne.jp/~nobuto/)
Planning and production: Yuki Hata
Sound design: Masaya Sennami
[Contact Us]
The Japan Foundation
Asia and Oceana Section, Arts and Cultural Dept.
Person in charge: Endo (Mr.)
Tel. +81-(0)3-5369-6062
Fax. +81-(0)3-5369-6038