Invitation Program for Curators from China, Korea, and India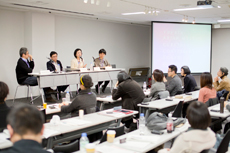 The 8th Asian Museum Curators' Conference
Photo: Kenichi Aikawa
The Japan Foundation organizes "Invitation Program for Curators from China, Korea, and India" from September 9 to September 29, 2013 to provide opportunities for further understanding of the Japanese art scene and its surrounding circumstances. Three curators from each country will be invited.
This program consists of lectures given by experts in the art scene and site visits to museums, galleries and organizations in Tokyo, Nagoya, Kyoto, Hiroshima, Okayama, and Marugame. The purpose of the program is to enhance understanding of not only histories of Japanese modern and contemporary art and its current situation, but also art systems in Japan.
At the end of the program, the results will be shared with the public as an open forum for further discussions. Each invitee will present a proposal for Japanese contemporary art exhibition with the assumption that it is to be held in his/her home country. Japanese curators will also join the discussions to exchange ideas with the invitees.
Debriefing session
outline
Date
Friday, September 27, 2013 2:00 p.m.~5:00 p.m.
Venue
JFIC Hall "Sakura," The Japan Foundation
4-4-1, Yotsuya, Shinjuku-ku, Tokyo 160-0004 Japan Access
Language
English
Contents

Presentations of a proposal for Japanese contemporary art exhibition planned by each invitee
Discussion
Feedback of the program

To apply as an observer
Please send your name, occupation/affiliation and number of visitors by e-mail to asia_curator@jpf.go.jp

by Thursday, September 19, 2013

.
(When sending e-mail, please enter a half-width character "@" instead of a full-width character "@.")
Maximum capacity
50 persons
*Admission free
Participants
Korea
Kim Hejin
Curator, Seoul Museum of Art
lives in Seoul. Area of expertise: contemporary art
Lim Hyejin
Curator, samuso: space for contemporary art
lives in Seoul. Area of expertise: contemporary art
Ahn Sohyun
Curator, Num Jun Paik Art Center
lives in Seoul. Area of expertise: contemporary art
China
Liao Wei
Curator, Rockbund Art Museum
lives in Shanghai. Area of expertise: contemporary art
Zheng Yan
Art Consultant, former deputy director of Today Art Museum, Beijing
lives in Beijing. Area of expertise: Chinese contemporary art
Lau SauYee Venus
Independent curator, art writer 
lives in Hong Kong. Area of expertise: contemporary art
India
Rastogi Akansha
Curator, Kiran Nadar Museum of Art
lives in New Delhi. Area of expertise: Indian modern and contemporary art
Colah Zasha Jamshed
Curator, Clark House Initiative
lives in Mumbai. Area of expertise: 20th century Burmese and Indian art
Khosla Ishan
Artist, Designer of Ishan Khosla Design
lives in New Delhi. Area of expertise: design, art, photography
Schedule
Lectures given by experts in the Japanese art scene and site visits in Tokyo (September 10 - 20)

Research in Nagoya, Kyoto, Hiroshima, Okayama, and Marugame (September 21 - 26)
[Contact Us]
The Japan Foundation
Asia and Oceania Section, Arts and Culture Dept.
Person in charge: Furuichi (Ms.), Murakami (Ms.)
Tel: +81-(0)3-5369-6062
E-mail: asia_curator@jpf.go.jp
(When sending e-mail, please enter a half-width character "@" instead of a full-width character "@.")