The Japan Foundation Invitational Group Tour Program for Art Journalists 2013
View photos of the Press tour to several Art sites.
The Japan Foundation invites 20 art journalists from all over the world for 6 days in order to promote an understanding of the wide range of Japanese art. Participants are divided into 2 groups and a visit to the Aichi Triennale 2013 is the focus of the tour. This program also offers participants an opportunity to visit museums as well as have meetings with Japanese curators.
Period of the Program
Group 1 Wednesday, August 7 – Monday, August 12, 2013
Group 2 Wednesday, October 2 - Monday, October 7, 2013
Visit to
Museum of Contemporary Art Tokyo, Mori Art Museum, Aichi Triennale 2013, Benesse Art Site Naoshima, Setouchi Triennale 2013, etc.
List of Participants' Media (Countries)
outline
Group 1
Freelance (China), JoongAng Ilbo (Korea), art4d (Thailand), Flash Art International (Australia), artforum.com (USA), Government Information Services Limited (Trinidad and Tobago),

El Mercurio

(Chile), Romania libera (Romania)
Group 2
The Philippine Star (Philippines), Australian Financial Review (Australia), Canadian Art (Canada), Granma(Cuba),

La Libre Belgique

(Belgium), Artclair Editions (France), NRC Handelsblad (Netherlands),

PÚBLICO

(Portugal), Freelance (United Kingdom), Newspaper Postimees (Estonia), Haaretz (Israel)
Visiting the Art sites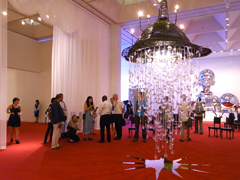 Aichi Prefectural Museum of Art, the main venue of Aichi Triennale 2013. Participants were in front of Kenji Yanobe's Wedding of the Sun, gathering information on the art works. (The 1st group)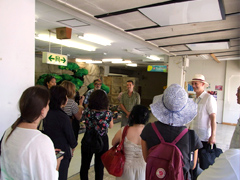 Visited all venues of Aichi Triennale 2013. The artists explained about their works at each exhibition hall including Higashi-Okazaki Station Site. Mr. Lewis Biggs, one of the curators, is to the right. (The 1st group)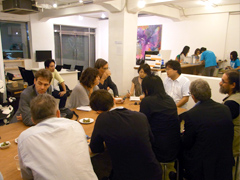 Taro Igarashi, an artistic director of Aichi Triennale 2013, answered the questions. Meaningful discussions were made at an informal social gathering with the curators. (The 2nd group)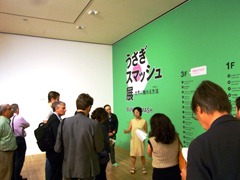 The Museum of Contemporary Art Tokyo and the Mori Art Museum in Tokyo, participants deepened the knowledge of Japanese Art Scene. The curator Yuko Hasegawa (center) explained the participants "BUNNY SMASH" exhibition (October 3, 2013 – January 19, 2014). (The 2nd group)
The participants were listening to the curator Mami Kataoka's talk at "Roppongi Crossing 2013: OUT OF DOUBT" exhibition (September 21, 2013 – January 13, 2014). (The 2nd group)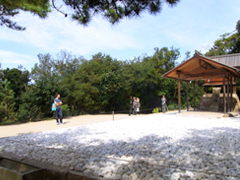 Benesse Art Site Naoshima Visit. Got the knowledge of Naoshima, and also visited Art Museums and the Art Projects. (The 2nd group)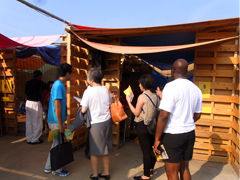 Participants are gathering information about ongoing Setouchi Triennale 2013, Visited Bangladesh Factory in Takamatsu. (The 1st group)
[Contact Us]
The Japan Foundation, Arts and Culture Department
Person in charge: Mori (Ms.), Okawa (Ms.)
4-4-1 Yotsuya, Shinjuku-ku, Tokyo 160-0004, Japan
Tel: +81-(0)3-5562-6063