Tsugaru Shamisen - Musical Group Led by Shinichi Kinoshita to Perform Traditional Japanese Music in Europe
The Japan Foundation is presenting a hogaku (Japanese traditional music) performance tour in Baku (Azerbaijan), Tashkent (Uzbekistan), and Porto, Lisboa, and Cascais (Portugal). The tour features a musical group led by the leading Tsugaru shamisen player Shinichi Kinoshita, and the group members include Tsugaru shamisen player Reika Matsuhashi and wadaiko drummer Kenichi Koizumi. This concert tour will deliver dynamic and sensitive sounds of Tsugaru shamisen and powerful wadaiko beats together, and introduce Japanese traditional music living today to the three European countries.
The concert will take place in the three Portugal's cities, being a part of the commemorative project for the 470 anniversary of Japan-Portugal friendship. Also, the performers will conduct a workshop for local young musicians in Azerbaijan and Uzbekistan.
Baku (Azerbaijan)
outline

| | |
| --- | --- |
| Date | Sunday, October 27, 2013 6:00 p.m. ~ |
| Venue | Rashid Behbudov Theatre |
Tashkent (Uzbekistan)
outline

| | |
| --- | --- |
| Date | Friday, November 1, 2013 6:30 p.m. ~ |
| Venue | Grand hall, The State Conservatory of Uzbekistan |
Porto (Portugal)
outline

| | |
| --- | --- |
| Date | Monday, November 4, 2013 7:30 p.m. ~ |
| Venue | Casa da Música |
Lisboa (Portugal)
outline

| | |
| --- | --- |
| Date | Tuesday, November 5, 2013 6:00 p.m. ~ |
| Venue | Orient Museum |
Cascais (Portugal)
outline

| | |
| --- | --- |
| Date | Wednesday, November 6, 2013 9:00 p.m. ~ |
| Venue | Cultural Center of Cascais |
Shinichi Kinoshita (Tsugaru Shamisen)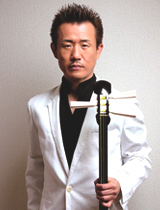 Shinichi Kinoshita began picking up minyo (Japanese folk music) at an early age under the influence of his parents and learning shamisen from his father at the age of 10. In 1986 and 1987, he won the All-Japan Tsugaru Shamisen Championship in two consecutive years. Since then, he has been engaged in a wide range of activities through the joint performances with various musicians. In 1998, he was dispatched to India, Vietnam, and the Philippines by the Japan Foundation and gave the performances as a member of Asian Fantasy Orchestra. He has actively performed in Japan and overseas countries including UK, Germany, and Asian nations such as China and India, and Central and South American states. He has explored the new possibilities of traditional music through collaborating with many jazz and rock musicians, and his attitude has been receiving high acclaim.
Reika Matsuhashi (Tsugaru Shamisen)
Reika Matsuhashi began picking up minyo at an early age under the influence of her grandmother and learning shamisen at the age of 10. She won the high-rank prize in many Tsugaru shamisen competitions during her teenage years, and became an apprentice of Shinichi Kinoshita in 1997. She participated in the shamisen rock group "Kinoshita Shinichi Group," and has collaborated with a wide variety of musicians. Producing sensitive and powerful timbres, she has been receiving great attention as a female Tsugaru shamisen player.
Kenichi Koizumi (Wadaiko)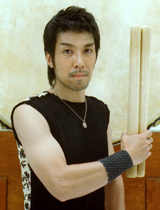 Kenichi Koizumi began learning wadaiko drums at an early age and started his activities as a wadaiko drummer at the age of 18. He later studied under Eitetsu Hayashi, the first wadaiko solist of his kind, and became a member of Eitetsu FU-UN no KAI in 1999. After studied abroad in Australia in 2003, he has collaborated with various artists and performed at home and abroad. In recent years, he has conducted workshops and written musical scores for the amateur teams, too.


[Contact Us]
The Japan Foundation
Europe, Middle East, and Africa Section, Arts and Culture Dept.
Person in charge: Tsukamoto (Mr.)
Tel: +81-(0)3-5369-6063
E-mail: Norihisa_Tsukamoto@jpf.go.jp
(When sending e-mail, please enter a half-width character "@" instead of a full-width character "@.")