JENESYS East Asia Future Leaders Programme Social Welfare Group, March 2011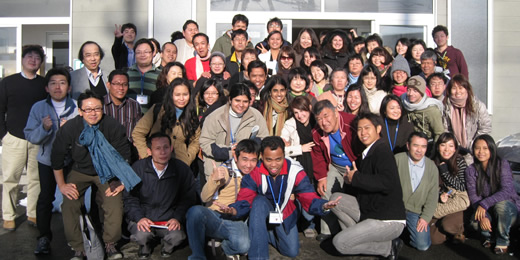 The Japan Foundation has conducted the "East Asia Future Leaders Programme" under the Japan-East Asia Network of Exchange for Students and Youths (JENESYS) Programme from 2007 to 2012.
It is a short-term exchange scheme which specifically targets young intellectuals and practitioners of particular activities aged up to 35 years in East Asia. Each program focuses on a specific theme and emphasizes a series of discussions on thematic issues common to the region, and interaction with Japanese experts and citizens with specific backgrounds.
Promising youths from the relevant fields with the related expertise expected to become the leaders of the next generation visit Tokyo and other localities, sharing every moment of study tour program together and nurturing a bond among the members. The program aims at developing mutual understanding and building networks among the 16 participating countries including Japan, a host country.
Fiscal year 2012
Fiscal year 2011
Fiscal year 2010
Fiscal year 2009
Fiscal year 2008
Social Welfare: Self-Reliance of the Socially Vulnerable and Symbiosis with the Globalized Community
24 youths from the 13 countries were invited to Japan and 26 including 2 of Japan participated in the program. Those who actively involved with support and care on mental disorder and disabilities, intellectual disorder and disabilities, physical disabilities, advanced age, and children who do not go to schools in the fields of NGOs, academia and educations, public administrations, art, and media spent 12 days together and fostered solidarity.
The young leaders of each country visited Urakawa town in Hokkaido prefecture, as an example of community linked welfare system, and exchanged their views with the counterparts in Japan.
Program Period
February 26 to March 9, 2011
List of Participants
List of Participants

| Country | Name | Institution |
| --- | --- | --- |
| Indonesia | Ali Aulia Ramily | UNICEF (Jakarta) |
| Indonesia | Nathanael E. J. Sumampouw | Faculty of Psychology, University of Indonesia |
| Laos | Vonglatsamy Ratanavong | Association for Aid & Relief Japan (AAA Japan) |
| Laos | Chitdavanh Chantharideth | State Authority of Social Security |
| Malaysia | Muhamad Khairul Anuar Bin Hussin | Ministry of Education |
| Malaysia | Chu Shi Wei | United Voice |
| Myanmar | Ki Ling | Department of Social Welfare |
| Myanmar | Nan Mouk Sseng | Department of Social Welfare, School for the Blind |
| Philippines | Visitacion Espinosa Apostol | Katipunan ng Maykapansanan sa Pilipinas, Inc. (KAMPI) |
| Philippines | Richard Beniza De Villena | Association of Teachers and Adult Leaders in the Arts (ATALA) |
| Singapore | Hsu Yuh Wen | Grace Orchard School |
| Singapore | Lin Jingyi | Movement for the Intellectually Disabled of Singapore (MINDS) |
| Singapore | Ng Chiu Li | Grace Orchard School |
| Thailand | Surasak Kao-Iean | ESD Innovations Center, Faculty of Education, Chulalongkorn University |
| Thailand | Bundith Punsiri | ESD Innovations Center, Faculty of Education, Chulalongkorn University |
| Vietnam | Nguyen Nhu Mai Anh | Population Services International (PSI) |
| Vietnam | Nguyen Thu Hien | Vietnam Institute for Education Science (VNIES) |
| India | Boski Sharma | Tamana Special School, Tamana Association |
| India | Rituparna Sarangi | Sasakawa India Leprosy Foundation (SILF) |
| Australia | Eliza Clare Duggan | Australian Government Department of Families, Housing, Community Services and Indigenous Affairs (FaHCSIA) |
| Australia | Sarah Tracton | Arts Access Australia |
| New Zealand | Kieran McHale | Workwise Employment Agency |
| China | Wei Zhang | Enable Disablity Studies Institute (EDSI) |
| Korea | Unkyung Lee | Asia-Pacific Center of Education for International Understanding (APCEIU) |
| Japan | Wataru Fujiwara | Ashiya NPO center |
| Japan | Sachiyo Soga | University of the Sacred Heart, Tokyo |
Itinerary
Itinerary
Date
Program
Feb. 26 (Sat)
Arrival
Informal welcome dinner
Feb. 27 (Sun)
Program Orientation
Keynote Lecture by the Program Advisor, Dr. Yoshiyuki Nagata
Participants' presentation
Feb. 28 (Mon)
Keynote Lecture by the Special Lecturer, Dr. Yoshinori Hiroi
Pre-briefing on field visits    
Leave Tokyo for Urakawa, Hokkaido
Mar. 1 (Tue)
Lecture: "Social Welfare in Urakawa" by Urakawa town local government
Learning of Ainu Culture
Bethel House:Orientation & Lecture: Social Welfare for Mental Health Café Bura Bura run by Bethel House
Mar. 2 (Wed)
Observation: Institution for the Elderly, Institution for Physically Challenged, and Therapeutic horse riding lessons
Bethel House:Social aspect (living space for the members)
Mar. 3 (Thu)
Observation: Institution for Intellectually Challenged
Horse Back Riding
Bethel House:Employment aspect, Support aspect, and "Patient-led research"
Mar. 4(Fri)
Bethel House:Integrated Workshop
Urakawa Review Session
Group Work
Party with people in Urakawa
Mar. 5 (Sat)
Leave Urakawa for Hokkaido
Mar. 6 (Sun)
Kamakura visit: Enoden train ride, Kotokuin temple the great Buddha, Calligraphy at Hase temple, tea ceremony at Jyomyo temple, and Tsuruoka Hachimangu Shrine
Mar. 7 (Mon)
Group Work
Mar. 8 (Tue)
Courtesy Call to Ministry of Foreign Affairs
Tokyo Toy Museum: Case of an interaction between Children and the Elderly
Introduction to the Japan Foundation Grant program
Final Group Presentation
Wrap-up session by Program Advisor and Japan Foundation
Farewell Reception
Mar. 9 (Wed)
Departure
Reports
『Social Welfare』
The report book includes the overview of the study tour, keynote lecture of the program advisor Dr. Yoshiyuki Nagata, and post-program reports of the participants.
Published by: The Japan Foundation
Date: July 2011
ISBN: 978-4-87540-141-4
A4 format, English (Partially Japanese), Not for Sale

*

This is a part of JENESYS (Japan - East Asia Network of Exchange for Students and Youths) Programme.
Adobe Reader software is available for free download from the Adobe Systems web site. To download and install Adobe Reader,
click on this link

and follow the instructions given for your operating system.