Curators' Workshops in Southeast Asia
The Japan Foundation will be holding "Curators' Workshops" from this year as part of the cultural-collaboration program for Southeast Asia. Workshops have already been held in February and March of this year in Jakarta and Manila, and one will be held again this June in Kuala Lumpur and Bangkok.
The concept and role of "curators" depend entirely on the institutions, history and environments of the arts of each country. Therefore, what we aim to achieve in and from the workshops is to develop a shared understanding of the similar problematics, and, through extensive discussions, to explore each of the "curatorship" roles in the artistic fields in Japan and Southeast Asian countries. From this, we seek to establish the artistic field's network of the next-generation.
After this workshop, we will invite a few young curators from four countries to Japan in August and September, and develop a shared awareness of the conditions and situations in Japan. With these processes, we plan to organize exhibitions and art projects in Indonesia, Malaysia, the Philippines and Thailand during the year 2014.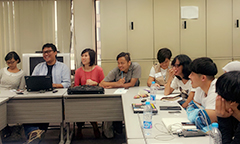 The Japan Foundation, Jakarta
February 26 — 28, 2014

University of The Philippines Vargas Museum
March 4 — 6, 2014
Programs
1. Malaysia (Kuala Lumpur)
Outline
Date
Mon. June 16 - Wed. June 18, 2014
Venue
The Japan Foundation, Kuala Lumpur
Organizer
The Japan Foundation
Lecturers and Coordinators

Mami Kataoka (Mori Art Museum, Chief Curator)
Yap Sau Bin (Faculty of Creative Multimedia, Multimedia University, Lecturer, Curator)
Hasnul J. Saidon (University of Science-Malaysia, Lecturer; curator; Artist)

Participating Curators

Azzad Diah Ahmad Zabidi (Galeri Petronas, Exective)
Eeyan Chuah (Hin Bus Art Depot, Art Coordinator)
Grey Yeoh (British Council Malaysia, Arts Manager)
Harold Reagan Eswar (Kota Kinabalu City Hall, Architect Assistant)
Intan Rafiza Abu Bakar (National Visual Arts Development Board, Curator)
Krystie Ng (G13 Gallery, Curatorial Assistant)
Cheah Ni Lee (Artist)
Mahendran Bala (Photographer, Filmmaker)
Jo-Lene Ong (Independent Curator)
Yohsuke Takahashi (Aomori Museum of Art, Associate Curator/Educator)
Hui Koon Tan (National Visual Arts Gallery Malaysia, Curator/Educator)
Kazuhiko Yoshizaki (Museum of Contemporary Art Tokyo, Curator)
2.Thailand (Bangkok)
Outline
Date
Thu. June 26 - Sat. June 28, 2014
Venue
Bangkok Art and Culture Centre (BACC)
Organizer
The Japan Foundation, Bangkok Art and Culture Centre (BACC)
Lecturers and Coordinators

Yukie Kamiya (Hiroshima City Museum of Contemporary Art, Chief Curator)
Gridthiya Gaweewong (Artistic Director of the Jim Thompson Art Center, Bangkok, Thailand)

Participating Curators

Jirawat Kulchaipanich (Independent Artist/Writer)
Naoko Horiuchi (Arts Initiative Tokyo [AIT], Curator)
Atikom Mukdaprakorn (Independent Artist/Media Creator)
Itaru Oura (The Museum of Modern Art, Saitama, Curator)
Soifa Saenkhamkon (Independent, Freelance in Art and Film)
Suebsang Sangwachirapiban (The Art Center, Chulalongkorn University, Manager)
Judha Suwanmongkol (Independent Curator/Writer, Researcher)
Pornlert Tantipanitkoon (Independent Artist/Curator)
Sukhumarn Thamwiset (King Mong Kut's University, University Lecturer)
Pimrapee Thungkasemvathana (Bangkok Post, Journalist)
Kamonporn Wongcharoenchai (Independent Curator)
[Contact Us]
The Japan Foundation
Asia and Oceania Section, Arts and Culture Dept.
Person in charge: Furuichi (Ms.), Matsunaga (Mr.)
4-4-1 Yotsuya, Shinjuku-ku, Tokyo 160-0004
Tel: +81-(0)3-5369-6062 Fax:+81(0)3-5369-6038