Japan Pavilion at the 13th International Architecture Exhibition, the Venice Biennale in 2012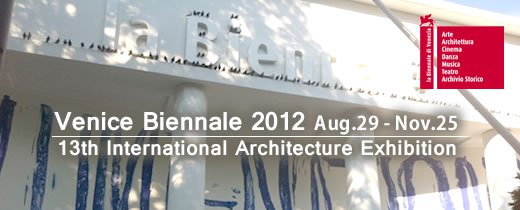 The Japan Foundation is proud to present "Architecture in the Wake of Disaster," curated by the commissioner, Toyo Ito, in the Japan Pavilion at the 13th International Architecture Exhibition, Venice Biennale.

Among exhibitors are Kumiko Inui(Architect), Sou Fujimoto(Architect), and Akihisa Hirata(Architect) ,Naoya Hatakeyama(Photographer).
The Japan Pavilion (Commissioner: Toyo Ito; organizer: The Japan Foundation) has been awarded the Golden Lion for Best National Participation at the 13th International Architecture Exhibition - La Biennale di Venezia.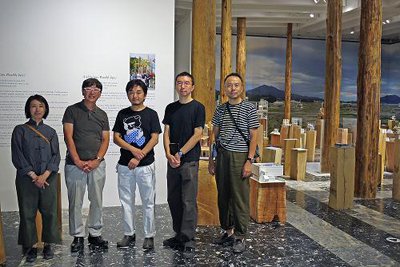 Kumiko Inui(architect), Toyo Ito (Commissioner), Akihisa Hirata(architect),
Sou Fujimoto(architect), and Naoya Hatakeyama(Photographer)
photo :Naoya Hatakeyama

Wochi Kochi Magazine carries a report of the briefing session in Tokyo.
"Home-for-All" in Rikuzentakata, and the Venice Biennale International Architecture Exhibition

Hiroshi Minamishima contributed an article to Wochi Kochi Magazine.
Venice Biennale Japan Pavilion: Recognizing the Significance of Architecture as a Blessing

Report from Venice Biennale, 13th Architecture Exhibition 2012
Architecture after 3.11
Date:
September 25, 6:00 p.m. to 8:30 p.m.
Venue:
The University of Tokyo, Fukutake Hall
Organized by:
The Japan Foundation
Co-organized by:
Architectural Institute of Japan
Language:
Japanese
Bookings:
Admission free. Winners will be selected in a drawing after the application deadline, and its result will be informed by e-mail.
Application deadline:

September 17(Mon.), 2012 12:00 p.m.
Japan Pavilion Special Symposium
"Architecture. Possible here? - recovering from the Great East Japan Earthquake" (tentative)
Date:
2012 August 29  14:00 – 16:30
Venue:
Ca' Foscari University of Venice, Auditorium Santa Margherita
(Dorsoduro 3689 - 30123 Venice)
Panelists:
Toyo Ito (Architect, Commissioner of the Japan Pavilion),
Kazuyo Sejima (Architect, SANAA, artistic director of 12th International Architecture exhibition, Venice Biennale),
Mikiko Sugawara (resident of Rikuzentakata, Victim of Tsunami)
Moderator:
Francesco Dal Co (Professor at Architectural History at the University Institute of Architecture in Venice)
For details:
Japan Pavilion (Giardini) or E-mail
*Admission free, No prior registration, Languages:Italian and Japanese
Outline of the Biennale
Outline

| | |
| --- | --- |
| Theme: | Common Ground |
| Director: | David Chipperfield |
| Venues: | Giardini di Castello, Arsenale, etc. |
| Exhibition Dates: | August 29 - November 25, 2012 |
| Preview: | August 27 - 28, 2012 |
| Web site: | http://www.labiennale.org |
Outline of the Japanese Participation
Outline
Theme:
Architecture. Possible here? Home-for-All
Director:
Toyo Ito (Architect)
Exhibitors:
Kumiko Inu i (Architect),Sou Fujimoto (Architect),
Akihisa Hirata (Architect),Naoya Hatakeyama (Photographer)
Organizer:
The Japan Foundation
Special Support:
Ishibashi Foundation
Cooperation:
Jun Sato Structural Engineers Co., Ltd., Daiko Electric Co,,Ltd., EAST WEST Inc., DNP Fotolusio Co.,Ltd.
Press Release:
The Japan Pavilion at the 13th International Architecture Exhibition- La Biennale di Venezia (PDF:432KB)
This is a part of the commemorative project to celebrate the 40th anniversary of the Japan Foundation's establishment.
Press Contact:
The Japan Foundation
Attention:Ms.Masako Taira E-mail