Japan Pavilion at the 57th International Art Exhibition,
La Biennale di Venezia

in 2017: About the Artist and the Curator
About the Artist and the Curator
Takahiro Iwasaki
Takahiro Iwasaki was born in Hiroshima Prefecture in 1975, and currently lives and works in the same prefecture. He received his PhD in art from the Graduate School of Arts, Hiroshima City University, and completed the MFA program at the Edinburgh College of Art.
Iwasaki held a solo exhibition at the Asia Society in New York in 2015, and solo exhibitions at the Kurobe City Art Museum and the Oyama City Kurumaya Art Museum in the same year. He has also participated in international exhibitions including the 10th Lyon Biennale (2009), Yokohama Triennale (2011), 7th Asia Pacific Triennial of Contemporary Art (2012), 2013 Asian Art Biennial (National Taiwan Museum of the Arts), 8th Shenzhen Sculpture Biennale (2014), as well as numerous group exhibitions including Roppongi Crossing 2007 – Future Beats in Japanese Contemporary Art (Mori Art Museum), Happiness in Everyday Life (Contemporary Art center, Mito Art Tower; 2008), trans×form (Aomori Contemporary Art Centre, 2013), and Nissan Art Award 2015 (BankART Studio NYK).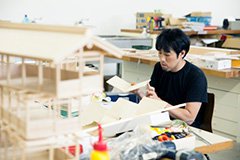 Photo Kuniya Oyamada
Meruro Washida
Meruro Washida, curator at the 21st Century Museum of Contemporary Art, Kanazawa, was born in Kyoto in 1973. He completed the Master's program in art history at the University of Tokyo.
Washida plans contemporary art and architecture exhibitions based on themes such as local communities and participation. Major projects include Kazuyo Sejima + Ryue Nishizawa / SANAA (2005), Atelier Bow-Wow (2007), solo exhibitions for Jeppe Hein (2011), Shimabuku (2013), and Mitsunori Sakano (2016), and group exhibitions such as Kanazawa Art Platform 2008 (all of which were held at the 21st Century Museum of Contemporary Art, Kanazawa).
In 2010, he invited Iwasaki to present his works at Kanazawa TouRyoue, an exhibition organized by the Kanazawa Junior Chamber for displaying art works at various parts across the town. Iwasaki's pieces were displayed in Machiya (old merchant houses) during this event.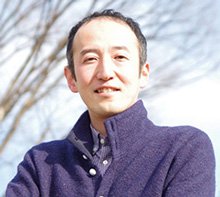 [Contact Us]
The Japan Foundation
International Operations Section 2, Arts and Culture Dept.
Person in charge: Ohira (Mr.), Sugie (Ms.)
Tel: +81-(0)3-5369-6063
Fax: +81-(0)3-5369-6038
Email: venezia@jpf.go.jp
(When sending an e-mail, please replace the full-width "@" character with a half-width "@" character.)