The Life of Animals in Japanese Art

, an exhibition ranging from Haniwa to contemporary art, to be presented at two U.S. cities

Kusama Yayoi, 

Shō-chan


Heisei period, Heisei period, 2013
(c)YAYOI KUSAMA. Courtesy of Ota Fine Arts
Tokyo/Singapore/Shanghai

Ozawa Kagaku, Festival Dancing
Edo period, 19th century
HOSOMI MUSEUM



Haniwa Dog


Kofun period,
6th–7th Century
Miho Museum
(c)Kenji Yamazaki
The Japan Foundation is collaborating with the National Gallery of Art in Washington, D.C. and the Los Angeles County Museum of Art to present The Life of Animals in Japanese Art at these two American art museums.
Throughout history, people in Japan have lived in coexistence with animals and nature. For over 1,500 years, since the era of ancient burial mounds known as the Kofun period, animals have appeared in various forms as important motifs for visual art and literature, where they are seen as human companions and sometimes have supernatural powers that make them superior to humanity. One of the characteristic aspects of Japanese culture is the significance of the role played by animals in art. This exhibition examines a wide range of animal-themed art closely related to the lifestyles, spiritual climate, and religious views of Japan through a diversity of media, including painting, sculpture, lacquer art, ceramic art, metalwork, cloisonné enamel, woodblock prints, textiles, and photography.
The show incorporates over 300 precious works from about 100 major collections in Japan and the United States. Of those, close to 170 works, including seven Important Cultural Properties, are from Japanese collections, most of which have never been shown outside Japan.
This historic opportunity has been made possible thanks to the cooperation of many experts and specialists in both countries. The exhibition is curated by Robert Singer, curator and head of the Japanese Art Department at the Los Angeles County Museum of Art, and Masatomo Kawai, director of Chiba City Museum of Art, who are working with a team of Japanese experts participating as joint curators. A former Japan Foundation research fellow in fiscal 1973, Mr. Singer lived in Japan for a long period of time at the beginning of his career studying Japanese art.
This is the fourth major exhibition of Japanese art to be held at the National Gallery of Art in Washington, D.C.—following Japan: The Shaping of Daimyo Culture 1185-1868 in 1988, Edo: Art in Japan 1615-1868 in 1998, and Colorful Realm: Japanese Bird-and-Flower Paintings by Ito Jakuchu (1716–1800) in 2012. Interest in Japanese art is on the rise, with the Ito Jakuchu exhibition attracting 231,658 visitors over one month. By taking a new approach with a focus on animals, The Life of Animals in Japanese Art is expected to contribute to a deeper understanding of Japanese culture in the United States.
Venue 1:
National Gallery of Art, Washington
June 2–August 18, 2019
Exhibition title:

The Life of Animals in Japanese Art


Number of visitors: 86,674
Exhibition view

Venue 2:
Los Angeles County Museum of Art
September 22–December 8, 2019
Exhibition title:

Every Living Thing: Animals in Japanese Art

Organizers:
The Japan Foundation
The National Gallery of Art, Washington
The Los Angeles County Museum of Art
With Special Cooperation from:
The Tokyo National Museum
With Cooperation from:
The Chiba City Museum of Art
The Suntory Museum of Art
Supported by:
All Nippon Airways
Curators:
Robert T. Singer, curator and department head, Japanese art, LACMA
Masatomo Kawai, director, Chiba City Museum of Art
Co-Curators:
Masaaki Arakawa, professor, Gakushuin University
Ryusuke Asami, supervisor, curatorial planning dept., Tokyo National Museum
Hiroshi Ikeda, honorary researcher, Toyko National Museum
Hiroyuki Kano, former professor, Doshisha University
Mika Kuraya, chief curator, National Museum of Modern Art, Tokyo
Nobuhiko Maruyama, professor, Musashi University
Tomoko Matsuo, senior curator, Chiba City Museum of Art
Yasuyuki Sasaki, curator, Suntory Museum of Art
Japanese Executive Committee:
Hiroyasu Ando, president, Japan Foundation
Masatomo Kawai, director, Chiba City Museum of Art
Shingo Torii, director, Suntory Museum of Art
Masami Zeniya, director, Tokyo National Museum
About the exhibition
Consisting of eight theme-based sections, the exhibition displays wonderfully expressive art with animal motifs from as long ago as the 5th and 6th centuries all the way up to modern times, including depictions of animals by contemporary artists. Featuring mythical creatures as well as real animals not native to Japan, such as lions and elephants, which Japan learned about from China and far away India through trade and the introduction of Buddhism, the exhibition covers a broad range, spanning national borders, eras, genres, and media.
We sincerely hope that a large audience will enjoy getting to know the animals that have been companions of the Japanese people since ancient times, and leave the exhibition with an increased interest in the culture that underlies this art.
Exhibition structure and key exhibits
This show consists of the following eight sections. (Section titles are working titles.)
Introduction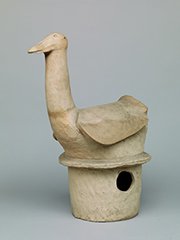 Haniwa Waterfowl
Kofun period, c. 5th century
Tokyo National Museum
Haniwa were made and placed on burial mounds during the Kofun period. Depicting a variety of things, including people and animals as well as houses and shields, they are thought to have been used in combination to reenact stories or ceremonies.
Haniwa depicting animals, together with those depicting people, were made in abundance in the 6th century, and were generally shaped in the form of chickens, waterfowl, falcons, cormorants, and other birds, as well as dogs, wild boars, cattle, deer, and horses. Although fewer in number, haniwa depicting fish, monkeys, and flying squirrels have also been found.
Twelve Zodiac Animals


Twelve Zodiac Animals at War
Edo period, 1840
Tokyo National Museum
The twelve signs of the Chinese zodiac are calendar terms that originated in ancient China. They were also used to represent the twelve-hour clock, points on the compass, and the twelve-year cycle Jupiter makes in the heavens as seen from earth. Ancient astronomers divided the course Jupiter takes through the sky into twelve sections, assigning one of the characters of the Chinese zodiac to each. This enabled people to determine which year it was based on Jupiter's position. The system would eventually be adopted by Japan. At some point—some speculate that it was during the Han Dynasty—the characters representing each of the years in the twelve-year zodiac cycle became associated with ordinary animals, resulting in the current system in which each symbolizes an animal—rat, ox, tiger, rabbit, dragon, snake, horse, sheep, monkey, rooster, dog, and boar.
Religion: Buddhism, Zen, Shinto
The Nature World: On Land, in the Air, and in Rivers and Seas
Catalogue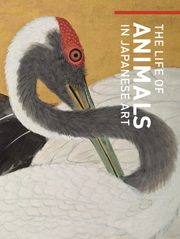 Editors: Robert T. Singer, Masatomo Kawai
Published by Princeton University Press, Princeton and Oxford
First published in May 2019
Total pages: 323 pages
Languages: English
Book size: 9 x 12 in.
ISBN: 978-0-691-19116-4 (hardcover)/978-0-89468-413-5 (softcover)
Price: $65.00 (hardcover)/$39.95(softcover)
[Contact Us]
The Japan Foundation
Visual Arts Section, Arts and Culture Dept.
Person in charge: Okabe, Suzuki, Sueyoshi, Matsumoto
Tel: +81-(0)3-5369-6061 / Fax: +81-(0)3-5369-6038