Exhibition: Beyond Borders: Architectures of Japan marks the 50th Anniversary of the Normalization of Japan-China Relations
Exhibition held at Sea World Culture and Arts Center, Shenzhen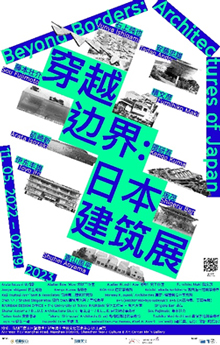 Poster of Beyond Borders:Architectures of Japan
The Japan Foundation (JF) is pleased to be co-organizing "Beyond Borders: Architectures of Japan," an exhibition of contemporary Japanese architecture, in collaboration with Design Society (Shenzhen, China), to commemorate the 50th anniversary of the normalization of diplomatic relations between Japan and China.
Japanese architecture has won widespread acclaim globally for its outstanding aesthetics and advanced design techniques. Transcending established boundaries, it now serves as a bridge between Japan and the rest of the world. This exhibition presents 36 carefully selected projects by 22 internationally active Japanese architectural groups, showcasing diverse achievements connecting the local with the global. Featuring buildings both large and small, permanent and temporary, the exhibition will include models, drawings, photographs, and video images of these projects.
The exhibition venue is the Shenzhen Sea World Culture and Arts Center, a cultural complex designed by Fumihiko Maki in the Sea World area of Shekou Peninsula. The exhibition will introduce major architectural works by Japanese architects in China, and shed light on the Japan-China exchanges surrounding these works. It will also present contrasting works from other parts of the world to introduce dynamic developments in contemporary Japanese architecture, which transcends boundaries between East and West. By comparing projects from around the world and between architects, the exhibition will focus on the use of geographic characteristics as well as continuities of design, and will also include works by the next generation of architects to explore new architectural possibilities.
Outline
| | |
| --- | --- |
| Exhibition | Beyond Borders:Architectures of Japan |
| Dates | November 5, 2022 - February 19, 2023 |
| Venue | Sea World Culture and Arts Center, Shenzhen, China |
| Organizers | The Japan Foundation, Design Society |
| Curation | Ken Tadashi Oshima (Professor in the Department of Architecture at the University of Washington) |
| Participating Architects | Arata Isozaki, Atelier Bow-Wow (Yoshiharu Tsukamoto, Momoyo Kaijima and Yoichi Tamai), Atelier Hitoshi Abe, Fumihiko Maki, Junya Ishigami, Kengo Kuma, KOBFUJI architects (Yoshihide Kobanawa, Kaoru Kobanawa), Koichi Takada Architects, Koji Tsutsui Architect & Associates, Moreau Kusunoki Architectes (Nicolas Moreau, Hiroko Kusunoki), OMA NY / Shohei Shigematsu, onishimaki + hyakudayuki architects / o+h, R/URBAN DESIGN OFFICE (Tomohiko Amemiya) + The University of Tokyo (Akiko Okabe, Sakay Claudia), Shigeru Ban, Shuhei Aoyama / B.L.U.E. Architecture Studio, Sou Fujimoto, Tadao Ando, Takero Shimazaki Architects (t-sa), Toshiko Mori Architect, Toyo Ito, Tsuyoshi Tane, waiwai(Kazuma Yamao, Wael Al Awar) (listed in alphabetical order) |
About Design Society
Design Society is a cultural arts initiative co-founded by China Merchants Shekou (CMSK) and the Victoria and Albert Museum. As a creative platform in the cutting-edge city of Shenzhen, Design Society pursues collaboration with a wide range of organizations, including museums, academic institutions, educational institutions, and corporations, and has built an extensive network with institutions both in China and around the world.
Installation View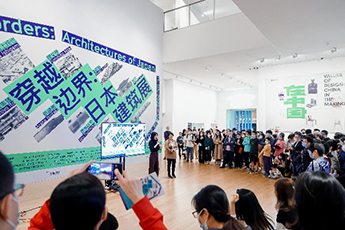 (c) Design Society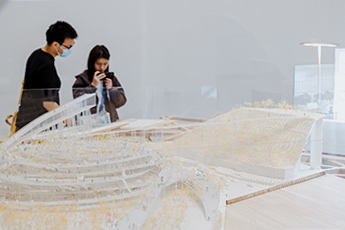 (c) Design Society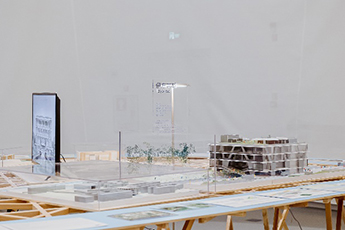 (c) Design Society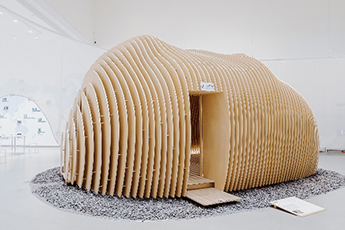 (c) Design Society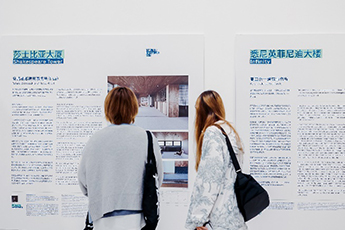 (c) Design Society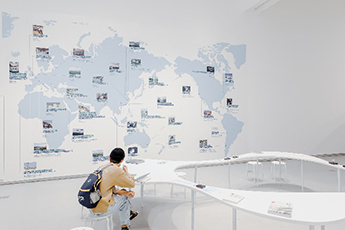 (c) Design Society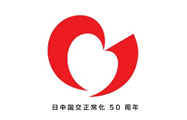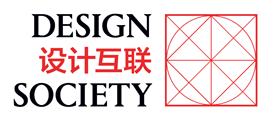 [Contact Us]
Visual Arts Section, Arts and Culture Department, The Japan Foundation
Tel: +81-(0)3-5369-6061
E-mail: va@jpf.go.jp
(When sending an e-mail, please replace the full-width "@" character with a half-width character.)