The Metamorphosis of Japan after the War
The Japan Foundation organizes an exhibition to showcase 123 black-and white photographs by 11 renowned photographers such as Ihee Kimura, Ken Domon and Eikoh Hosoe to make a retrospective review of the Japanese society with full of creativity and energy during the turbulent period spanning from 1945 to 1964 that followed the WWⅡ.
This exhibition has been reorganized as overseas traveling exhibition based on the acclaimed "Japan: A Self- Portrait" Exhibition that traveled to Setagaya Art Museum, Aichi Prefectural Museum of Art and other museums in Japan. Tsuguo Tada who is an editor of "Japan: A Self-Portrait Photographs 1945-1964" (published by Iwanami Shoten, Publishers) and Marc Feustel who is a Paris-based young leading specialist in the history of Japanese photography have arranged the exhibition into three sections - "The Aftermath of War", "Between Tradition and Modernity" and "Towards a New Japan" to showcase the metamorphosis of Japan after the war.
This touring exhibition is completed.
Aritists
Yasuhiro Ishimoto, Kikuji Kawada, Ihee Kimura, Takeyoshi Tanuma, Shomei Tomatsu, Ken Domon, Shigeichi Nagano, Ikko Narahara, Hiroshi Hamaya, Tadahiko Hayashi, Eikoh Hosoe

Displayed Works
123 black-and white photographs

Curators
Tsuguo Tada(Curator/Editor), Marc Feustel (Special support, specialist in the history of Japanese photography)
This touring exhibition is completed.
September 17 - October 14, 2016
Rajdamnoen Contemporary Art Center (Bangkok, Thailand)
July 8 - August 28, 2016
Chiang Mai University Art Center(Chiang Mai, Thailand)
May 17 - 30, 2016
Bentara Budaya, Jakarta(Jakarta, Indonesia)
January 26 - March 12, 2016
Art Gallery Ryoichi Jinnai(Lima, Peru)
October 29 - December 6, 2015
Calderon Guardia Museum (San Jose, Costa Rica )
August 11 - September 5, 2015
Museum for National Identity (Tegucigalpa, Honduras)
June 12 - July 11, 2015
West LA College Fine Arts Gallery (Culver City, U.S.A)
January 22 - April 26, 2015
Open Eye Gallery (Liverpool, U.K.)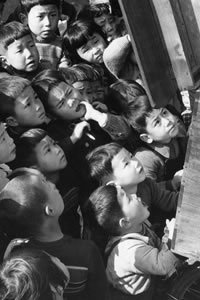 No.34
Ken Domon
Children looking at a picture-card show
Tokyo 1953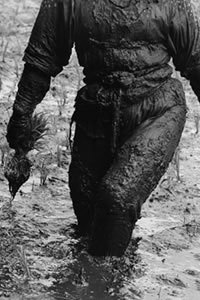 No.45
Hiroshi Hamaya
Woman planting rice
Toyama 1955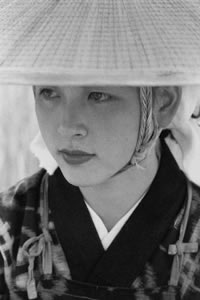 No.51
Ihee Kimura
Young woman
Omagari, Akita 1953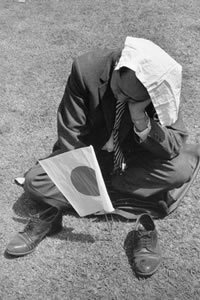 No.104
Yasuhiro Ishimoto
Tokyo 1962
© Kochi Prefecture, Ishimoto Yasuhiro Photo Center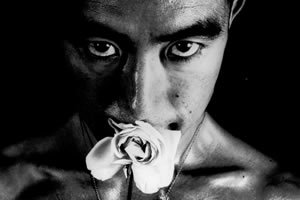 No.121
Eikoh Hosoe
Barakei(Ordeal by Roses) No.32 1961
Adobe Reader software is available for free download from the Adobe Systems web site. To download and install Adobe Reader,
click on this link

and follow the instructions given for your operating system.