Beautiful Handicrafts of Tohoku, Japan
"Beautiful Handicrafts of Tohoku, Japan" is an exhibition planned to mark the March 11 anniversary of the 2011 Tohoku Earthquake and Tsunami. This exhibition reminds us once again of the distinctive appeal of Tohoku's heritage of arts and craft. The displays present works of various genres—ceramics, lacquerware, textiles, metalwork, wood and bamboo crafts, etc.—allowing visitors to enjoy the diverse and exquisite world of Tohoku traditions.
February 7 - 28, 2020
National Museum (Riyadh,Saudi Arabia)
September 11 - October 2, 2019
The Technical Museum Nikola Tesla (Zagreb, Croatia)
July 17 - September 1, 2019
Varaždin City Museum (Varaždin, Croatia)
April 23 - May 26, 2019
The Botswana National Museum (Gaborone, Botswana)
March 1 - 24, 2019
Royal Lazienki Museum (Warsaw, Poland)
November 16 - December 7, 2018
Sarajevo City Hall (Sarajevo, Bosnia and Herzegovina)
August 1 - September 30, 2018
Slovak National Museum (Bratislava, Slovakia)
June 21 - July 4, 2018
Embassy of Japan in Iran (Tehran, Iran)
April 26 - May 16, 2018
International Caravanserai of Culture of Ikuo Hirayama (Tashkent, Uzbekistan)
April 17 - 21, 2018
Central Exhibition Hall (Tashkent, Uzbekistan)
January 28 - February 22, 2018
Egypt-Japan University of Science and Technology (Alexandria, Egypt)
November 9 - 28, 2017
Gezira Art Center (Cairo, Egypt)
September 7 - October 8, 2017
Hovhannes Sharambeyan Center of Popular Creation (Yerevan, Armenia)
June 15 - July 7, 2017
Gallery of Union of Bulgarian Artists "Shipka 6" (Sofia, Bulgaria)
April 20 - June 1, 2017
National Village Museum (Bucharest, Romania)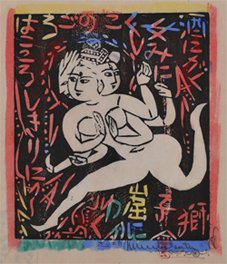 Shiko Munakata
"The Cave of Lion" from the series Ryurisho hangakan (Wandering away from home: compositions on Isamu Yoshii's tanka)"1953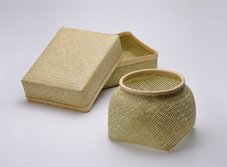 Nami Anakubo
Basket
Iwate Prefecture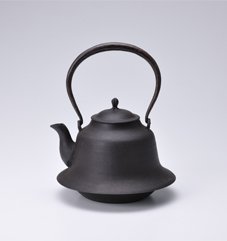 Yamagata casting, Habiro iron kettle
Do-machi, Yamagata Prefecture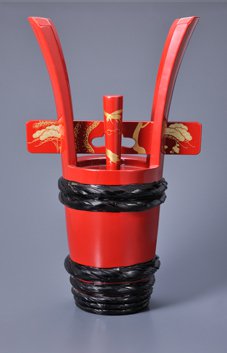 Sake bottle
Kawatsura, Yuzawa, Akita Prefecture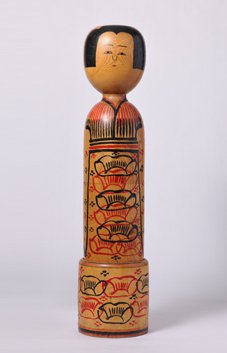 Kyutaro Ogura
Kokeshi doll (Kijiyama style)
Yuzawa, Akita Prefecture
Adobe Reader software is available for free download from the Adobe Systems web site. To download and install Adobe Reader,
click on this link

and follow the instructions given for your operating system.