Yokai Parade: Supernatural Monsters from Japan
This exhibition introduces Japan's yokai (Japanese folkloric imaginary monsters) culture that extends to the present day through picture scrolls and nishiki-e (a multicolored Japanese woodblock print), as well as a diverse range of media, including toys and films.
Japanese yokai have appeared in a variety of tales as characters that express supernatural powers, serving to instill surprise and fear in people. Thereafter, as the development of new technology brought about changes to people's lives, yokai seem to have gradually become less of a subject of fear and have come to be viewed as a more charming and friendly presence. Japan still has a culture of enjoying kaidan (ghost stories) in the summertime, with yokai seen dominating television and theater screens across the country. This exhibition focuses on the "popularization" of these yokai and invites viewers to explore their profound world of mystery.
*This exhibition mostly comprises fine-quality replicas that were created from the originals in order to make a long-term traveling exhibition possible.
Curator
YUMOTO Koichi (Director Emeritus of the Yumoto Koichi Memorial JAPAN YOKAI MUSEUM
[Miyoshi Mononoke Museum])
2024 first semester Hong Kong *TBC
November 10 - December 3, 2023
Malaysian Institute of Art, City Campus (Kuala Lumpur, Malaysia)
October 9 - 31, 2023
Tuanku Fauziah Museum & Gallery, Universiti Sains Malaysia (Penang, Malaysia)
July 14 - 30, 2023
Zhejiang Saili Art Gallery (Hangzhou, China)
June 17 - July 9, 2023
Three Shadows Xiamen Photography Art Centre (Xiamen, China)
April 22 - May 7, 2023
Three Shadows Photography Art Centre (Beijing, China)
March 13 - 26, 2023
Gyeongju Expo Grand Park 1F Exhibition Space (Gyeongju, Korea)
January 29 - February 11, 2023
Doldam Gallery (Jeju, Korea)
December 14, 2022 - January 6, 2023
Public Information and Cultural Center Silk Gallery (Seoul, Korea)
September 29 - Nobember 6, 2022
Auckland Central City Library (Auckland, New Zealand)
August 25 - September 5, 2022
Te Auaha (Wellington, New Zealand)
July 12 - August 2, 2022
Supuluh Nopember Institute of Technology (Surabaya, Indonesia)
June 16 - 27, 2022
Bentara Budaya Jakarta (Jakarta, Indonesia)
February 16 - March 14, 2022
Dogan Tasdelen Contemporary Arts Center (Ankara, Turkey)
December 24, 2021 - January 15, 2022
State Museum of Urban Sculpture (Novosibirsk, Russia)
November 12 - December 5, 2021
State Museum of Urban Sculpture (Saint-Petersburg, Russia)
July 9 - October 22, 2021
Istituto Giapponese di Cultura in Roma (Rome, Italy)
April 22 - June 13, 2021
Slovenski Etnografski Muzej (Ljubljana, Slovenia)
Chapter 1: The World of Spectacular Yokai Picture Scrolls


The Night Parade of One Hundred Demons Picture Scroll, Edo period (replica)


Picture Scroll of Different Yokai Monsters, Edo period (replica)
Chapter 2: The Richly Colorful World of Yokai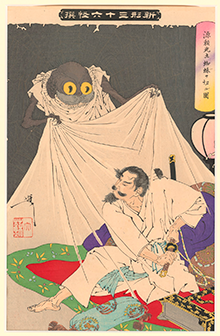 Minamoto no Yorimitsu Slashes the Tsuchigumo
(New Forms of the Thirty-six Ghosts)
Tsukioka Yoshitoshi, 1892 (replica)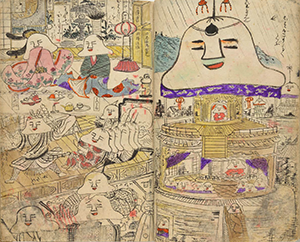 Jinmen Story,
Saito Gesshin, Edo period (replica)
Chapter 3: Yokai and Play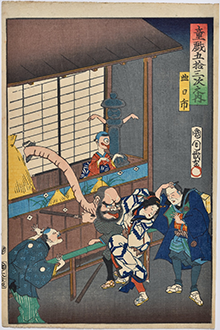 53 Stations of Yokai Road, Yokkaichi
Toyohara Kunichika, 1866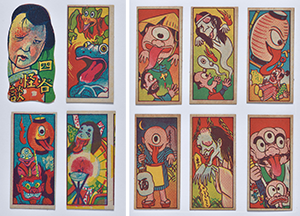 Monster Menko,
Showa era
Chapter 4: Yokai that are Passed Down to Present Day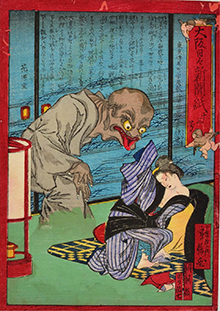 Osaka Daily - No.13
Hasegawa Sadanobu Ⅱ, Meiji era (replica)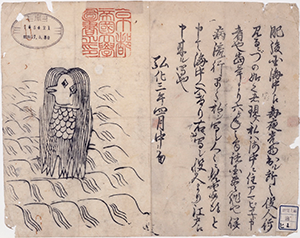 Amabie from the Sea of Higo Province, 1846 (replica)
Main Library, Kyoto University