Mansai Nomura + Hiroshi Sugimoto
A Performance of
Divine Dance SAMBASO

: Kami Hisomi Iki
A Cultural Event of the World Forum on Sport and Culture Official Program

The Japan Foundation, in partnership with the Ministry of Education, Culture, Sports, Science and Technology and Bunkamura (Tokyu Bunkamura, Inc.), will present a performance of Divine Dance SAMBASO: Kami Hisomi Iki as a cultural event of the World Forum on Sport and Culture Official Program, with kyogen actor Mansai Nomura, who is at the forefront of his profession breaking the boundaries of classical theater, and Hiroshi Sugimoto, who is widely active as a contemporary artist, as Creative Director

We invite foreign ministers of sports and government officials participating in the World Forum on Sport and Culture, as well as young business leaders, who are members of the World Economic Forum, and other important figures from overseas, to spread the appeal of a new form of Japanese performing art that transcends the boundaries of Japanese traditional and contemporary art. We also call for widespread participation from the Japanese public to enhance opportunities, working toward the Rugby World Cup 2019, the 2020 Tokyo Olympic and Paralympic Games, Kansai World Masters 2021, and other sporting events.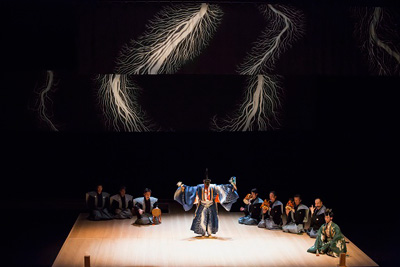 Overview
outline
Date & Time
Friday, October 21, 2016, from 7:00 p.m. to 8:00 p.m. (Doors open at 6:00 p.m.)
Place
Bunkamura Orchard Hall (2-24-1 Dogenzaka, Shibuya-ku, Tokyo)

7-minute walk from the Hachiko Exit of JR Shibuya Station
7-minute walk from Shibuya Station on the Tokyo Metro Ginza Line and Keio Inokashira Line
5-minute walk from Exit 3a of Shibuya Station on the Tokyu Toyoko Line, Tokyu Den-en-toshi Line, Tokyo Metro Hanzomon Line, and Tokyo Metro Fukutoshin Line

Program
Divine Dance SAMBASO: Kami Hisomi Iki
Performer
Mansai Nomura (Kyogen Actor)
Creative Director
Hiroshi Sugimoto (Contemporary Artist)
Implemented by
<Organizers> The Japan Foundation; Ministry of Education, Culture, Sports, Science and Technology
<Co-organizer> Bunkamura
<Production Cooperation> Odawara Art Foundation
Number of persons invited
1,000
How to apply
Free admission. *Children under elementary school age may not attend the event.
Advance application required. Attendees selected by drawing lots.
(Applications postmarked on or after September 2 and on or before September 23 will be accepted.) Please apply through the Bunkamura website or by postcard as follows:


By postcard: Mail to the address below including your name, address, postal code, telephone number, and wishing number of tickets (up to 2 tickets). If you will need assistance from event staff in order to enter the venue, please state the nature of the assistance needed.
Mail application to: Bunkamura Divine Dance SAMBASO, 2-24-1 Dogenzaka, Shibuya-ku, Tokyo 150-8507

* Invitations will be mailed to successful applicants by Friday, October 7, in the form of a postcard that can be exchanged for a reserved-seat ticket.

Important points regarding application 

Children under elementary school age may not apply or attend the event.
Regardless of application method, only one application per person is allowed. Multiple applications from a single email address will not be considered.
The personal information of applicants shall be used only to contact applicants, confirm their eligibility for application, and create statistical data that does not specify the names of individual persons.
Divine Dance SAMBASO: Kami Hisomi Iki
(Commentary by Hiroshi Sugimoto)
Among the many traditional performing arts that have been handed down throughout Japanese history, Sambaso is the classical performance that retains the oldest format. It origins are said to be traceable all the way back to the story of Amaterasu Omikami, the mythical Japanese goddess of the sun and the heavens, and the Ama-no-Iwato (heavenly rock cave). This dance expresses the descent of a kami (Shinto god) to earth, and is the weightiest segment of a Noh play, handled as a Shinto rite. The dance is at times quiet and at times intense, as the flesh-and-blood human body dances the dance, and the form of the kami spirit inwardly dancing down comes in and out of view. From ancient times in Japan, the forms of kami have appeared only as hints and traces. You will witness with your own eyes that these hints and traces still surely exist, even though modern Japanese society has, by and large, allowed these ancient beliefs to lapse. And you will do so with bated breath, in the Kami Hisomi Iki (where the kami lurks).
We replaced the matsubame (wooden panels displaying a painted pine tree which are used in Kabuki stage set for a space of ancient myth) with a curtain that has a thunderbolt dyed on it.
Profile
Mansai Nomura (Performer)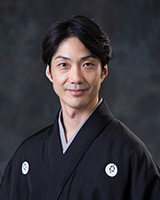 Mansai Nomura is a Kyogen actor and Designated Holder of Important Intangible Cultural Property. Born in 1966, he is the eldest son of living national treasure Mansaku Nomura. He studied with his grandfather, the late Manzo Nomura VI and his father. He graduated from the Faculty of Music, Tokyo University of the Arts, and is the Leader of the Kyogen Gozaru-no-za. The breadth of his activities has included appearances in contemporary theatre, film, and television, as well as staging and direction of modern dramatic works employing classical techniques. Nomura is investigating approaches to Noh in all manner of activities. In 1994, Nomura traveled to the United Kingdom under the Program of Overseas Study for Upcoming Artists sponsored by the Agency for Cultural Affairs, Government of Japan. Awards he has won include Best New Actor and Award of Excellence at the National Arts Festival, the Japanese Education Minister's Incentive Award for Young Artists, and the Asahi Performing Arts Award. Among the books he has authored are, Mansai de Gozaru and MANSAI ◎ Kaitai Shinsho (Asahi Shimbun Publications), and Kyogen Cyborg (Nikkei Publishing). In 2002, Nomura became artistic director of the Setagaya Public Theatre.
Hiroshi Sugimoto (Creative Director)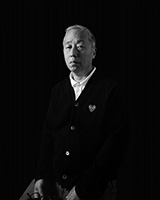 Born in Tokyo in 1948, Sugimoto has lived in New York City since 1974. Sugimoto has acquired an international reputation as a photographic artist and has exhibited his works in major art museums throughout the world. In 2008, he founded the New Material Research Laboratory, an architectural design office. His recent written works include Sense of Space published by Magazine House, and Origin of Art by Shinchosha. As a connoisseur of domestic and international antiquities and traditional theater arts, Sugimoto has led the direction of Sugimoto Bunraku to international acclaim. He currently holds a solo exhibition at Tokyo Photographic Art Museum . Sugimoto was awarded Hasselblad Foundation International Award in Photography in 2001, the 21st Praemium Imperiale in 2009, and the Medal with Purple Ribbon by the Japanese government in 2010. He was made an Officier dans l'Ordre des Arts et des Lettres by the French government in 2013.
World Forum on Sport and Culture
Discuss and transmit information about the international contributions of sport, culture, economics, and their tangible and intangible legacy while coordinating with tourism to hold an international meeting in Tokyo and Kyoto that will serve as a kick-off event to enhance the Olympic/Paralympic movement after the 2016 games in Rio, working toward the 2019 Rugby World Cup, 2020 Tokyo Olympic and Paralympic Games and 2021 Kansai World Masters Games, etc.
[Contact Us]
Inquiries regarding events:
The Japan Foundation
International Operations Section 1
Arts and Culture Dept.
Persons in Charge: Futako (Mr.)
Tel: +81-(0)3-5369-6061
Inquiries regarding tickets:
Bunkamura Tel :+81-(0)3-3477-3244 (10:00 a.m. - 7:00 p.m.)