National Theatre Okinawa to Perform in South America Male dance troupe performance brings new perspectives to Ryukyuan arts
In order to commemorate the 100th anniversary of Japan-Bolivian diplomatic relations and the 60th anniversary of the establishment of Colonia Okinawa, a farming settlement of Okinawans in Bolivia, the Japan Foundation in cooperation with the National Theatre Okinawa will organize a Ryukyu-Okinawa traditional performing arts tour in three cities in Bolivia. The performance will also be held in two cities in Brazil right after the 2014 FIFA World Cup to build momentum for the 120th anniversary of the conclusion of the Treaty of Friendship, Commerce and Navigation between Japan and Brazil in 2015.
The five dancers and four musicians handpicked by Michihiko Kakazu, the internationally successful artistic director of the National Theatre Okinawa, form a strong group of young male actors engaged in vigorous efforts to preserve and innovate Okinawa's traditional performing arts. They intend to present to the diverse South American audience different attractive features of Okinawa's traditional dance, music, and theatre ranging from classic works to cheerful and light-spirited pieces.
Read a report on the performances in Wochi Kochi Magazine
Outline
Cast

Dancers: Osamu Aka, Satoru Arakaki, Naoya Ishikawa, Michihiko Kakazu, Yoshikazu Sanabe, and Shigeo Miyagi
Chorus: Toshimichi Arakaki, Sanehito Takamiyagi, Kazuki Tamashiro, and Itsuo Nakamura
Artistic director: Michihiko Kakazu
Stage director: Michiaki Nakamura

Organizer
The Japan Foundation
Co-organizer
National Theatre Okinawa Management Foundation, Embassy of Japan in Bolivia, Consular Office of Japan in Santa Cruz, Consulate General of Japan in Rio de Janeiro, Consulate General of Japan in Sao Paulo
Brazil
Date
(1)August 20 (Wednesday)
(2)August 22 (Friday)
Venue
(1)Teatro Gazeta (Sao Paulo)
(2)Cidade das Artes (Rio de Janeiro)
Bolivia
Date
(1)August 24 (Sunday)
(2)August 26 (Tuesday)
(3)August 29 (Friday)
Venue
(1)Asociación Boliviano Japonesa de Okinawa (Colonia Okinawa)
(2)Centro Social Japones de Santa Cruz, Asociación Boliviano Japonesa de Okinawa (Santa Cruz)
(3)Teatro Municipal de La Paz (La Paz)
Profile of Michihiko Kakazu (artistic direction)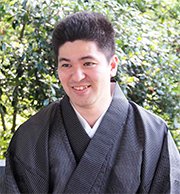 Artistic director of National Theatre Okinawa.
Born in 1979 in Naha. Ryukyu buyo (traditional Ryukyuan dance) performer and keeper of the traditions of kumi-odori (a form of narrative traditional Ryukyuan dance). At the age of four became a disciple of the late Nozo Miyagi, the founder of Miyagi Ryu (the Miyagi School of Traditional Okinawan Dance), and began practicing ryukyu buyo. Currently serves as master at the Miyagi Ryu Nori No Kai. In addition to his performances in ryukyu buyo and kumi-odori as well as Okinawan theatre, Michihiko Kakazu is successful in a wide range of fields as a playwright and producer of new kumi-odori pieces, dramatic performances, and modern theatre. In April 2013, he assumed the position of artistic director of the National Theatre Okinawa. Michihiko Kakazu has substantial international experience, and in 2000, joined as a performer the Okinawa performing arts group's European tour organized by the Japan Foundation in commemoration of the G8 Kyushu-Okinawa Summit. In 2011, he revisited Europe as a member of the Okinawa Prefectural Performing Arts Association (Okigeiren) and performed at the Japan Cultural Institutes in Cologne, Paris, and Rome. In August 2012, he performed in Sao Paulo on the invitation of the Associação Okinawa Kenjin do Brasil (Association of Okinawans in Brazil).
Ryukyu Performing Arts
Koten buyo is a form of classical dance that was performed at the Ryukyuan court to welcome guests during the rule of the Ryukyu Kingdom. It can be divided into the following categories: rojin-odori (old persons' dance), wakashu-odori (young persons' dance), onna-odori (women's dance), nise-odori (men's dance), etc., and includes a large number of gracefully-performed dance pieces. During the same period, kumi-odori, a form of traditional dance labeled as a national Ryukyuan performing art, developed as a type of narrative performance with original Ryukyuan lines, music, and steps. Dramatic pieces inspired by themes such as the spirit of loyalty and filial piety as well as Confucian morality are the mainstream of kumi-odori dances performed with the original purpose of entertaining the Chinese envoys dispatched by the Chinese emperor, also known as "sapposhi delegates" (the term sappo refers to the Chinese emperor's acknowledgment of the status of the Ryukyu Kingdom, and the Chinese representatives dispatched by the emperor are called sapposhi). In 2010, kumi-odori was inscribed on the UNESCO Representative List of the Intangible Cultural Heritage of Humanity.
After the abolition of the feudal domain system and the establishment of prefectures, a new type of Ryukyuan dance, known as zou-odori, was born. It incorporated folk songs and popular ballads sung by the common people. Zou-odori became established as a folk performing art infused with the energy and dynamism of the masses. Unlike kumi-odori, which was born in the Ryukyuan court, zou-odori was followed by a variety of performing genres, such as Okinawan theatre and opera, Ryukyuan historical plays, and others, all of which are performed with the lines closer to the everyday language of the people. Moreover, each region in Okinawa Prefecture boasts a wide variety of original folk entertainment forms performed at various annual events and festivals, which are treasured by the local people even today and are passed down from generation to generation.
Photos: courtesy of the National Theatre Okinawa Management Foundation
[Contact Us]
The Japan Foundation
Americas Section, Arts and Culture Dept.
Person in charge: Daisuke Kato (Mr.), Yumiko Ishii (Ms.)
Tel: +81-(0)3-5369-6061
E-mail: Daisuke_Kato@jpf.go.jp / Yumiko_Ishii@jpf.go.jp
(When sending an e-mail, please enter a half-width character "@" instead of a full-width character "@.")